NFP's Introduction to Scouting Class is now registering for our next session! Early bird pricing in effect until February 15th! Save $100 and REGISTER NOW!
On Dec. 8, 1940, only a day shy of one full year before the attack on Pearl Harbor, the Washington Redskins suffered the franchise's own notorious day of infamy, losing the NFL championship game to the Chicago Bears by a remarkable 73-0 score. Exactly 40 years later, on Sunday, the club absorbed another ignominious defeat, falling behind the Kansas City Chiefs 31-0 before dropping a dismal 45-10 decision.
No denying it's terribly inappropriate to compare the Skins' two historic loses to what transpired in the Hawaiian Islands on Dec. 7, 1941, and we're not suggesting there is any kind of approximation of the events. So hold the comments and e-mails, please, because we acknowledge that. One, after all, led to World War II. The others were just losses in football games, hardly comparable in the real-world, big-picture view. In viewing the 2013 Redskins, however, the big picture is mostly ugly.
And the future employment of coach Mike Shanahan certainly is murky.
At best.
The loss, which undoubtedly rendered owner Dan Snyder apoplectic (although, as of Monday afternoon, he had been uncharacteristically silent), probably will mean the dismissal of Shanahan, either quickly or at the end of this catastrophic season. This marks the third time in Shanahan's four-year tenure that he has piloted the team to a season with double-digit losses. In his previous 14 seasons (not counting the 1989 season when his term with the Raiders was reduced to just four games by owner Al Davis), Shanahan absorbed double-digit defeats only one time.
Hired in 2010 to help restore the Redskins' halcyon past, Shanahan won a division title in 2012, the franchise's first NFC East championship since 1999. But he has been anything but an elixir for the ailing team. Indeed, after Sunday's loss to a Chiefs team that traveled to FedEx Field in a nose-dive of its own, Shanahan owned a record of 24-38. The .387 winning rate wasn't appreciably better than the Redskins' marks fashioned by Jim Zorn or Steve Spurrier (.375) in two seasons each before Snyder fired them. By comparison, Marty Schottenheimer's 8-8 record in his only season in Washington (2001) doesn't look so bad. Nor does the 31-36 record that Hall of Famer Joe Gibbs managed in his comeback incarnation (2004-2007) before he came to his senses and retired for a second time.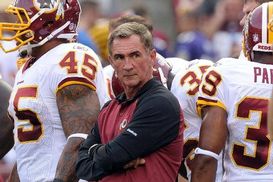 Shanahan has gone just 24-37 during the regular season since taking over in Washington in 2010.
That Shanahan will be gone appears to be a fait merely waiting to be attached to an accompli at some point.
Of the coaches Snyder has hired since purchasing the franchise (he inherited Norv Turner), none has lasted more than four seasons. Schottenheimer got one year, Spurrier and Zorn two seasons each. Gibbs stuck around four years. That's it, an average of two years for the men Snyder himself brought aboard. Shanahan doubled that average, but didn't nudge the Washington victory total even close to what was expected of him. It's not only the latest chapter of failure for the Redskins, but also a continuation of the coach's career slide.
Much has been written about Shanahan's inability to win big after the retirement of quarterback John Elway, who won consecutive Super Bowls with Shanahan in each of his last two NFL seasons, following the '98 campaign. In 14 seasons as a head coach without Elway, Shanahan had only two more winning (seven) than losing seasons (five). His record in postseason games is 1-6. And now, in addition to the Sunday embarrassment and shabby record, there is the matter of Robert Griffin III and the coach's relationship with his quarterback.
The Redskins paid a king's ransom to gain the rights to make Griffin the second pick in the '12 draft. Sure, on the corporate letterhead, the names of Snyder and general manager Bruce Allen appear above that of Shanahan. But make no mistake, dust the trade documents between the Redskins and Rams, and Shanahan's fingerprints are on them. There have been reports that Shanahan preferred not to make the trade, but there was no personnel move made by the Redskins over the past four seasons that didn't include the coach's imprimatur.
OK, the owner and the quarterback got a little too comfortable for Shanahan's liking, and the coach almost walked out during last year's playoffs, feeling undermined and aggrieved. But the 61-year-old Shanahan has been around the NFL long enough to have realized that players, especially quarterbacks, usually rise to the "face of the franchise" level. Coaches rarely achieve that lofty position. Snyder usually falls in love with neither coaches nor quarterbacks his track record indicates, but he clearly is smitten with RGIII. And that probably makes Shanahan DC IV (the fourth deposed coach of the owner's stewardship of the franchise).
That the relationship between Shanahan and Griffin is icy – the coach suggested on Monday that he may shut down the quarterback for the final three games – is clear. But there's a big chill between the owner and his coach, as well, and things are only apt to get even more frigid.
Following the infamous 1940 defeat, then-coach Ray Flaherty, who was inducted into the Hall of Fame in 1976, wasn't fired. Instead, he lasted two more seasons before enlisting in the Navy to help wage World War II. It was a memorable end to Flaherty's tenure with the Washington franchise. Shanahan's isn't likely to be nearly so noble.