NFP's Introduction to Scouting Class is now registering for our next session! Early bird pricing in effect until February 15th! Save $100 and REGISTER NOW!
TCU upset Texas on Thanksgiving night for the team's first win over the Longhorns since 1992 and first in Austin since 1967. And once again some UT fans will be questioning the future of the program under veteran head coach Mack Brown.
Texas was outplayed for the entire game by one of Gary Patterson's youngest squads at TCU, as the Horned Frogs scored on their first possession and maintained control throughout the contest. The Longhorns did not find the end zone until the final minutes of the fourth quarter.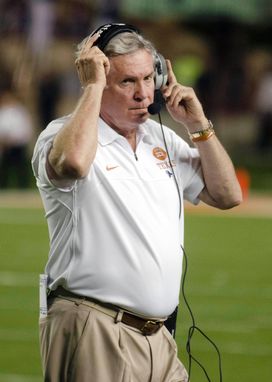 US PRESSWIREMack Brown's Longhorns were outplayed throughout the loss to TCU in Austin.
A team that had a Big 12-best eight turnovers coming into the game was sloppy throughout, as the TCU defense forced three interceptions, including two off of David Ash. Case McCoy replaced Ash but threw a pick of his own. Horned Frogs defensive end Stansly Maponga also forced and recovered an Ash fumble in the second quarter.
Because TCU had the No. 7 run defense in the country, the Longhorns knew they needed to move the football through the air to be successful. But they were unable to do so, and now the team will have to deal with more quarterback issues after Ash's struggles. While Ash has greatly improved this season, this team is not designed to come back from big deficits. When the power run game is in sync, the offense is at its best. But when an opponent can keep the rushing attack in check, the 'Horns will have their problems, as they did on Thursday evening.
Another main concern all year for Texas has been its rushing defense, and it was a problem once again against the Horned Frogs. TCU quarterback Trevone Boykin led the rushing attack with 85 yards, freshman B.J. Catalon had 58 yards and Matthew Tucker finished with 57 yards and both TCU touchdowns. Patterson's squad finished with 219 yards rushing.
Texas, which had just 80 rushing yards Thursday night, was still alive in the race for a BCS at-large berth, with wins over TCU and Kansas State giving the 'Horns a very good chance to sneak into a top-tier bowl. At worst, the 'Horns would likely have received a berth in the Cotton Bowl. But the team played a sloppy game throughout the contest, and an Alamo Bowl or Buffalo Wild Wings Bowl berth may be on the horizon depending on what happens against K-State. Besides turnovers and the inability to stop the run, Texas failed to score a touchdown down 14-3 early in the third quarter after picking off Boykin. Instead of changing the momentum with a series that started first-and-goal from the TCU 9-yard line, the 'Horns had to settle for a field goal. TCU notched a field goal of its own, and the 'Horns couldn't fight back.
While Texas still has issues defensively, the team had seemingly righted the ship following midseason back-to-back losses to West Virginia and Oklahoma, the latter setting off a nationwide conversation about Brown's job status. A home loss to an in-state rival in its first season in a new league will just re-start the hot-seat conversation. And keep in mind that this is a Texas squad that was outplayed for four quarters in a squeaker over lowly Kansas. Not your older brother's Longhorns, that's for sure.
In reality, this could be the most disappointing 8-win team in the country.
While Brown will return in 2013, Longhorn fans, alumni, boosters and officials will expect a huge season. But can this team deliver a signature campaign next year? And will changes be made on the staff, including at the defensive coordinator spot, where Manny Diaz was arguably the hottest rising assistant in the county heading into 2012?
Despite Ash's development this fall, issues under center are very concerning in a pass-happy Big 12. Ash continues to have trouble with red-zone turnovers, tossing two interceptions tonight, which give him seven interceptions inside the red zone this season. He also fumbled inside the TCU 20. The main concern is when the team's ground game cannot get in rhythm against faster defenses, the offense can't move the football. But Ash and McCoy will be coming back next year. Unless Connor Brewer proves that he could be the answer in spring and preseason camp, the 'Horns may have the same issues at QB.
Brown will need to address the team's defensive woes, certainly. But he also can't rely on coordinator Bryan Harsin to field a gimmicky offense against tougher competition. And this season, quarterback issues have crept up in the team's biggest games. If that happens again next year, 2013 may be Brown's last in Austin.
Email dave.miller@nationalfootballpost.com or follow me on Twitter at Miller_Dave