NFP's Introduction to Scouting Class is now registering for our next session! Early bird pricing in effect until February 15th! Save $100 and REGISTER NOW!
NFL coordinators forever have been trying to figure out if they are best served watching games from the press box or on the sidelines.
The truth is there is no right or wrong place. It depends on the individuals and circumstances involved.
For Panthers offensive coordinator Jeff Davidson, the elevator is going up this year, and for Lions defensive coordinator Gunther Cunningham, the elevator is going down.
Davidson is headed to the press box after being on the sidelines previously. As a rule, offensive coordinators are more likely to prefer the press box, whereas defensive coordinators feel more in their element on the sideline.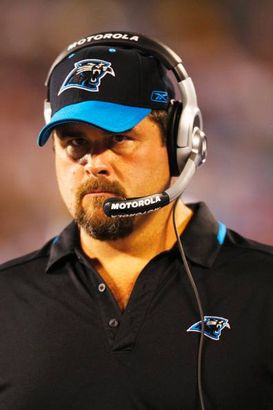 ICONPanthers offensive coordinator Jeff Davidson will be working from upstairs this season.
"He can focus better upstairs," Carolina head coach John Fox said of Davidson. "Upstairs it's more like a chess game. If it doesn't work, he can always come back down."
Coaches who are deep thinkers and don't want to deal with the potential pandemonium of a sideline find the cocoon-like environment of the press box appealing. Lions coach Jim Schwartz says the press box provides an academic atmosphere and a detachment from the emotion of the game.
There is no question the game can be seen better from the press box. And the press box also offers instant replay. But for some coaches, this isn't a big deal.
Schwartz says he watches practice every day from the sideline, and he tries to watch it from the same spot where he would be in a game. This way his eyes become trained to see what he needs to see. When he was a defensive coordinator, he was always on the sideline.
Schwartz' defensive coordinator Cunningham has spent about half of his 11 years as a coordinator in the press box. He thought he needed to be upstairs last year, his first in Detroit, because of the potential for mistakes with so much newness. He's moving down this year in order to benefit from face to face contact with his players.
His head coach approves. "I always liked looking players in the eyes," Schwartz said. "I liked being able to communicate to them, keeping them up on what's next. It's one thing to hear a cornerback say, 'I can cover that guy,' and it's another thing to see the confidence he says it with."
Communication is smoother from the sidelines. A coordinator in the press box has to relay his call to another coach on the sidelines, who then sends the play into the huddle. If that coach is on the sidelines, one of those steps is circumvented as the call can go directly from the coordinator to the play caller on the field. This can save time — which can be particularly significant for defensive coordinators when they are playing no-huddle offenses.
Communication is a big reason why Mike Martz will be on the sidelines for his first year in Chicago. He was in the press box his first year as a coordinator with the Rams, but has been on the sidelines ever since. He tried going upstairs when he was in Detroit, but wasn't comfortable.
Martz said in some stadiums, it's so difficult to get to the locker room and back to the press box in the 12-minute halftime that it's hardly worth the trip down. "You have to be able to talk to them at halftime," Martz said. "Sometimes you'd get down there, and just say, 'OK guys, have a good second half,' and I'd have to run back up. That's about it. On the sideline, you are there if the head coach wants to say something to me, and you're there when the quarterback comes off."
Personalities also play a part in the decision of where a coordinator is best served. Cunningham's trademark intensity is going to be welcomed on the Lions' sideline, but every sideline needs to be a voice of reason.
"The problem is the craziest guys are on the sideline," Cunningham said with a grin. [Secondary coach] Tim Walton and [defensive line coach] Kris Kocurek are psychopaths. And the problem is the coordinator is probably worse than those two guys put together. And the head coach, I love him dearly and respect him, but he can get pretty wild at times. So it will be an interesting mix."
It might even be more entertaining to watch the Lions' sideline than the Lions' defense.
Email Dan Pompei your questions at dan.pompei@nationalfootballpost.com
Click here to purchase the Total Access Pass/ Fantasy Draft Guide from the NFP and receive a free Deuce Brand watch while supplies last.