It's inevitable that a polarizing college athlete will be subject to extra scrutiny, especially when that person is a Heisman Trophy winning quarterback with a larger-than-life moniker. Like many before him, Johnny Manziel will fall under a particularly large magnifying glass in this year's draft build-up, as countless NFL evaluators and online enthusiasts begin compiling calculated reports on the Texas A&M star's pro prospects.
Questions about the player generally circulate around his rather diminutive stature and whether or not his arm talent or performance within the pocket are advanced enough for the NFL level. These are legitimate gripes worth discussing regarding Manziel's game, which I – after evaluating him myself – have no qualms with.
However, one myth about the player's game that occasionally gets tossed around interweb circles is that he's reliant on hulking, box-out receiver and Aggies teammate Mike Evans – another declared underclassman of the upcoming draft. The theory was even mildly propagated in August by Aggies' quarterback coach Jake Spavital, who branded the wideout as his protégé's "panic guy" in 2012.
Evans (6'5" 225-pounds), a well-regarded redshirt-sophomore in his own right, was undoubtedly the Aggies' most prevalent receiving option.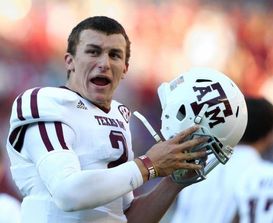 Evans accounted for 23% of Manziel's completions in 2013, down from 27.7% the year before.
The notion that a collegiate quarterback is reliant on his most talented target is almost unanimously viewed as a harmful trait to his draft stock. It equates to the notion that the player in question will be predictable at the next level.
I preface the argument by noting that it's, quite obviously, not uncommon for teams to utilize their best weapons in the passing game. Simply because a receiver is the primary statistical leader on his team, does not mean the quarterback is dependent solely on his abilities.
At the inception of Manziel's success in 2012 came with it the emergence of Evans, who led or co-led the team in receptions over the initial five weeks of the Aggies' season. The big-bodied redshirt-freshman receiver would wind up leading the team in receptions in eight of 13 games that season. However, in the second half of the campaign, as conference competition evolved, seniors Ryan Swope and Uzoma Nwachuku began getting noticeably more involved, along with spot contributions from then-sophomore Malcome Kennedy. In season-defining wins over Alabama and Oklahoma, tape and numbers argue that Manziel relied on his own ball carrying ability (358 combined rushing yards, four touchdowns) and a by-committee approach to the passing game against both opponents.
The point becomes a lot clearer in 2013. Evans led the team in receptions in only four out of 13 games throughout the season. In fact, in five out of the nine games he didn't lead the Aggies' in receptions, he wasn't even the second-most leading receiver on the team. These facts aren't meant to be destructive to the lengthy pass-catcher's evaluation, but an example of Manziel's growth as a distributor. Opponents were well aware and prepared for Evans (who finished the season with 69 catches, 12 touchdowns), which Texas A&M's passing game countered with the heavy inclusion of seniors Derel Walker (51 receptions, five touchdowns) and Travis Labhart (51 receptions, eight touchdowns), in addition to junior Malcome Kennedy (60 receptions, seven scores). This was accomplished with Manziel carrying the ball nearly 60 less times than the previous year, as he was increasingly willing to depend on his group of receivers.
Receivers, not receiver.
What does this tell us? Johnny Manziel became more rounded this season and was able to properly maximize the talent of his best receiver in 2013, while proving very capable of utilizing his secondary options when his "panic guy" wasn't available.
Follow Dion on Twitter: @nfldraftupdate