Peyton Manning has started all 208 regular season games of his prolific 13-year career, but has yet to practice with the Colts this summer due to a May neck surgery that some fear could keep him out of the starting lineup in Week 1.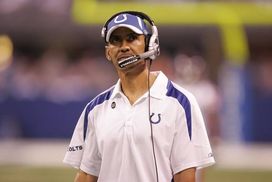 ICONDungy believes Manning will be ready for Week 1.
Former Indianapolis head coach and current NBC analyst Tony Dungy is not one of those people.
When discussing Manning's status at halftime of the San Diego-Dallas Sunday night preseason game, Dungy stated that Manning will play in Indianapolis' Week 1 showdown against the Houston Texans "unless he's dead."
It's a bold statement, but when you take into consideration the fact that Dungy worked with Manning for seven years in Indianapolis, you certainly have to lend some weight to the comments. Dungy won a Super Bowl with Manning and was on the sidelines for 112 of the future Hall of Famer's 208 career starts, so he obviously has some inclination of what Manning is and is not capable of doing.
Hit me up on Twitter: @JoeFortenbaugh
NFP's Introduction to Scouting Class is now registering for our Winter sessions! Save $200 if you register before December 20th! REGISTER NOW!