13. Georgia: The Bulldogs were unable to land top offensive tackle Laremy Tunsil, but Mark Richt was able to take care of needs at linebacker and in the secondary. Johnny O'Neal and Tim Kimbrough will help the middle part of the Bulldogs' defense while cornerback Shaq Wiggins and safety Tray Matthews will add to the secondary. Meanwhile, JUCO receiver Jonathon Rumph should step in and contribute right away.
14. Clemson: The gem of the Tigers' class is shutdown cornerback Mackensie Alexander, who was one of the best uncommitted prospects left heading into Wednesday. They were also able to get commitments from three stud defensive ends: Ebenezer Ogundeko, Dane Rogers and Shaquille Lawson. Outside linebacker Dorian O'Daniel and inside linebacker Ben Boulware also are headed to Death Valley. Offensively, wide receivers Kyrin Priester and Mike Williams could emerge as nice weapons, and guard Tyrone Crowder, who announced on Signing Day, will help pave the way for the ground game.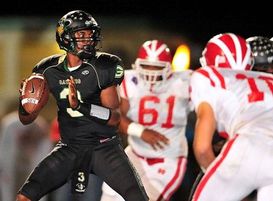 Troy Williams gives Washington an intriguing QB talent.
15. Washington: Top recruiter Tosh Lupoi has helped strengthen the Huskies' class for the second straight season, as defensive talent continues to be stockpiled in Seattle. End Joe Mathis and tackle Elijah Qualls headline the haul. The Huskies also have nice offensive talent aboard, highlighted by receivers Damore'ea Stringfellow and Darrell Daniels. Quarterback Troy Williams is also an intriguing talent.
16. Oklahoma: The Sooners have compiled some strong offensive talent, led by running back Keith Ford, quarterback Cody Thomas and wide receiver Dannon Cavil. Meanwhile, safety Hatari Byrd is a great "get" for the secondary, and athlete Stanvon Taylor could play in the defensive backfield as well. Defensive ends D.J. Ward and Matt Dimon are also headed to Norman.
17. Texas: The Longhorns focused on offensive linemen and were able to land center Darius James, the best in the nation, as well as Top 10 offensive tackles Kent Perkins and Jake Raulerson. Wide receivers Jacorey Warrick and Jake Oliver will also be coming to Austin. Mack Brown and Co. had to actually do some closing this year, which is atypical for a program that gets a lot of commitments from juniors.
18. Virginia Tech: Frank Beamer has managed to put together a strong class despite a rough 2012 campaign. The Hokies focused on the secondary, led by cornerback Kendall Fuller, who may be the team's highest-regarded recruit since running back Kevin Jones, and safety Holland Fisher, who could be the team's future rover. Dual-threat quarterback Bucky Hodges is an intriguing offensive player, and Braxton Pfaff is a very good offensive guard.
19. Vanderbilt: James Franklin continues to work wonders in Nashville, as he put together the best class in school history. It is led by wide receiver Jordan Cunningham, who knows how to make a tough catch and has good body control. DeAndre Woods and Carlos Burse will join him at receiver. Meanwhile, tackle Jay Woods leads a defensive haul that also includes outside linebacker Zach Cunningham and cornerback Tre' Bell.
20. Nebraska: Dual-threat quarterback Johnny Stanton headlines Bo Pelini's class, and he's joined offensively by out-of-state running backs Adam Taylor and Terrell Newby II. Meanwhile, defensive end Randy Gregory is a JUCO who could be plugged in immediately. The linebacker corps also received help with Marcus Newby and Josh Banderas.
21. South Carolina: Defensive tackle Kelsey Griffin and running back David Williams were nice snags by Steve Spurrier because they are out-of-state finds. Meanwhile, Larenz Bryant leads a nice linebacker haul, and the 'Cocks were able to snag offensive tackle Na'Ty Rodgers late. He will join a good group of OTs that includes D.J. Park, Alan Knott and J.P. Vonashek. Meanwhile, early-enrollee quarterback Connor Mitch could be the future of the offense.
22. North Carolina: Larry Fedora was able to snag out-of-state quarterback Mitch Trubisky, and he'll arrive with a nice group of receivers, including Jordan Fieulleteau, Ryan Switzer and Johnathan Howard. Meanwhile, cornerback Brian Walker and defensive tackle Greg Webb help at positions of need.
23. Mississippi State: Dan Mullen was able to hang onto defensive end Chris Jones when many believed he would flip to Ole Miss. Junior college wide receiver Jeremey Chappelle should pay immediate dividends, while dual-threat Cord Sandberg could be the quarterback of the future. The Bulldogs also were able to flip intriguing wide receiver Fred Ross from Oklahoma State, and they were able to land athlete Ashton Shumpert, one of the state's best athletes.
24. Miami (FL): Al Golden may not have been able to beat out Florida State and Florida for some of the late signees, but he continues to bring in very good talent to Coral Gables despite likely looming NCAA sanctions. The class is led by wide receiver Stacy Coley, who was one of the best uncommitteds heading into Wednesday. Quarterback Kevin Olsen, who is the brother of former Hurricanes tight end Greg Olsen, co-headlines this class. And JUCO tight end Beau Sandland should contribute right away. Meanwhile, end Al-Quadin Muhammad, safety Jamal Carter and cornerback Artie Burns are nice "gets."
25. Oklahoma State: The Pokes will be bringing in some dynamic wide receivers, including Ra'Shaad Samples and Marcell Ateman. Meanwhile, junior college transfer Sam Wren will bring help to the defensive line at end, while Vincent Taylor and Ben Hughes add much-needed depth to the defensive line.