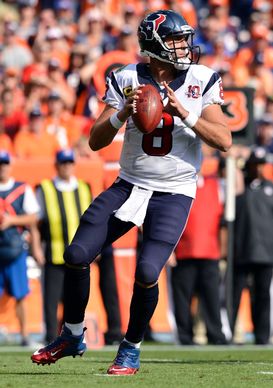 US PRESSWIRESchaub threw 4 TDs in the Texans' win over the Broncos.
6. Schaub, Texans' vertical game: Look at the vertical concepts from Houston in their win over Denver. Start with Andre Johnson. Reduced split on the deep inside post. Too easy. Move on to Kevin Walter. Another post with the WR pressing into the CB (with a slight veteran push) to create separation down the field. Think about this: the Texans can run the ball consistently, have the one of the league's top defense and also can make plays down the field. 290-yards and 4 TDs from Schaub in the win.
7. Locker, Titans special teams: There are plenty of angles to take in the Titans' 44-41 OT win vs. Detroit (starting with the Lions' final play call in FG position), but let's talk about Locker (378-yards, 2 TDs) and the Titans special teams. Big plays. That's what stands out. The Titans' QB tore up the Lions' secondary and Tennessee scored twice in the kicking game. You are going to win when you stack up explosive plays and the Titans did it without any real production (again) from RB Chris Johnson (24-yards on 14 carries).
8. Bears' defensive front: No surprise to see Chicago lean on Cover 2 in the 23-6 win over Sam Bradford and the Rams because of the pressure they generated with their D-Line. Outside of the occasional inside seam route (and one 9 route) the Rams were limited to throwing the slant and the inside curl. That's not going to win many games. Peppers, Paea, Idonije, McClellin, etc. They all contributed and racked up 6 sacks while the Bears intercepted Bradford twice.
9. Falcons' red zone options: Think about what QB Matt Ryan has to work with in the red zone. Gonzalez on the seam, shake, option, etc. Move over to Julio Jones. Easy to throw the fade or slant. And with Michael Turner, you always have the Power O, Counter OF and Lead in your back pocket. Atlanta should consistently get the ball in the end zone with their personnel. Just like we saw today in the win over San Diego on the road to improve to 3-0.
10. RGIII continues to get hit: I love option football when you use it in specific game situations if you have the talent at QB. Use the Zone Read, align him in the Pistol, get him in the open field and allow him to showcase his skill set. That's all good and I would do the same as a coach with Griffin in my huddle depending on the game situation. However, he was hit hard today in the loss to Cincy and I don't know how long he will last if he continues to be put on the ground. The 'Skins might have to limit the amount of designed runs they have for RGIII.
Follow me on Twitter: @MattBowen41