NFP's Introduction to Scouting Class is now registering for our next session! Early bird pricing in effect until February 15th! Save $100 and REGISTER NOW!
Looking ahead to the second week of preseason matchups in the NFL (with games scheduled for tonight) here are a some things I am going to focus on--starting with RGIII vs. the Bears.
RGIII vs. Cover 2: Griffin will see plenty of Cover 2 (Tampa 2) vs. Chicago on Saturday night, so look for the standard 2-deep beaters: Flat-7, 4 Verts, Dagger, etc. The rookie has to read the drop (plus depth) of the CBs and avoid forcing the ball into tight windows on the 7 (corner) or off of boot action. Looks simple on the chalkboard, but vs. a veteran defense you have to be accurate with the ball.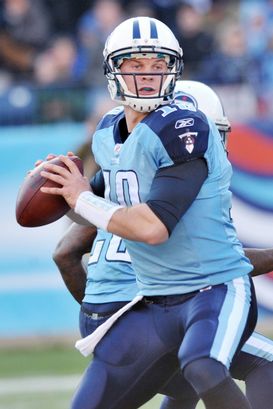 US PRESSWIRELocker gets the start for the Titans on Friday night in Tampa.
Locker gets the start: Does a solid performance Friday night vs. the Bucs give Locker the No.1 job in Tennessee? I've said before that I am a big fan of Matt Hasselbeck's game, but Locker's arm strength and athletic ability is a better fit for the Titans offense. Important start for the second-year pro.
Packers' rookie defenders: OLB Nick Perry, DT Jerel Worthy and CB Casey Hayward. Every snap they take over the weekend (and throughout the preseason) is experience they need to prep for September football. Yes, they will make mistakes (and get beat), but focus here on technique and the ability to produce within the scheme. All three can play big roles early in the season.
Deeper playbooks: The first week of the preseason often plays out like a scrimmage. Base concepts, little or no disguise on defense and a call sheet that is pretty light compared to what we see in the regular season. Yes, this is still another round of preseason games, but coaching staffs will show more of the playbook this weekend. Another step in evaluating the roster.
Bears' LT competition: J'Marcus Webb and Chris Williams vs. the rush ability of Redskins OLB Brian Orakpo. The Bears have to find a solution at LT and both players should see reps with the starting unit. This is Webb's job if he shows the ability to play consistent football, but he has to block speed off the edge and display some development in his footwork.
Andrew Luck: The No.1 overall pick played like a vet in the preseason opener vs. the Rams. Should we expect him to do it again Sunday night in Pittsburgh? I'm interested to see how he performs against a Steelers defense that will throw some different looks at the rookie.
Rookie WRs: Stephen Hill, Brian Quick, Alshon Jeffery, etc. Now that these rooks have had a taste of pro competition, do they make any adjustments to their route running or their pre-snap plan at the line of scrimmage? Always keep an eye on rookies at the WR position in August.
More Manning: Peyton Manning made a brief appearance in the preseason opener vs. the Bears and threw some basic concepts (comeback, option, deep dig, fade, etc.). Out in Seattle, expect Manning to get work for close to the entire first half and the Bronocs to open up the offense. That means vertical throws for the veteran QB.
Bengals' secondary: Good matchup for Cincy tonight vs. Atlanta's Julio Jones. The WR caught 6 passes last weekend for 109-yards and a score. And in preseason football, you get plenty of one-on-one matchups outside of the numbers in base Cover 1 (man-free).
Dolphins' Tannehill: With David Garrard out, this is another opportunity for the rookie QB to make his case for a legit shot at the No.1 job. Tannehill was productive working with the second team last weekend, but he needs reps vs. starting talent to truly evaluate where he is at in his development.
Follow me on Twitter: @MattBowen41