17. (10) Oakland Raiders (7-5): You won't see the Raiders get pushed around like they did in Miami very often.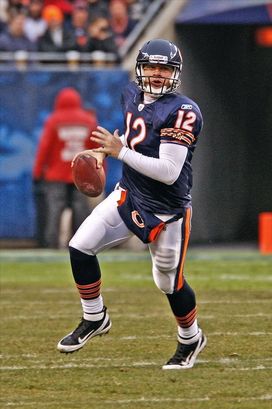 ICONHanie and the Bears now travel to Denver to take on Tebow and the Broncos in a game they must win.
18. (13) Chicago Bears (7-5): The Bears still hold one of the Wild Card spot in the NFC, but its hard to buy into this team without Cutler—and now Forte.
19. (25) San Diego Chargers (5-7): The Chargers looked like a contender last night, but blowing out the Jags doesn't mean much these days.
20. (24) Seattle Seahawks (5-7): Marshawn Lynch had the Eagles' defense shying away from contact by the 4th quarter on Thursday night.
21. (22) Arizona Cardinals (5-7): The Cards are putting together a late season surge that will keep the heat off of Ken Whisenhunt.
22. (25) Kansas City Chiefs (5-7): How about the Chiefs' defense the last two weeks?
23. (28) Carolina Panthers (4-8): Cam Newton continues to be an issue for opposing defensive coordinators.
24. (23) Washington Redskins (4-8): Landry Jones, Matt Barkley or RG III? Some decisions for the 'Skins to make in April.
25. (20) Philadelphia Eagles (4-8): Have the Eagles packed it in? We think so.
26. (19) Buffalo Bills (5-7): The Bills are a perfect example of why the first two months of the season don't tell you the entire story.
27. (29) Minnesota Vikings (2-10): Maybe the Vikings didn't reach when they took Ponder back in April.
28. (21) Tampa Bay Buccaneers (4-8): The Bucs are in the running for the most disappointing team in the NFL.
29. (27) Cleveland Browns (4-8): Finding an offensive playmaker this offseason is a start in Cleveland.
30. (30) Jacksonville Jaguars (3-9): Who scheduled the Jags to host two Monday Night games this season?
31. (31) St. Louis Rams (2-10): It becoming tougher to envision head coach Steve Spagnuolo coming back in 2012.
32. (32) Indianapolis Colts (0-12): Changing defensive coordinators didn't do much vs. the Pats as the Colts move closer to 0-16.
Follow the NFP on Twitter: @FootballPost