17. Dallas Cowboys: The Cowboys addressed the secondary this offseason, but if they want to make a run at the playoffs QB Tony Romo has to play at a high level.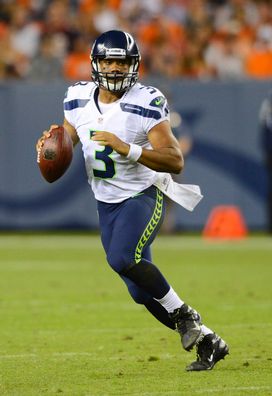 US PRESSWIRERookie Russell Wilson gets the start this week vs. Arizona.
18. Seattle Seahawks: Alright Russell Wilson, show us what you got.
19. San Diego Chargers: No Vincent Jackson? The Chargers and Philip Rivers will still throw the ball all over the field.
20. Carolina Panthers: Can Steve Smith have another Pro Bowl season with Cam Newton at QB?
21. New York Jets: We know Tebow will be on the field running "gadget plays," but this is still Mark Sanchez's offense—for now.
22. Oakland Raiders: With a full offseason of work, Carson Palmer should play like a proven veteran at the QB position.
23. Tennessee Titans: We like the Titans' offense with Jake Locker at QB because of his ability to throw the vertical game and make plays outside of the pocket.
24. Tampa Bay Buccaneers: Greg Schiano coached this team hard in camp—and they needed it after packing it in to end the 2011 season.
25. Washington Redskins: Mike Shanahan has a true playmaker at QB, but he has to open up the offense this year.
26. Indianapolis Colts: The transition to a 3-4 scheme could lead to some early struggles on defense, but Andrew Luck looks like the real deal.
27. Arizona Cardinals: The Cards have a Top 5 talent in Larry Fitzgerald and drafted Notre Dame's Michael Floyd, but the QB position is shaky at best.
28. Jacksonville Jaguars: MJD is back, but we are looking at QB Blaine Gabbert's development is his second season.
29. St. Louis Rams: Can Fisher turn the Rams around in his first season? He needs help from Sam Bradford to get it done.
30. Minnesota Vikings: The Vikings have holes at the WR position and we don't know when Adrian Peterson will be back at full strength.
31. Miami Dolphins: Starting rookie Ryan Tannehill is the right call, but don't expect immediate results in Miami.
32. Cleveland Browns: The Browns are young and inexperienced at key positions. Not good when you play in the loaded AFC North.
Follow the NFP on Twitter: @FootballPost