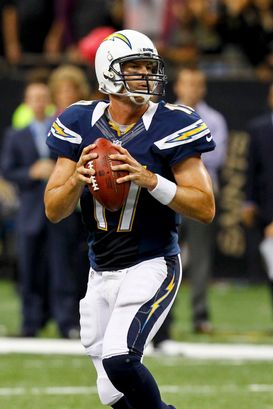 US PRESSWIRERivers and the Chargers blew a 24-0 halftime lead in the loss to the Broncos on Monday night.
17. (14) San Diego Chargers (3-3): Remember when the Chargers were 3-1?
18. (22) Miami Dolphins (3-3): Rookie QB Ryan Tannehill continues to impress for the 3-3 Dolphins.
19. (24) New York Jets (3-3): Can the Jets knock off the Patriots in Foxborough this Sunday?
20. (15) St. Louis Rams (3-3): The Rams need to find some offense—soon.
21. (19) Dallas Cowboys (2-3): The Cowboys left some plays (and time) on the field in the loss to the Ravens.
22. (27) Buffalo Bills (3-3): The Bills rebounded after the blowout loss to the 49ers in Week 5 to pick up the win over the Cards.
23. (21) New Orleans Saints (1-4): If the Saints are going to make a run to get back in the mix, now is the time to get it done.
24. (17) Cincinnati Bengals (3-3): Back to back losses to the Dolphins and Browns have us lowering expectations on the Bengals.
25. (30) Tennessee Titans (2-4): Are the Titans a better football team with Hasselbeck under center?
26. (26) Tampa Bay Buccaneers (2-3): The Bucs get the win over the Chiefs, but that's no reason to throw a party.
27. (23) Indianapolis Colts (2-3): The Colts were gashed by Shonn Greene and the Jets' run game.
28. (25) Carolina Panthers (1-4): Let's see if the bye week helped out the Panthers and Cam Newton.
29. (28) Oakland Raiders (1-4): The Raiders had opportunities to knock off the Falcons in Atlanta.
30. (32) Cleveland Browns (1-5): Brandon Weeden and the Browns' offense generated some big plays to get their first win of the season.
31. (29) Kansas City Chiefs (1-5): Well, Brady Quinn isn't the answer either in K.C.
32. (31) Jacksonville Jaguars (1-4): The Jags take over the bottom spot in our rankings...and they could be here for a while.
Follow the NFP on Twitter: @FootballPost
NFP's Introduction to Scouting Class is now registering for our Winter sessions! Save $200 if you register before December 20th! REGISTER NOW!