After one year known as New Meadowlands Stadium, the home of the New York Giants and New York Jets has finally found someone willing to purchase the naming rights.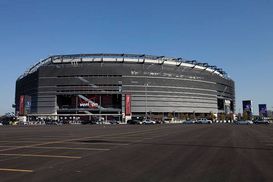 The site of the 2014 Super Bowl will now be known as MetLife Stadium.
The venue scheduled to host the Super Bowl in 2014 will now be known as MetLife Stadium, according to the New York Post. While the official details of the contract have not yet been released, the Post is reporting that the deal could be worth as much as $20 million per year for 20 years.
A formal announcement could be coming as early as next week.
Hit me up on Twitter: @JoeFortenbaugh
NFP's Introduction to Scouting Class is now registering for our Winter sessions! Save $200 if you register before December 20th! REGISTER NOW!