NFP's Introduction to Scouting Class is now registering for our next session! Early bird pricing in effect until February 15th! Save $100 and REGISTER NOW!
Let's talk Packers-Bears, check out some matchups and get into game plans as Green Bay looks to wrap up the NFC North title this Sunday at Soldier Field.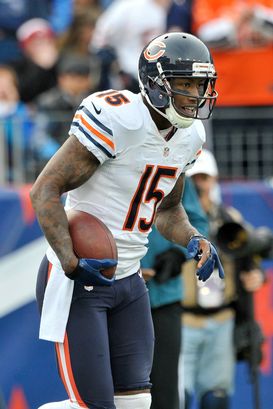 US PRESSWIREThe Bears will use multiple alignments to create matchups with Brandon Marshall.
1. Brandon Marshall's production: Keep an eye on Marshall's pre-snap alignments. The Bears will use Marshall as the Z, the X, in the slot, out of stack, etc. A variety of alignments designed to create a matchup for Jay Cutler's No.1 target. Think of the short to intermediate route tree with inside breaking cuts. That's Marshall's game because of his size and leverage. The Packers limited the WR in their Week 2 win playing 2-Man in the secondary and I would expect to see some more man-under until this Bears' offense can make some plays.
2. Packers' run game vs. Cover 2: The Bears are going to play Cover 2 vs. Aaron Rodgers. But considering the production this offense showed running the football on Sunday night in the win over Detroit, let's see if the Bears can stop Green, Harris and Grant with a 7-man box. Because if Green Bay can force Lovie Smith's defense to walk a safety down into the front (Cover 1, Cover 3), Rodgers will have some opportunities outside of the numbers vs. CBs Charles Tillman and Kelvin Hayden with a single high safety in the middle of the field.
3. Randall Cobb inside of the numbers: I'm excited to check out the second-year pro on Sunday after watching him on tape this week. On top of his lateral ability in the open field, Cobb is smooth out of his cuts and has a nice burst to the ball. Don't be surprised to see him aligned as the No.2 or No.3 where he can run the underneath Hi-Lo concepts, the deep crossing routes and work the intermediate cuts vs. zone coverage. And let's not forget about 3rd and 2-6 situations, because the quick option route can move the sticks. As I broke down in the Chicago Tribune last night, Cobb can be a matchup issue for this Bears' defense.
4. Cutler's ability to protect the ball: The Bears haven't had an answer for Dom Capers' defensive game plan and that leads to Cutler forcing throws vs. pressure. Can't turn the ball over and put your defense in an adverse situation. The Bears have to get Matt Forte involved early on Sunday, stay ahead of the sticks and prevent the QB from having to make a play in 3rd and 7-plus situations. And if the Packers try to take away Marshall, look for rookie WR Alshon Jeffery. Someone has to emerge opposite the No.1 WR to make some plays for the QB who comes into this game with some injuries.
5. Nick Roach's eye discipline: With Brian Urlacher still out with a hamstring issue, Roach gets his second start at the Mike Backer position. But was he really tested vs. Ponder and the Vikings? I didn't see it. Roach will have to be sound in his run-pass keys and match speed down the field. However, it starts with the LB's ability to read through play action and get depth in his drop. Can't look in the backfield and vacate the middle of the field vs. Rodgers. That's trouble.
Follow me on Twitter: @MattBowen41