6. How will the Jets utilize Tebow on opening day?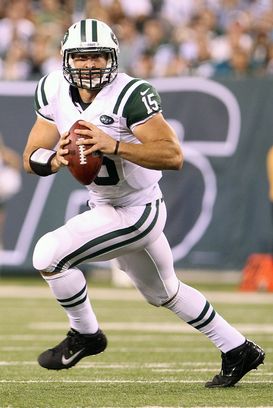 US PRESSWIREHow many snaps will Tebow get this Sunday vs. the Bills?
I have an idea from a scheme perspective what the Jets will roll out on when they insert Tebow into the game (Boot, Dash, Zone Read, QB Power, Inverted Veer, etc.), but when will see it? Third downs? In the red zone? It has to be based off of specific game situations to pull Mark Sanchez from the field.
7. Is Eric Decker the top target in Denver?
When Peyton Manning needs to make a play vs. the Steelers, where is he going with the football? I want to say it is going to be Decker. Think inside breaking cuts, the underneath option route, 7 (corner) route in the red zone, etc. Manning needs a wide out he can go to vs. the pressure Pittsburgh will show on Sunday night.
8. Can the "replacement refs' handle the speed of the NFL?
If the NFL rolls out the "replacement refs" this weekend, I'm curious about their ability to keep up with the speed (and tempo) of the regular season in the NFL. Hey, they will blow some calls, but are they overmatched? You don't want that to happen.
9. Will A.P. see the field vs. the Jags?
Impressive. That's how I look at Peterson's rehab and recovery from a blown out knee suffered in December. But will the Vikings put him on the field and get him the football in Week 1? With any knee injury to a skill player, you want to focus on lateral ability, quickness and explosive force when they get vertical. Let's see what the Vikings want to do with A.P.
10. Is Russell Wilson ready?
Love the fact that Pete Carroll went with production over offseason money here by naming Wilson as his opening day No.1, but this isn't the preseason anymore. The game is faster and defenses will bring a deep game plan to the stadium that includes plenty of pre-snap disguise. I'm anxious to watch the rookie play vs. Arizona and find out if he can handle the stress an NFL defense puts on the QB position.
Follow me on Twitter: @MattBowen41