NFP's Introduction to Scouting Class is now registering for our next session! Early bird pricing in effect until February 15th! Save $100 and REGISTER NOW!
Now arriving in Indianapolis, the host for Super Bowl XLVI, I am hearing a lot from fans and media about the hospitality here. Having lived nine years in Green Bay – a city that will never host a Super Bowl – I can relate to the midwestern kindness and humility. As the hype builds towards the matchup between the Patriots and Giants, there are numerous storylines at play. Beyond the game, however, let's look at some of business of the game, an unofficial holiday and the biggest event in all of sports.
Game pay
Certainly, there is more on the line in this game than a mere paycheck. But along with the many accolades that accompany winning a Super Bowl, there is also some extra spending money attached.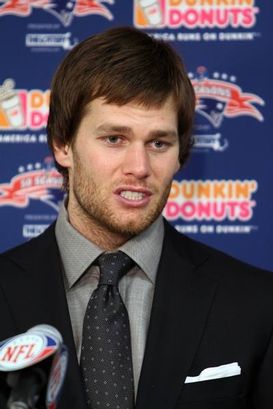 ICONBrady made $588,000 a week in season, will make $44,000 or $88,000 this week.
As noted here, the Super Bowl winning players will receive $88,000; losing players receive $44,000. Cumulatively, if the Giants win, their players will each have earned $172,000; if the Patriots win, their players will have cumulatively earned $150,000, $22,000 less due to their first-round bye (yes, the Patriots were not technically "paid" during the bye week).
This may be the one game truly not about the money. Were Tom Brady to win, he would have made $44,000 per week over the last two weeks. During the season, with $9.75 million in salary and bonus compensation, Brady made $588,000 per week!
Alluring advertising
The Super Bowl has become a viewing event far beyond its content as a football contest. Media coverage started well before Tuesday's media day, an event to which the NFL sold over 7,300 tickets for $25 each, with a secondary market of up to $350, the first time the league opened its Media Day doors to fans.
And this year's game figures to have the largest television audience ever, outpacing last year's Packers-Steelers' 111 million viewers. For context, 38 million viewers watched President Obama's State of the Union address last week, and regular season NFL games averaged 17.5 million viewers. The magnitude of this television audience translates into big money for the NFL, as a 30-second commercial spot cost a record $3.5 million (on average).
From television advertising alone, NBC receives over $250 million from the game. And, for the first time ever, the game will stream live online. It also will be interesting to see the interplay between advertising and increasingly-popular social media platforms.
The Super Bowl has an enormous effect on secondary markets as well. For example, 5 million people are projected to buy new televisions in preparation for the game, and fans are expected to spend $11 billion on Super Bowl-related purchases (including the consumption of 1.25 billion chicken wings).
Indy income
While many suggest that the Super Bowl will provide a boon to the local Indianapolis economy – and the prestige of hosting the Super Bowl cannot be underestimated – the bottom line results are hard to accurately assess. Indianapolis mayor Greg Ballard estimates the economic impact in the "$200-250 million range."
The NFL will retain almost exclusive control over Lucas Oil Stadium – its parking; luxury suites; souvenir, food, and beverage sales – and the Indiana Convention Center. Although there will be additional temporary seating, the seating capacity of 68,000 will be one of the five smallest venues to host a Super Bowl, and the amount of seats will pale in comparison to last year's number – and seating fiasco – in Dallas.
Further, the NFL is not required to pay the $250,000 per-game amount that the Colts pay to the Capital Improvement Board of Indiana for every home game.
Tickets on the secondary market remain steep. The least expensive seats as of Wednesday on StubHub were $2100, and the cheapest tickets on the NFL's ticket exchange were $2300. The individual ticket prices on these websites also range upwards of $15,000. And a field-level luxury suite with a capacity of 35 people can be yours for $650,000!
Good and bad of Indy
Despite the non-sexy locale, the reviews of Indianapolis have been strong, certainly aided by the unseasonably warm weather (especially compared to the once-in-a-lifetime freeze in Dallas last year). The downtown area is highly concentrated and easy to traverse while hosting more than 150 restaurants and bars within two miles of Lucas Oil Stadium.
The one complaint appears to be with the scarcity of hotel rooms, especially downtown. The 6,000 downtown hotel rooms have sold out – mostly to the NFL, its business partners, and the media – and less exclusive hotels with rooms still available (nearly an hour away from the city) require 4-night minimums and are charging premiums upwards of seven times typical rates.
Peyton's place
Finally, the timing and location of the game is unfortunate for one icon of the game, as it coincides with an uptick of interest and speculation around Indianapolis' most celebrated athlete, Peyton Manning. As detailed in this two part series here and here, Manning faces a future in Indianapolis that becomes more uncertain each day. And now Peyton's longtime rival Tom Brady and younger brother Eli will be playing in his home stadium, somewhere he has not played in over a year.
On Monday, NFL waivers begin with the possibility of something no one ever thought happening: Manning's name being on that waiver wire sometime soon.
But Manning's future – or lack thereof – can wait. The Super Bowl, in all its glory and exce$$, beckons.
Follow me on Twitter at adbrandt.