November 08, 2012 -
Dave Miller
Kentucky can't go wrong by hiring Cutcliffe
With the disgraced but successful Bobby Petrino unlikely to be considered for the impending vacancy at Kentucky — much to the chagrin of Wildcat fans — there is one active head coach who would be a perfect fit to take over for Joker Phillips in Lexington.
Duke's David Cutcliffe.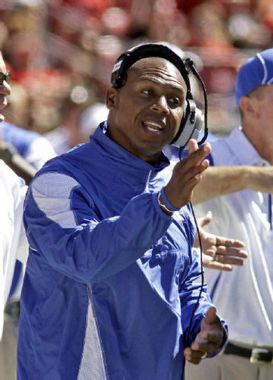 Joker Phillips will not return to Lexington in 2013. Who will replace him?
While it would be very intriguing to see how Petrino would do running the show for Louisville's in-state rival after having success with the Cardinals in the Bluegrass State, bringing Cutcliffe aboard would at least bring stability to a program that hasn't had it since the Rich Brooks regime.
The veteran Cutcliffe would be able to step in right away at a program not unlike Ole Miss and Duke, the two stops that he has had success at as the face of the program. The fact that he has had success with the Rebels and Blue Devils, operating at schools not known for being annual contenders in their leagues, should give Wildcats athletic director Mitch Barnhart confidence in offering the job to the former Tennessee offensive coordinator.
But will Barnhart get turned down again?
Back in 2002, when he arrived in Lexington from Oregon State, Barnhart made a run at Cutcliffe, who was the head coach at Ole Miss at the time. Barnhart, who worked as an assistant AD at Tennessee when Cutcliffe was working under Phil Fulmer, was obviously familiar with Cutcliffe from their time together in Knoxville. And Barnhart certainly has taken notice of the solid jobs Cutcliffe has done as a head coach under tough circumstances.
It can be argued that Cutcliffe never should have lost his job in Oxford. He was terminated following his only losing season at the school after winning at least seven games each year but one and being one season removed from a 10-3 campaign. He was let go when the school's AD asked him to make some coaching changes on his staff. Out of loyalty, Cutcliffe refused.
Kentucky — or any other school for that matter — would be thrilled to find such loyalty in a head coach.
Cutcliffe eventually landed as the head assistant coach at Notre Dame, but health problems forced him to resign. Once he was able to return to the sideline, he landed in Durham with the Blue Devils. And now he has Duke bowl eligible for the first time since 1994.
Cutcliffe has coached six quarterbacks that have gone on to play in the NFL, so he clearly is adept at getting signal-callers to play to the best of their ability. If the Wildcats can find stability at the position, winning will become much more prevalent even in the toughest league in America.
But will Cutcliffe be interested in coming to Lexington?
Tennessee wanted Cutcliffe after Lane Kiffin bolted, but he turned it down saying that Duke was the best place for his family. More loyalty.
But with his coaching stock as high as it's been in awhile, can Cutcliffe pass up another opportunity to return to the SEC if the job is offered?
Email dave.miller@nationalfootballpost.com or follow me on Twitter at Miller_Dave