November 02, 2011 -
Dave Miller
LSU-Alabama: 3 things to watch
With the much-anticipated game between LSU and Alabama just a few days away, let's take a look at three things to watch in this contest between the top two teams in the BCS standings.
Lee vs. McCarron
Fifth-year senior quarterback Jarrett Lee has come a long way since starting his freshman year in 2008. Since being given the nickname "Pick Six" for his propensity to throw interceptions that turned into scores for the opposition, Lee had been shuffled in and out of the lineup in Baton Rouge, playing well enough to see the field but never exceptional enough to run with the starting job. But that all changed when senior Jordan Jefferson was suspended shortly before this season began. Lee subsequently has put together his best season, leading the SEC in passing efficiency and helping direct the Tigers to a No. 1 ranking. Lee could have easily transferred, but he chose to stay and it has paid big dividends for Les Miles, Steve Kragthorpe and the entire staff. As much as we talk about the Tigers' defense and running game, Lee's play has been a steadying force on offense. And while a lot of his throws have been of the conservative nature, the Tigers have opened up the offense slowly but surely. With receivers Reuben Randle, Russell Shepard and Odell Beckham, LSU has the playmakers to make Lee successful whenever big chunks of yards are needed.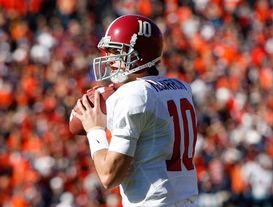 AJ McCarron has developed nicely in Jim McElwain's offense.
Meanwhile, AJ McCarron has grown quite nicely in his first season as the Crimson Tide's starter. And offensive coordinator Jim McElwain, a rising head-coaching candidate nationally, has had a lot to do with his success. McElwain's game-planning has produced the SEC's leader in scoring offense (39.4 points), total offense (457.6 yards), and third-down conversions (50.9 percent). Perhaps most important is the fact that the Tide have been so balanced. Trent Richardson paces a productive rushing attack that averages 229.2 rushing yards per game, but McCarron and the Tide are averaging 228.4 yards through the air. Incredible balance which has kept the defense fresh and on the sideline enough to be even more dominant. And while McCarron does have the arm strength to throw it down the field, a quarterback under Nick Saban merely needs to play turnover-free. And since throwing two interceptions in the opener against Kent State, he's thrown only one pick since and ranks second in the SEC in passing efficiency and first in completion percentage. The sophomore has thrown for 1,664 yards and 10 touchdowns, and he's been able to get all of his playmakers involved this season. The major question is whether Marquis Maze will get enough help from other receivers to try to loosen up this LSU defense.
Power vs. Power
LSU's defensive line is the deepest and most talented in the nation. The Tigers will rotate in eight or nine linemen per game, so they always have fresh bodies available the entire contest. That gives them a nice advantage against an Alabama offensive line that is stout. However, it has battled some health issues recently, so the bye week was huge for offensive tackle Barrett Jones and his linemates. Still, this unit has paved the way for Trent Richardson and Eddie Lacy to combine for 1,454 yards and 22 touchdowns, and it's an offensive line that has protected McCarron well all season. But 'Bama will face a defense that is ranked second behind only itself in most of the SEC's defensive categories, and the Tigers have created 18 turnovers and rank second nationally in turnover margin.
On the flip side, LSU's offensive line paves the way for a rushing attack that features the three-headed monster of Spencer Ware, Michael Ford and Alfred Blue. Freshman Kenny Hilliard was also added to the mix in the team's last game against Auburn when he received reps in Ware's absence. In addition, the Tigers protect Lee and Jordan Jefferson very well. One of the biggest issues for this front five, however, is how it will be able to handle Alabama's unique looks from Kirby Smart's front. The Tide don't quite rely on their down linemen as they did in 2009. Instead, their linebackers are the driving force behind the pass rush. Will the Tigers be able to pick up the blitz and give Lee enough time to make plays? And, as good as their running backs are, will they be able to pick up enough yards on first and second down to avoid third-and-longs?
They're special
Both of these squads feature very good return games on special teams. One of the reasons why the Bayou Bengals have been able to boast a 97 percent scoring rate and 79 percent touchdown rate in the red zone is because of strong special teams, whether it's a Tyrann Mathieu forced fumble and TD return against Oregon or a Morris Claiborne 99-yard return for touchdown against West Virginia. Heck, even punter Brad Wing is one of the best in the nation. The Tigers may not be flashy on offense, but they can move the ball. And starting a possession with good field position certainly doesn't hurt their cause.
However, Marquis Maze gives Alabama a special edge in the return game. Remember this play earlier in the year against Arkansas?
The good news for LSU fans is that the Tigers' punting unit is in good shape with Wing and the coverage team. They allow less than a yard per punt return, so Maze will have difficulty finding running lanes. However, he's a dynamic enough returner to break free — at least to give the Tide good field position against a stout defense.
Email dave.miller@nationalfootballpost.com or follow me on Twitter at Miller_Dave