February 01, 2012 -
Dave Miller
National Signing Day recap: Part one
We're not done with National Signing Day yet, as coaches from around the country are still awaiting all of their faxed Letters of Intent from high school prospects across the country.
In the meantime, let's take a look at what has transpired thus far in the world of recruiting.
DGB stays home
Gary Pinkel and Missouri's transition into the SEC became a little bit easier — just a tad bit — with Dorial Green-Beckham announcing that he will stay in state and attend Mizzou. The nation's top wide receiver and perhaps best overall player instantly becomes quarterback James Franklin's top target, as Green-Beckham is the closest thing the college game has seen since Randy Moss and Calvin Johnson — at least in terms of immense talent and physical stature. Now, we'll get to see how he fares in the toughest league in America. The only question is whether he can get off press coverage at the next level. Certainly, it's a tough loss for Arkansas, which was the supposed frontrunner for a long time. But it's a huge gain for the Tigers, especially because they were able to keep the state's top talent from leaving. Like Steve Spurrier has done the last few years, grabbing the state's best talent is crucial for any program looking to elevate its stature.
Florida State's filthy defensive line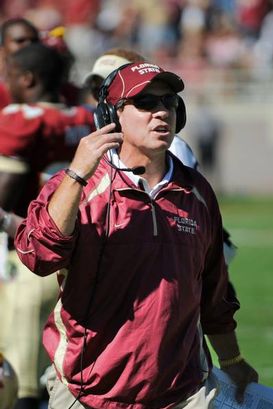 ICONJimbo Fisher has assembled yet another strong class at FSU.
The last two seasons, the Seminoles have led the nation in sacks with 88. Expect that number to climb with Brandon Jenkins bypassing this April's NFL Draft, Bjoern Werner and rising senior Cornelius Carradine returning, as well as the best defender in the nation making his commitment official in end Mario Edwards. But not only did FSU land Edwards, head coach Jimbo Fisher was able to get defensive tackle Eddie Goldman to choose the Seminoles as well. Goldman will join fellow tackle Justin Shanks and ends Edwards and Chris Casher to form the filthiest defensive line haul in this class. It's so impressive of a haul that the loss of end Dante Fowler Jr. to Florida is almost an after-thought. And as a bonus, Fisher was able to get one of Florida's top linebackers, Reggie Northrup, to flip from Miami.
Where is Auburn's recruiting bump?
Usually when a school wins a national championship it receives a big bump in recruiting not that season but the following year. So Auburn was expected to put together a very strong class this February. While it's a solid haul, the Tigers have had a rough National Signing Day thus far, which has to disappoint head coach Gene Chizik. Defensive tackle Eddie Goldman elected to go to Florida State, which has to disappoint many because the Tigers have a need at DT. Outside linebacker Kwon Alexander then chose a different set of Tigers, choosing to go to LSU. And late Tuesday night, speedy safety Jordan Moore picked TCU over Auburn. Moore was a two-time Georgia state champion in the 110-meter hurdles and has run a 4.37-second 40-yard dash. Losing both coordinators at a crucial time during the recruiting period certainly hurt. Can the Tigers snag recent decommit Ricardo Louis or offensive tackle Avery Young to salvage this day?
The Tosh factor
Defensive line coach and ace recruiter Tosh Lupoi's departure from Cal to Washington has greatly affected both programs. The Golden Bears lost star defensive lineman Arik Armstead to Oregon, while the Huskies were able to land top safety Shaq Thompson and receiver Jordan Payton, who were committed to Cal, as well as defensive end Pio Vatuvei, who switched from USC. Receiver Jaydon Mickens was also brought in, and he was once committed to the Trojans. For Cal, top receivers Bryce Treggs and Kenneth Walker now could end up elsewhere. Treggs is looking at UCLA and Walker is looking at Washington and UCLA.
Note: According to Eric Sondheimer of the Los Angeles Times, Jordan Payton could change his mind once again and head to UCLA. This would be huge for Jim L. Mora and his staff, so stay tuned.
USC and its sanctions
While USC's class will be small by the numbers, Lane Kiffin was able to land some elite players. Despite the postseason ban being over, the Trojans are only able to bring in 15 players this period (as will be the case the next two years as well). However, that number is a bit of a misnomer this year because of early enrollees and junior-college players already enrolled counting toward last year's class.
The biggest worry for 'SC fans is the fact that Kiffin will only be able to carry 75 scholarship players on the roster in the fall — and not the normal 85. That's probably going to be more of an issue than the inability to bring in a 25-player class. Roster management will be Kiffin's biggest chore, but he knew what he was doing by signing a lot of players last year and utilizing redshirting. Quality over quantity will be the rule for the Trojans. There is less margin for error, however, when dealing with a small class. But a guy like defensive tackle/end Leonard Williams from Daytona Beach, FL, is the type of can't-miss player that this defense needs. And athlete/receiver Nelson Agholor adds yet another weapon to the offense. Keeping offensive tackle Max Tuerk and athlete/linebacker Jabari Ruffin makes this class a likely Top 15 haul.
Miami's Al Golden is following a similar path as Kiffin. The Hurricanes have a huge class, enrolling a lot of players early so they could count toward last season (when they didn't fill all of their scholarships) in anticipation of NCAA violations. That's the key — get the large class one year when you know smaller classes are on the horizon if you anticipate sanctions, which is the expectation in Coral Gables.
CONTINUE TO PAGE 2 FOR MORE SIGNING DAY COVERAGE