July 28, 2010 -
Dave Miller
Stacking up the SEC: Running Backs
While NFP director of college scouting Wes Bunting provides you with everything you need to know about future NFL prospects, we can't forget about the productive players who help their schools on the field every Saturday but may not be made for the pro game. With that in mind, let's take a look at the feature running backs in the SEC entering the 2010 season.
Click here to see Stacking up the Big East: Running Backs
Click here to see Stacking up the ACC: Running Backs
Click here to see Stacking up the Big 12: Running Backs
Click here to see Stacking up the Pac-10: Running Backs
Click here to see Stacking up the Big Ten: Running Backs
Mark Ingram, Alabama: It's still amazing that Alabama had never had a Heisman Trophy winner before Ingram, but the junior's performance throughout the '09 season could not have come at a better time — en route to winning a national championship. The 5-10, 215-pounder exhibited tenacity, speed and shiftiness in racking up 1,658 yards and 17 TDs on the ground along with 334 yards and three scores on 32 catches. Perhaps most importantly, he had a flair for the dramatic — epitomizing how big the Crimson Tide played in their biggest games.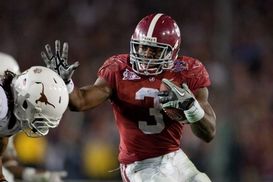 ICONTrent Richardson should see his workload increase in 2010.
Note: How strong is a rushing attack when a backup is considered by some to be more talented than the Heisman-winning starter? That's the situation at 'Bama, where sophomore Trent Richardson has great size and track speed, and the 5-11, 220-pounder is expected to see his workload increase this fall. He rushed for 751 yards and eight touchdowns in '09 and also caught 16 passes for 126 yards — as a true freshman. It was just one year, but the guy has special talent written all over him.
Derrick Locke, Kentucky: Because he plays at Kentucky, Locke often gets overlooked. But the senior is as solid as they come. After working hard to come back from what was thought to be a career-threatening knee injury, Locke rushed for 907 yards and six scores, including three 100-yard games in '09. He also is a threat in the passing game, catching 31 passes for 284 yards and two scores. Want more production? He was one of the best kickoff returners in the country, averaging 27.8 yards per kickoff return. The 5-9, 191-pounder is fast and athletic, and some feel as if he could be even more productive a year removed from the injury.
Jeff Demps, Florida: Without Tim Tebow, Demps has his chance to assert himself as more of a workhorse back. Although Emmanuel Moody could become the team's primary inside rusher, the former USC Trojan has had problems staying healthy. If the 5-8, 184-pound Demps can hold up with an increased workload, the sprinter will be a major stabilizing factor for an offense still forging its identity. The junior will always provide big-play ability — possessing a career average of 7.6 yards per carry — and I believe that he could be more than just a gadget in Urban Meyer's offense despite never carrying the ball more than 16 times in a contest.
Washaun Ealey, Georgia: If it's a big year for Bulldogs head coach Mark Richt, he'd be wise to make Ealey the focal point of the offense — especially with a question mark under center. The 5-11, 205-pound sophomore led Georgia with 717 yards on the ground and three touchdowns after not playing in the first four games of his debut season. His most impressive effort was against Georgia Tech when he went for 183 yards on the ground, part of a stretch of 70 yards or more in his last seven games. Now playing behind an even better offensive line, the former Georgia state prep star could have a dominant season.
Note: Junior Caleb King is unquestionably a talented back. But can he live up to the expectations placed on him when he arrived on campus? The 5-11, 210-pounder has a great blend of size, speed and quickness, and he finished with 594 rushing yards and seven scores in '09. It could come down to Richt playing the hot hand in the backfield, because both Ealey and King have the potential to carry the offense.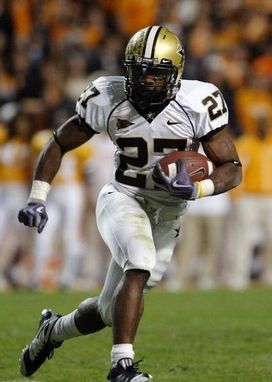 ICONWarren Norman broke Herschel Walker's record for most total yards by an SEC freshman in 2009.
Warren Norman, Vanderbilt: Norman eclipsed former Georgia superstar Herschel Walker's record for most total yards by an SEC freshman in '09. The 5-10, 192-pounder logged 783 yards and three touchdowns, caught 19 passes for 108 yards and a score, and totaled 1,050 yards and three touchdowns as a kick returner. The speedster was not expected to be a workhorse for the Commodores, but that likely will change this year as he enters his sophomore campaign.
Onterio McCalebb, Auburn: With Ben Tate moving onto the NFL, expect McCalebb to make huge strides in his sophomore campaign. The 5-10, 165-pounder adjusted well to the college level in his first season, finishing second on the Tigers with 565 rushing yards and four touchdowns — including a combined 262 yards and two scores in the first two games before suffering an ankle injury. He isn't the biggest back, but he is elusive and can gain yards in chunks. Last year's top running back recruit will keep the Tigers' running game running smoothly.
Note: Much of the talk around the Auburn program centers around top signee Michael Dyer, who could eventually wrest carries away from McCalebb. Senior Mario Fannin also has an opportunity to get carries, as he has the body to establish himself as an every-down SEC back.
Tauren Poole, Tennessee: Poole, a two-time Georgia high school player of the year, will finally get his chance to be a feature back after not being given much of an opportunity under former head coach Lane Kiffin. The junior, who will be replacing Montario Hardesty, impressed new head coach Derek Dooley this spring with his ability to break off long runs and stay upright after initial contact. With the quarterback position still unsettled, the Vols may lean heavily on the 5-11, 213-pound speedster in the fall.
Brandon Bolden, Ole Miss: Bolden should show Rebels fans why he is the most talented rusher in the deep backfield in Oxford. The 5-11, 220-pound junior finished second on the team with 614 rushing yards and four touchdowns in '09 while sharing the load with stud Dexter McCluster. He has dropped weight and looks more dedicated than ever, and his ability to catch passes out of the backfield makes him even more valuable to an offense that is looking for playmakers. The major question on campus now is if former Oregon quarterback Jeremiah Masoli will be handing off to Bolden.
Kenny Miles, South Carolina: Despite the fact that Miles is the Gamecocks' leading returning rusher — gaining 626 yards and a touchdown with a 5.4 yard-per-carry average in '09 — the arrival of top recruit Marcus Lattimore could put a serious cap on the amount of carries for the sophomore. Despite not being the workhorse last year, however, he still managed to have three 100-yard games. The 5-9, 187-pounder could actually end up being more productive as a specialist, further helping Steve Spurrier's offense.
Note: Most everyone believes that Lattimore will be a special player in Columbia, as the nation's top running back recruit looks to be a YouTube clip waiting to happen. The 5-11, 215-pounder has nice size and great speed, and he'll give the Gamecocks another weapon in the passing game, as well. Can Spurrier actually have a prolific offense at South Carolina? Of course, that will be up to quarterback Stephen Garcia.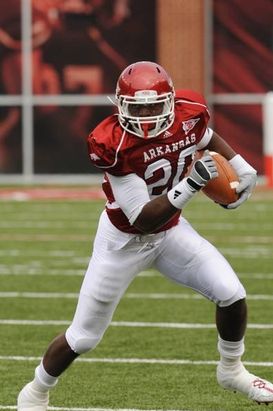 ICONRonnie Wingo is the type of running back that Bobby Petrino loves.
Ronnie Wingo, Arkansas: Wingo will open as the top dog on the depth chart. The 6-3, nearly 230-pound sophomore is the big back that head coach Bobby Petrino loves. He improved as the '09 season progressed, finishing with 319 yards on just 49 carries and three scores. Big and fast, Wingo will see a huge jump in his numbers next fall. However, he is just one of four running backs who Petrino will count on throughout the season — including sophomore Knile Davis, junior Broderick Green and junior Dennis Johnson.
Stevan Ridley, LSU: The Tigers lost Charles Scott and Keiland Williams, so Ridley will begin his junior year as the front runner to get the bulk of the carries. Ridley runs with power, but is agile enough to be effective in the SEC. Richard Murphy also returns after missing most of '09 with a knee injury. And keep an eye on two highly recruited backs who redshirted this past season — Michael Ford and Drayton Calhoun. Despite bringing in former Florida assistant Billy Gonzalez to serve as passing game coordinator, the Tigers will emphasize the run plenty in 2010.
Robert Elliott, Mississippi State: Losing Anthony Dixon is tough — real tough. He was the heart and soul of Dan Mullen's offense last season. Replacing him will likely come in the form of a committee, as nobody really won the job this spring. The junior Elliott is the most experienced, but junior college transfer Vick Ballard and redshirt freshman Montrell Connor will both compete for carries.
Follow me on Twitter at Miller_Dave
Ready for fantasy football? Click here to purchase the 2010 Total Access Pass/Draft Guide from the NFP.