May 18, 2014 -
Joe Fortenbaugh
LVH releases 2014 NFL season win totals
LAS VEGAS—With the dust having settled on this year's installment of the NFL draft and rookie minicamps in full swing around the country, the LVH sports book in Las Vegas released their 2014 NFL season win totals on Sunday afternoon.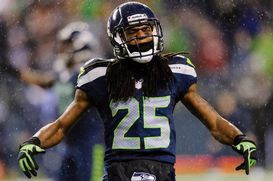 Richard Sherman and the defending champs hit the board with a win total of 11.
The latest professional football wagering opportunity from one of the most well respected shops in the world comes just 14 days after the LVH's release of advance point spreads for 80 NFL regular season games. And while opportunists, professional gamblers and some hardcore fans head to the windows to bet into the current menu at the LVH, the sports book's staff will get right back to work on the highly anticipated 2014 college football season win totals and college football "Games of the Year" point spreads, which are expected to hit the board later this summer.
For their NFL season win totals, the LVH offers the opportunity to wager a maximum of $3,000.
The defending champion Seattle Seahawks, who went 13-3 during the 2013 regular season, opened with a win total of 11 (Over: -120, Under: even), while the AFC Champion Denver Broncos opened at the top of the board at 11 as well (Over: -140, Under: +120). On the opposite end of the spectrum, the Jacksonville Jaguars and rookie quarterback Blake Bortles open at the bottom for the second consecutive year with a win total of just 4.5 (Over: -150, Under: +130).
As for Johnny Manziel and the Cleveland Browns? The AFC North basement dwellers from a year ago opened with a win total of 6.5 (Over: -150, Under: +130).
Below is the full rundown of the opening numbers for the LVH's NFL season win totals. We'll be back in the near future to break down our early leans as well as to provide some insight as to which propositions some of the sharper minds in Vegas find appealing.
2014 OPENING NFL SEASON WIN TOTALS FROM THE LVH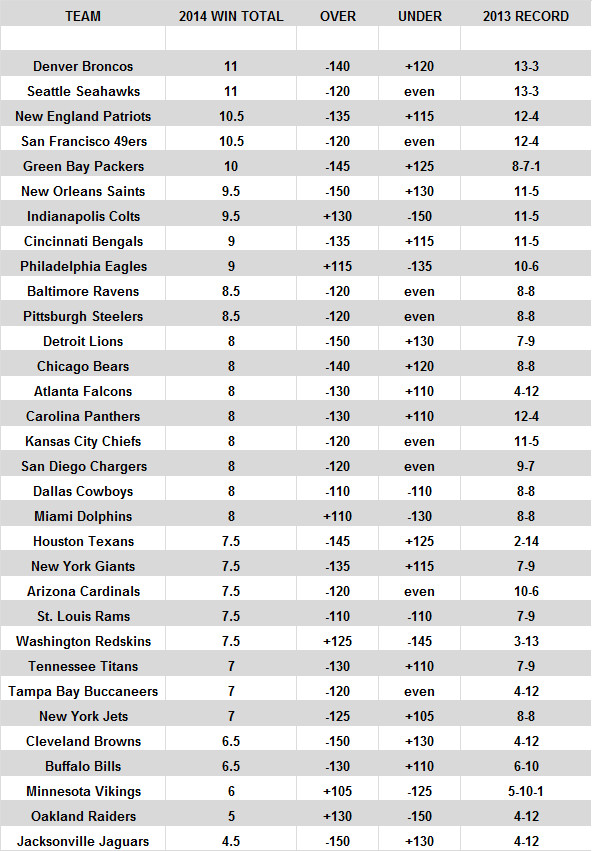 2013 OPENING NFL SEASON WIN TOTALS FROM THE LVH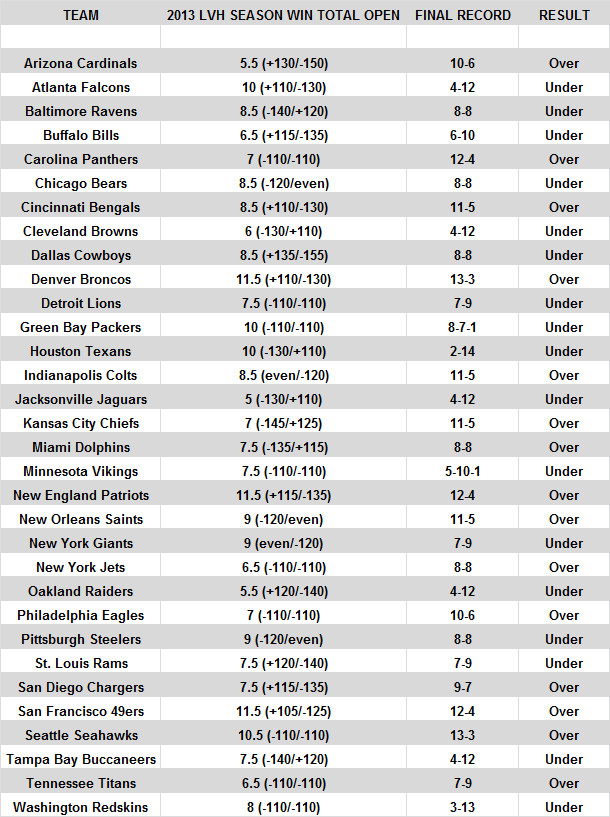 Hit me up on Twitter: @JoeFortenbaugh