February 17, 2011 -
Joe Fortenbaugh
Ranking the NFL Stadiums
I thought about opening this article with a snazzy intro (which would be the first time I accomplished such a feat), but then I realized that most of you will probably skip the opening, head straight to the rankings, disagree with what I've said and then proceed to destroy me in the comments section.
That's all fine by me, but this article isn't solely about ranking the actual stadium structure. I've incorporated elements such as tailgating, fans, weather, surrounding areas, etc. to give this thing a bit more flavor.
Because at the end of the day, the NFL is facing a lockout and there's very little to break down and analyze right now. It's time to get creative and stir up a debate.
Don't like where your team is ranked? Take it to the comments section below or to the NFP Message Boards. You can also email me at: Joe.Fortenbaugh@NationalFootballPost.com.
Note: I haven't had the privilege of watching an NFL game at each of the 31 stadiums (see resume at end of article), so a good portion of this article is based on what I've seen on television, what I've read and the people I've talked to who have actually been to these venues.
STADIUM RANKING CRITERIA
1. Architecture: Basically, does it look cool in person and/or on television? Does the facility have any unique features?
2. History: Has the joint opened recently and never hosted a playoff game (i.e. Houston), or do you get chills when exiting the concourse and viewing the field thinking about what has taken place there (i.e. Chicago)?
3. Weather: Football was meant to be played outdoors, so the domes are going to take a slight hit in the rankings. This also applies to tailgating. It's easier to grill burgers and pound beers in San Diego than it is Minnesota.
4. Fans: A packed house with rowdy diehards is going to make for a better time, as fan participation adds value to the NFL experience. What's the point of going to a first-class stadium if it's only half-filled?
5. Location: Is the stadium in the middle of nowhere or in the heart of a major U.S. city? Parking may be an issue, but there's something to be said about hitting a packed bar within walking distance of the venue prior to and even after the game.
THE RANKINGS
1. Lambeau Field (Green Bay Packers)
Seating Capacity: 72,928
Playing Surface: Grass
Opened: 1957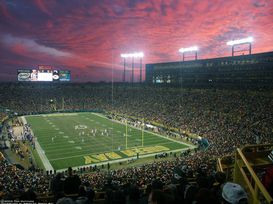 Lambeau Field
Billed as "the crown jewel of the National Football League," Lambeau Field underwent a $295 million facelift in 2003 to give the venue a 21st century look while maintaining a retro feel. Lambeau certainly isn't the most architecturally impressive venue, but it does boast some of the league's best fans and has more historical significance than any other stadium in the NFL.
Think of it like this: If you've never been to an NFL game and knew you were going to die tomorrow, would you rather go to the old stomping grounds of Vince Lombardi and Bart Starr, or the two-year old Cowboys Stadium?
2. Cowboys Stadium (Dallas Cowboys)
Seating Capacity: 80,000 (allegedly expandable to 110,000, but we saw how well that worked out at the Super Bowl)
Playing Surface: Artificial Turf
Opened: 2009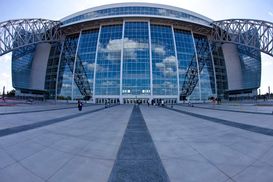 JerryWorld
As far as architecture and technology are concerned, Cowboys Stadium is the best in the business. You can't help but find yourself in awe at the sheer size of the building as you approach from Route 30. In addition, the $30 million video screen that hangs 90 feet above the field has become the gold standard for JumboTrons in today's NFL.
However, having opened in 2009, the place lacks historical significance and has the ability to keep the roof closed if the weather turns ugly. That's why it failed to top Lambeau for the top spot in the rankings.
3. Qwest Field (Seattle Seahawks)
Seating Capacity: 67,000
Playing Surface: FieldTurf
Opened: 2002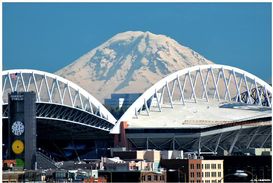 Not bad.
Not only is Qwest Field a sweet piece of eye candy that makes up part of the Seattle skyline, but this place is as loud as they come. I challenge you to name one outdoor venue that can generate more noise on Sundays than Paul Allen's baby.
Qwest is located in downtown Seattle right next to the Puget Sound and per the Seahawks' website is set "against the backdrop of snow-covered mountains." In addition, Seattle is 5-1 at home during the playoffs since opening the joint in 2002.
Bonus: Qwest is located just 41 miles north of Chambers Bay, the best golf course you've never heard of.
4. Heinz Field (Pittsburgh Steelers)
Seating Capacity: 65,050
Playing Surface: Grass
Opened: 2001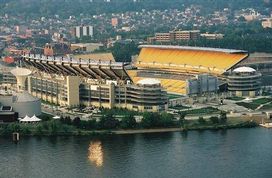 When in Pittsburgh, be sure to visit Primanti Bros.
Heinz has only been open for ten years, so the history doesn't run too deep. But the Steelers have won two Super Bowl bowls since making the move from Three Rivers Stadium, something 21 NFL teams can't say they've achieved in their entire history.
Pittsburgh is one of the great football cities in America. If you're looking for a good time, book a hotel in the downtown area on Saturday and valet the car, because you can get everywhere you need to go by walking or taking a cab. The parking at the stadium is limited, but you can hit McFadden's before the game to get tuned up prior to kickoff.
If you disagree with Heinz Field being rated this high, you've never been there in a crucial third down situation with the 65,000+ faithful in attendance all waving their Terrible Towels trying to help their defense get a stop. It's an awesome sight.
5. Lincoln Financial Field (Philadelphia Eagles)
Seating Capacity: 69,144
Playing Surface: Grass
Opened: 2003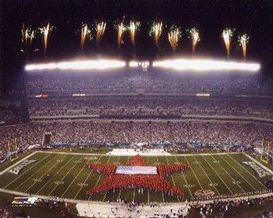 Philadelphia boasts one of the best sports complexes in the country.
This place doesn't feature the same hostility or 700 level chaos that could be found at Veterans Stadium back in the days of Buddy Ryan and Randall Cunningham, but trust me, that doesn't mean Lincoln Financial Field is a friendly environment for visiting teams.
I've sat in the last row at the Linc and can tell you first hand that this place doesn't have a bad seat in the house. In addition, fans are treated (I use that term loosely) to scenic views of the Philly skyline out of the west end zone.
The true beauty of Lincoln Financial Field comes before kickoff, as this venue is part of a Philadelphia sports complex that is also home to Citizens Bank Park (Phillies) and the Wells Fargo Center (Flyers, Sixers). With all of the parking available, fans have the luxury of tailgating with their 69,000 closest friends prior to game time.
Bonus: Matt Bowen was heckled by an old lady at the Linc while on crutches when he played there with the Rams back in his glory days.
6. Lucas Oil Stadium (Indianapolis Colts)
Seating Capacity: 66,153
Playing Surface: FieldTurf
Opened: 2008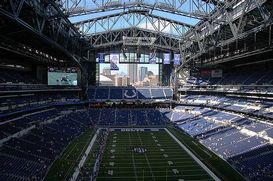 The house that Peyton built.
Since opening in 2008, Lucas Oil Stadium has been the site of 19 regular season wins in only 24 games and is known for getting extremely loud when the roof is closed, although legend has it the Colts used to pump in extra noise through their sound system.
An architectural masterpiece, this venue is walking distance from a host of bars and restaurants in the downtown area, which becomes a sea of blue on Sundays. In addition, how often do you have the opportunity to attend a game that features one of the greatest quarterbacks in NFL history?
7. Gillette Stadium (New England Patriots)
Seating Capacity: 68,756
Playing Surface: FieldTurf
Opened: 2002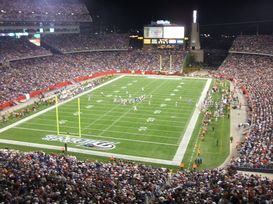 Already the site of two Super Bowl championship teams and countless Tom Brady hairstyles, Gillette cracks the top-ten on this list mainly because of a personal experience I had here at the beginning of the 2009 season.
The Patriots were hosting the Buffalo Bills in the Monday night opener and trailed 24-10 with just over two minutes remaining in Brady's first game back from a knee injury that sidelined him for pretty much the entire 2008 season.
Until this point in the game, I was disappointed in the New England faithful. Despite being a nationally televised game, the crowd had been mostly quiet and indifferent to what they were watching.
But after Brady hit tight end Ben Watson for a second touchdown with just 50 seconds remaining on the clock (giving the Pats a one-point lead), this place came alive like nothing I've ever witnessed in my 30-years on planet Earth. The lower level was shaking like it had been hit with an earthquake as the fans erupted in celebration.
I would gladly trade 58 minutes of dullness to experience another two minutes like that.
8. New Meadowlands Stadium (New York Giants, New York Jets)
Seating Capacity: 82,566
Playing Surface: FieldTurf
Opened: 2010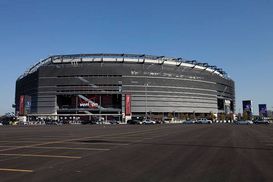 New Meadowlands Stadium
It ranks second in the league in seating capacity and is brand new, so New Meadowlands Stadium was obviously going to find its way into the top ten.
However, this place has no identity. Two teams play here and both failed to bring the postseason back to northern New Jersey. In addition, while NMS looks spectacular from the outside, the inside of the stadium area was built in the old school style that features one lower seating bowl and one upper level seating bowl.
While most new outdoor venues get a little more creative, the Giants and Jets opted to go the traditional route.
And you can't really blame them. Honestly, who the hell wants a skyline view of East Rutherford?
9. Raymond James Stadium (Tampa Bay Buccaneers)
Seating Capacity: 65,857
Playing Surface: Grass
Opened: 1998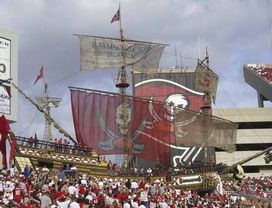 The infamous pirate ship.
If you've never been to Raymond James, I expect you'll be hitting up the comments section to tell me I'm an idiot for having this place ranked this high. But outside of Qualcomm Stadium in San Diego, good luck finding a venue that features better weather than RJS. How many places provide the opportunity to get a sun tan while watching an outdoor football game in mid-December?
The tailgates are awesome, the fans are passionate, the building is relatively new and the team has already won a Super Bowl since moving in.
But the real star of Raymond James Stadium is the south end zone. While the 103-foot-long pirate ship in the north end zone gets all of the attention, the south end zone is the place to be if you're between the ages of 21 and 32, as this is the site (at least it was while I was frequenting the joint back in 2006) where a host of young professionals from the Tampa area gather to hang out and drink beers on Sundays.
It's the only place in the NFL where you have the opportunity to stand around and score digits while watching a football game from a sunshine-filled lower level.
Not that I would know, although I have tried and failed.
10. University of Phoenix Stadium (Arizona Cardinals)
Seating Capacity: 63,400 (expandable to 78,600)
Playing Surface: Grass
Opened: 2006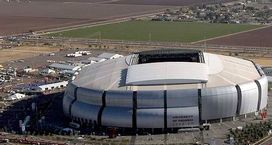 The Big Toaster
ESPN's Chris Berman calls it "The Big Toaster." Others say it looks like a spaceship. Cardinals fans are just happy that University of Phoenix Stadium offers air conditioning and a closed roof (if the team chooses), unlike the glory days at the old Sun Devil Stadium.
As far as actual facilities go, this place is top notch with a cutting-edge design and a grass field that can be moved outside into the Arizona sunshine. How cool is that?
However, the fans cost this place some bonus points in the rankings when they struggled to sell-out the 2009 Wild Card playoff game against the Atlanta Falcons, considering the fact that the Cardinals had not been to the playoffs since 1998.
11. Invesco Field at Mile High (Denver Broncos)
Seating Capacity: 76,125
Playing Surface: Grass
Opened: 2001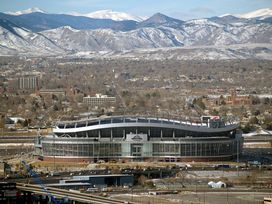 You like the view?
While the team hasn't posted a winning season here since 2006, Invesco Field is regarded as one of the loudest and most intimidating stadiums in the game today.
Set against the backdrop of the snow-capped Rocky Mountains, the first row of level four is one mile above sea level.
Bonus points for originality: Invesco Field features a plaque located outside of the visitor's locker room that is meant to intimidate opponents by informing them of the dangers of being in the thin Rocky Mountain air.
You can't find stuff like that in Atlanta.
12. Soldier Field (Chicago Bears)
Seating Capacity: 61,500
Playing Surface: A crappy combination of grass and mud.
Opened: 1924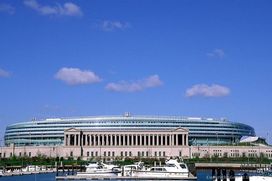 What does this look like to you?
After undergoing a $365 million renovation that was completed in 2003, here are some of the things that were said about the new-look Soldier Field:
"It looks like a UFO crash-landed on an ancient ruin."
"It's like a fat man trying to wedge himself into a skinny man's shorts."
The Chicago Tribune called it the "Monstrosity on the Midway."
Still, Soldier gets bonus points for location (by the lake in the great city of Chicago), fans and historical significance. Think about it: This place has been around since 1924. That's before the stock market crashed!
Additional Bonus Points: After catching a game at Soldier, you're within walking distance of Lou Malnati's.
13. New Arrowhead Stadium (Kansas City Chiefs)
Seating Capacity: 81,425
Playing Surface: Grass
Opened: 1972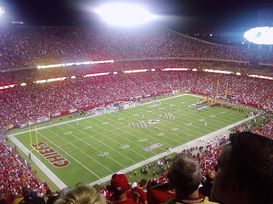 The Chiefs opened up this place with a bang.
Chiefs fans, I'm going to be honest with you. I've never been to a game at Arrowhead and know very little about the stadium. I put you guys in the 13 spot because you just dumped $375 million into renovations and you're regarded as some of the best fans in the league.
Had I actually been to a game at Arrowhead, I have a feeling I'd be rating this place a lot higher.
Feel free to blast me in the comments section.
14. M&T Bank Stadium (Baltimore Ravens)
Seating Capacity: 71,008
Playing Surface: Sportexe Momentum Turf
Opened: 1998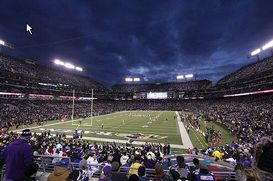 The home of Ray Lewis.
Located within walking distance from a really good time known as Inner Harbor, M&T Bank Stadium is the proud owner of a Vince Lombardi Trophy and home to one of the game's all-time great linebackers in Ray Lewis.
However, despite qualifying for the playoffs seven times in the last 11 years, M&T has only hosted three postseason games in its existence, with two of them resulting in losses.
M&T ranks in the middle of the pack because as far as I can tell, it doesn't really stand out in any of the stadium ranking criteria categories. The building is nice, the fans are good, the location is above average and there is some historical significance, but not a whole lot.
There's not really anything else to say.
15. Louisiana Superdome (New Orleans Saints)
Seating Capacity: 76,468
Playing Surface: Sportexe Momentum Turf
Opened: 1975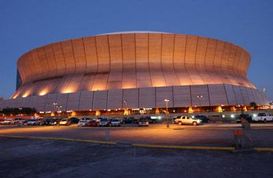 Six Super Bowls have been played here.
I hate to say it (and I know it's going to lead to some uproar) but the actual stadium structure is pretty dumpy. The place was opened in 1975 and was dealt a pretty serious blow when Hurricane Katrina came through New Orleans in 2005.
However, the Superdome has hosted six Super Bowls and isn't far from Bourbon Street, which leads to some major bonus points. In addition, the great fans of New Orleans are capable of turning this venue into one of the most hostile environments in the NFL.
Said Vikings quarterback Brett Favre after losing the NFC Championship game to the Saints in 2010, "That was, by far, the most hostile environment I've ever been in. You couldn't hear anything."
History, fans and location are a big plus, but architecture and amenities are what's keeping the Superdome from a higher ranking.
16. Reliant Stadium (Houston Texans)
Seating Capacity: 71,500
Playing Surface: Grass
Opened: 2002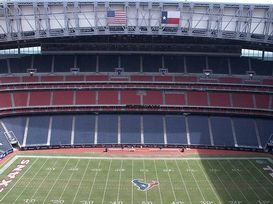 Reliant Stadium
The first facility in the NFL to have a retractable roof, Reliant Stadium is the exact opposite of the Superdome.
The architecture is outstanding and the amenities are first class, but the venue lacks any legitimate history and is populated by fans who have never seen their team qualify for the postseason.
Give the people something to cheer about, and I'll bump you up. Until then, nothing here really stands out. Sure, the actual stadium is nice, but how often do you hear people talking about Reliant the way they talk about Qwest or Lucas Oil?
17. Bank of America Stadium (Carolina Panthers)
Seating Capacity: 73,778
Playing Surface: Grass
Opened: 1996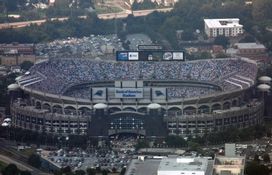 BOA is located in the beautiful city of Charlotte.
Located in the city of Charlotte, Bank of America Stadium offers a scenic, urban backdrop and fairly favorable weather conditions on Sundays in the fall. However, despite opening in 1996, this venue is already among "the oldest third of current NFL stadiums," per Wikipedia.
Unfortunately, BOA has only hosted three playoff games in its 15-year existence. In addition, it's tough to forget the memory of hearing how quiet this place was during the Divisional Round of the playoffs in 2009.
Granted, the Panthers got thrashed by the Cardinals 33-13, but I expected more from a fan base that had only been a part of two home playoff games prior to that dreadful day.
18. LP Field (Tennessee Titans)
Seating Capacity: 69,143
Playing Surface: Grass
Opened: 1999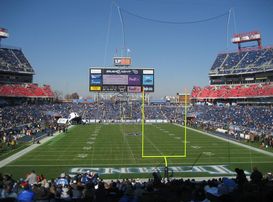 LP Field
The open-aired home of the Titans is located in Nashville, which affords Tennessee fans the luxury of partying in one hell of a fun city prior to kickoff. Since opening its doors in 1999, LP Field has played host to four playoff games, including the legendary "Music City Miracle" in 2000.
This venue is located in a solid location and has a respectable fan base, but nothing stands out about the architecture and the historical significance of the building is somewhat lacking.
I could very well be missing something here, but I'm not sure how LP deserves a higher ranking.
19. FedEx Field (Washington Redskins)
Seating Capacity: 91,704
Playing Surface: Grass
Opened: 1997
Be careful when leaving this place.
Located in the heart of the NFC East, FedEx Field boasts a top-notch fan base and the gritty, northeast weather in which football was meant to be played. A seating capacity of just over 91,000 is a big plus, as FedEx can get extremely loud when the 'Skins are playing well.
Outside of that, there are a lot of problems with this place. For one, the traffic getting in and getting out is awful. In addition, it's possible that FedEx is located in the worst neighborhood of any NFL city.
I'm not sure about you, but in my opinion, going to a football game shouldn't include the risk of getting gunned down after watching your team get beat.
20. Ralph Wilson Stadium (Buffalo Bills)
Seating Capacity: 73,079
Playing Surface: AstroPlay
Opened: 1973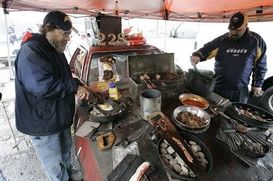 One of the many tailgates at Ralph Wilson Stadium.
When it comes to architecture and amenities, RWS is going to rank at the bottom of the list. But there's something charming about the home of the Bills in that there's no denying this place was built to host football games.
While I haven't had the privilege of attending a game at Ralph Wilson, I've never heard a negative thing about their fan base. Buffalo boasts one of the most loyal followings in the NFL, despite having to root for a team that hasn't produced a winning season since 2004.
These people are known to throw a first-class tailgate party, which is a big-time bonus in my book. In addition, anytime weather plays a serious role in your games, you get an added bump.
This is how football should be played (unless it's the Super Bowl, in which case it should be in Miami, Southern California, Phoenix or New Orleans).
21. Ford Field (Detroit Lions)
Seating Capacity: 64,500
Playing Surface: FieldTurf
Opened: 2002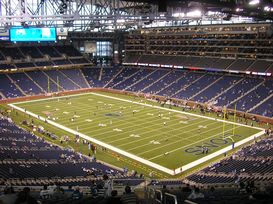 Just after kickoff (just kidding).
The home of the Detroit Lions is said to be very nice. Sadly, you'd never know because nobody attends the games and very few people actually talk about the place.
That will all change in two years when Jim Schwartz leads the Lions back to the postseason.
22. Qualcomm Stadium (San Diego Chargers)
Seating Capacity: 71,294
Playing Surface: Grass
Opened: 1967
Like all California football stadiums, this place is a dump. But Qualcomm scores major bonus points for two things: tailgating and weather.
The monstrous parking lot offers up one of the best pregame party spots in all of the NFL, as tee shirts and shorts can be worn pretty much for the duration of the season. I was a San Diego season ticket holder back in 2005 and can tell you firsthand that the tailgating at Qualcomm is arguably the best in the business.
Unfortunately, San Diego is a transplant city, which means once you get inside the stadium, the very real possibility exists that you'll be outnumbered by fans who support the visiting team.
I was booed out of the joint back in '05 when the Cowboys, Steelers and Giants all came to town. In addition, you'd be wise to avoid the upper deck when the Raiders visit, as all-out brawls tend to be the norm for this fierce AFC West rivalry.
Bonus Points: The weather is so nice (rarely any wind), that beer pong is a staple of many a tailgate.
*Fast forward to the 38-second mark to witness Oakland and San Diego fans treating each other with the utmost respect.