February 03, 2011 -
Matt Bowen
For Bears, Forte must be an offseason priority
Earlier today, Michael C. Wright of ESPNChicago.com posted a good read on Bears' RB Matt Forte as he enters the final year of his rookie contract. The numbers and the production that he provides to Mike Martz's scheme in Chicago are hard to argue against when talk of a new deal surfaces.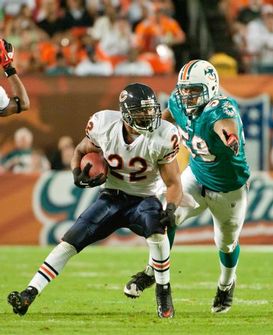 ICONForte will head into the final year of his rookie contract in 2011.
Is he a top tier talent at the running back position when we throw out names like Adrian Peterson, Chris Johnson, Jamaal Charles, etc.? I can't say that—but there is value with Forte in Chicago.
As told by Wright, over the last three seasons Forte has led the Bears in rushing (3,386 yards) and total receptions (184). And look back at this season, because you can see the impact he had under Martz. The second half of the year this offense became more balanced with its play calling. QB Jay Cutler saw an increase in his production and Forte stepped into that feature role in the backfield.
Let's not throw out Marshall Faulk comparisons (still the best football player I have ever been around) when it comes to overall talent, but I do see the similarities when we look at the X's and O's of Martz's playbook. As much as we talk about 7-step drops, multiple breaking routes and vertical passing schemes, we need to look at the running back position. Because that hasn't changed since I played under Martz as a rookie in St. Louis.
Forte carried the ball 237 times for 1,069-yards, while tying WR Johnny Knox for the team lead with 51 receptions. The running back in this system has to be dynamic and we aren't talking about the screen game or the simple check down vs. a Cover 2 look. Instead, focus on the routes that Martz designs for the position.
Let's check out this quick video replay of Forte running one of Martz's favorites: the "rail" route. Create a bunch formation with the RB in a "chowed" alignment (over split). Run the Hi-Lo concept (underneath crossers) with Forte working the "rail" route outside of the numbers—matched up against a LB. A play Chicago ran throughout the season to gain explosive plays with the RB.
That's the type of player he is in this offense. Use him creatively and get him the ball in matchups he can win—and that includes the running game. From my perspective, Forte had more burst and displayed break away speed once he got to the second level of the defense.
But the question still remains: do you have to pay top dollar for him? In my opinion, he is worth more to the Bears than the $470k he made this season and the $12.5 million dollar contract the team shelled out for free agent RB Chester Taylor last March. However, where do you draw the line?
Sure, we all are awaiting a decision on a new CBA. But when it comes to offseason priorities Forte's name has to be at the top of the list.
You never want to overpay for running backs in this league—because they don't last. But it will be hard for Chicago to head into next season knowing that they failed to lock up a player that fits exactly what they want to do on offense.
Check back to the NFP tomorrow morning for my Super Bowl breakdown and my Sunday prediction.
Follow me on Twitter: MattBowen41