March 02, 2011 -
Matt Bowen
Is Patrick Peterson the top player in the draft?
Patrick Peterson is a 6-0, 219 pound corner—and he just ran an official 4.34 in the 40-yard dash on Tuesday in Indianapolis. I haven't seen that type of size and speed since playing with Sean Taylor in Washington. Impressive.
That alone is going to create buzz surrounding a prospect. We see it every year when it comes to the defensive back workouts at the combine. Usually, an unknown prospect rips off a 40-time that turns heads. We start pushing him up the draft boards and over value his skill set.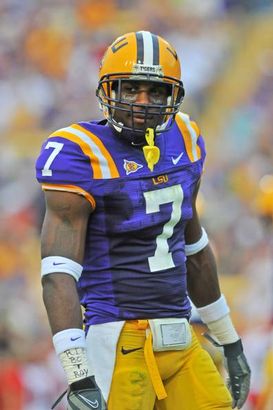 ICONPeterson has the game tape along with the 4.34 time in the 40-yard dash.
Not with Peterson, because this guy is a legit. He is already a top five prospect. A productive top five prospect that has the game tape (SEC game tape) to back up any 40 time or short shuttle at the combine.
I understand the workout buzz that he deserves today and throughout the draft process. Any corner—or safety—that can carry a weight of almost 220 and turn in a sub 4.4 in the 40 going to find a place on an NFL roster. That is reality in this league.
But Peterson also has elite skills that will keep him aligned outside of the numbers on Sundays. This isn't a player you are going to convert to safety, coach new angles to the ball, or force him to flat foot read in he run game and fill the hole. That is a waste of time and talent. You can't do that with the former LSU product. Invest him to become a potential top tier CB in the league. Because that is what he is going to be.
I can agree that Peterson wasn't the best CB on the field inside Lucas Oil Stadium on Tuesday when it came to position drills. That is purely technique based. Give that award to Miami's Brandon Harris (who will see his stock start to rise). But technique can be coached, practiced. The same way players study film of opponents or discuss X's and O's in the NFL.
However, the athletic ability we seefrom Peterson on tape and in a workout environment can't be coached. Ball skills, natural instinct and toughness. A play maker that will be able to align in a press position on Sundays, run with a WR and track the ball in the air. That is what you are getting with Peterson. The 40-time from yesterday just reconfirmed what we already knew.
It is tough for a CB to go No.1 overall, but If you are the Broncos (on the clock at No. 2) can you pass on Peterson? I can't--becasue he might be the best player on any draft board.
Follow me on Twitter: MattBowen41
Check back at 11 EST for a new Mock Draft from the NFP's Wes Bunting.