October 23, 2012 -
Matt Bowen
MNF: Bears' defense shuts down the Lions
My quick game notes from the Bears' 13-7 Monday night win over the Lions--starting with Charles Tillman vs. Calvin Johnson.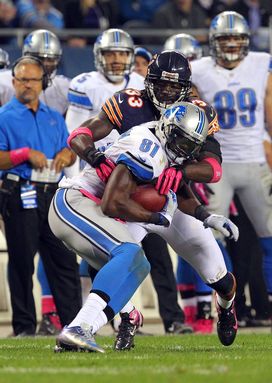 US PRESSWIRECharles Tillman competed all night vs. Calvin Johnson.
Tillman limits Calvin Johnson: The Bears' CB competed vs. Johnson (3-34). Start there. He used his hands at the line of scrimmage in Cover 1 (man-free), forced re-routes as a "cloud" (Cover 2) corner and stacked on top of the deep ball (9 route) down the field. Plus, focus on Tillman's ability to play the fade in the end zone vs. the Lions' WR. No panic at the point of attack. "Play the pocket" (stick your hands in-between the WR's arms) and get the ball out. That's veteran technique—and I saw it all night from Tillman.
Lovie's "multiple" defense: Sure, the Bears played their Cover 2 scheme, but we also saw Cover 1, Cover 3 (3-deep, 4-under), Under 10 (man-coverage with weak side rotation), plus zone and man-pressure. They threw a lot of different looks at Matthew Stafford. And when you can get pressure on the the Lions' QB his footwork and mechanics break down.
Suh's hit on Cutler: Clean and violent. I didn't see anything dirty here from the Lions' DT. Get to the QB and finish him to the ground. It was obvious Cutler was beat up when he came back into the game (and it showed in the Bears' lack of offensive production during the second half), but there is no reason to target Suh here. That's good defensive football.
Lions' turnovers/mistakes: Ball security. It's that simple. You can't put the ball on the ground in the kicking game and when you fumble in the red zone that's points you take off the board. Plus, look at the drops in the passing game. Multiple blown opportunities tonight from Detroit.
Cover 2 safeties: Check out the depth of the Bears' safeties in their Cover 2 shell. This is what you want to see vs. the deep ball ability of Johnson. Give Stafford the flat, curl, slant, etc. all night. Those routes won't beat you. Take away the 7 (corner), 9 (fade) and the deep double-move. Get to 20-yards at the snap as a Cover 2 safety and force the ball underneath.
Bears' "Swap" boot: The only TD for Chicago came on the opening drive after RB Matt Forte (22 carries-96 yards) created field position on the "Power O" scheme (FB kick out, weak side guard pull). The Bears used run action away and brought Brandon Marshall back under the line of scrimmage. And give credit to Cutler for showing some patience that allowed Marshall to work to the end zone.
Follow me on Twitter: @MattBowen41