November 13, 2011 -
Matt Bowen
Simple plan for Bears: defense and special teams
Isn't this the type of football game we have grown accustomed to with Lovie Smith when the Bears have success? Special teams, defense and points off of turnovers. A couple of quick notes here from Chicago's 37-13 win over Detroit today at Soldier Field.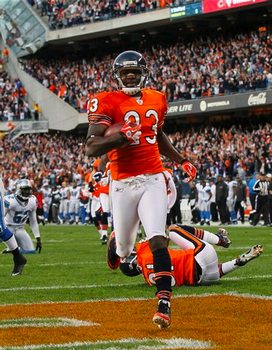 Hester's punt return for a TD was just one of the big plays created by the Bears' defense and special teams.
- Start with Hester, because his ability to create running room in the kick return game should be put on a teaching tape—and handed out to the rest of the league. His vertical speed when he plants the foot to get up field is elite. We all know that. However, what continues to impress me is how he can "set up" the coverage team. Work laterally, force defenders to move out of their coverage lanes and then pick a hole. Again, I am going to ask why teams continue to give Hester the opportunity to field the ball, because today was just another example of how he can flip the field—and produce points.
- The turnovers. Forced two fumbles early and went to work on Matthew Stafford in the second half. Four interceptions (with two returned for scores). This secondary drove downhill on routes and when you add in a QB that isn't on target, you are going to see big plays. Major Wright broke on a flat route that was thrown to far up the field and Charles Tillman made a play on a simple, short curl route. Bottom line here: the Bears secondary owned Stafford today.
- The Lions run the "spread offense." Very similar to what we see from Oklahoma State on Saturdays. How did the Bears counter? More Cover 1 and zone pressure. No different than their game plan in the Monday night win over the Eagles. Show those "single high" safety looks (FS in the middle of the field) and challenge WRs from both an off-man and press-look (on top of limiting the explosive plays to Calvin Johnson down the field). In the red zone, the Bears will lean on the Tampa 2 defense. But right now, Lovie Smith is confident in the ability of his secondary to put them in more man coverage situations. And that allows the Bears to drop a safety into the box and play some eight-man fronts.
- The brawl after the Jennings INT? That stuff can happen in divisional games—and this matchup was on the verge of getting out of hand already. Plus, Stafford didn't help things by pulling down D.J. Moore by his helmet. The ejection? You have to go that route once Moore went after the Lions' QB when he was on the ground. I can't question that. However, it is very easy for us to say he should have just walked away. Go down on that field and you would have a different perspective.
Follow me on Twitter: @MattBowen41