November 10, 2010 -
Matt Bowen
What happened to tackling at the NFL level?
Through weeks of discussion in the NFL on helmet-to-helmet hits, on the field violence and concussions, we have failed to mention one major factor—tackling. It has become a lost art in the NFL—from fundamentals to basic techniques. And it is one of the main reasons that we see players laid out on the field after taking a shot to the head.
The question is why? What has happened to the basic techniques we were all taught way back in Pop Warner football? Put your facemask on the ball carriers chest, wrap your arms, roll your hips and drive those legs. The clean and proper way to tackle. Instead, we see players going for that knockout hit—the Sports Center Top 10 hit. In my opinion, four key thing stand out when we talk about the reasons behind the drop off in quality tackling the pro level. Let's check them out…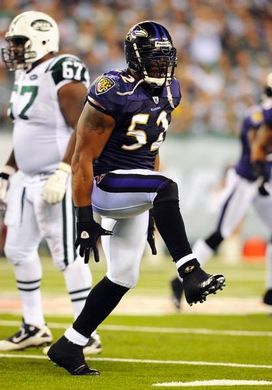 ICONBaltimore's Ray Lewis.
1. Big hits: Every defensive player wants to be labeled as a "big hitter." That's the reality of the NFL. I wanted that tag when I played, and players today are no different. But, too often we see defensive players try to "light up" a wide receiver instead of wrapping their arms. I have said before that the helmet is now a weapon in the NFL—and a major issue with concussions—and so are shoulder pads. That is why we see players launching themselves into receivers.
However, big hitters can be overrated—because a safety that can tackle in the open field and get a ball carrier on the ground is much more valuable. You want that "big hitter' label? Get one every four games. That's all you need. The rest of the time make the tackle and live to see another down. Even the so-called "big hitters" like Ray Lewis, Brian Urlacher, LaRon Landry and others tackle well on a regular basis.
2. Attention to detail: We have to understand that in-season practices aren't anything close to what we see in August during training camp. Most clubs will take off the pads and might sneak in one day (usually) Wednesday in full gear. But even then, it isn't a competitive environment when you are working against the scout team. Ten minutes of half-speed tackling drills during individual period (where you are tackling players at your same position) isn't enough to maintain those fundamentals.
Only when I was playing for defensive backs coach Steve Jackson in Washington did I see the attention to detail with tackling. We hit everyday during the regular season and it translated to the field. Whether it is hitting the one man sled and driving it across the field, the classic "Oklahoma" drill, working on the proper angles to the ball, etc. They have to be practiced on a regualr basis--because it is easy to lose your fundamentals throughout the course of a 16-game schedule in the NFL.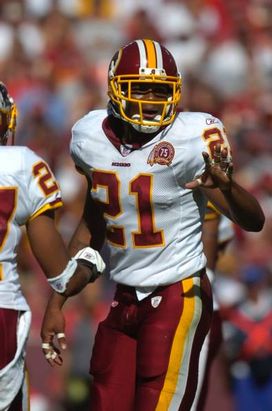 ICONThe late Sean Taylor didn't miss many tackles during his pro career.
3. "Cut" tackles: Pay attention to this on Sunday. How often do you see a DB try to cut down a running back by putting their helmet on a knee? It happens too much. Not only do you risk your own health—and neck—by doing that, it also allows the ball carrier to gain about two to three extra yards, or run right through that attempted tackle. I miss the days of players such as Steve Atwater and my former teammate, the late Sean Taylor. They didn't dive at running back's legs.
Instead, they squared them up, wrapped their arms and drove them to the ground. Why does it happen now? It is easy—even if it allows the RB to fall forward for two extra yards. I was guilty of it at times in my career and it will continue. No one coaches that.
4. The NFL Draft: I have talked to multiple scouts and front office personnel since this past April who have all told me the same thing—they want to draft playmakers. Rookies who can drive downhill and make a play on the football. Interceptions, forced fumbles, etc.
If a possible first or second round pick continues to show up on tape and looks like a ball hawk, they don't have an issue overlooking the fact that he isn't the best tackler when it comes to fundamentals. The bottom line: forcing turnovers has replaced basic technique—and making big plays has moved to the top of the evaluation process.
Bottom line: tackling is going downhill on all levels of football. Big hits are the rage, and until we see more effort put into the basic fundamentals of the game, we will continue to see missed tackles and players leading with their helmets.
Follow me on Twitter: MattBowen41