November 28, 2012 -
Matt Bowen
What is the 'Counter OF?'
Click here for the entire Inside the Playbook series.
Click here for my chalkboard breakdown of the base NFL run game.
When I talk about the base two-back power run game in the NFL my focus is on four schemes: Power O, Lead Strong, Lead Open (weak) and Counter OF. Today, let's use the All-22 tape of Trent Richardson's TD run vs. the Steelers to break down the "Counter OF."
Scheme: Counter OF (O=OG, F=Fullback)
Alignment: Pro I Strong Slot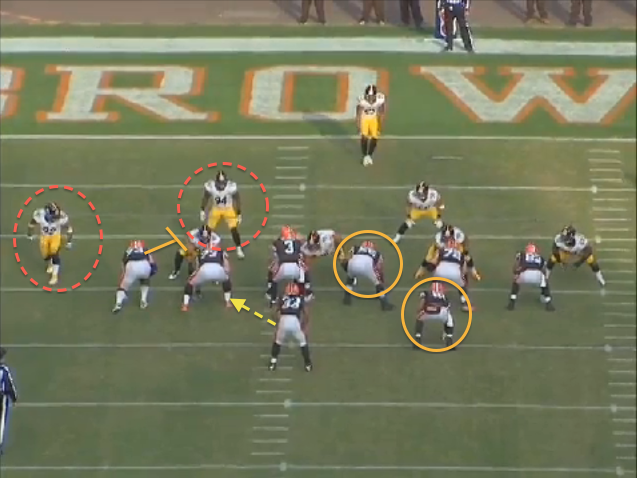 Think of an open (weak) side run out of a 2-back alignment. The Browns will pull the closed side OG and lead up through the hole with the F/H-Back. With LT Joe Thomas blocking down, the Browns can kick out OLB James Harrison and fit up on ILB Lawrence Timmons vs. the Steelers' 3-4 front.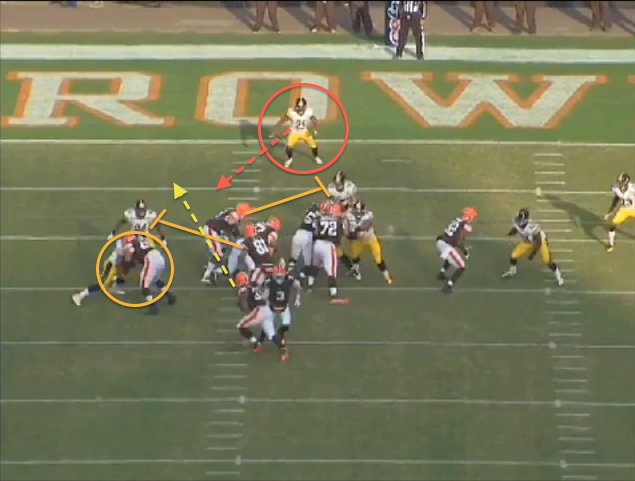 As you can see here, the Browns get the kick out block vs. Harrison and will lead up through the hole with the F/H on Timmons. With Thomas and the LG burying the DE here, the LT can now work up to the second level of the defense and block the LIB scraping to the ball. Create a running lane for Richardson.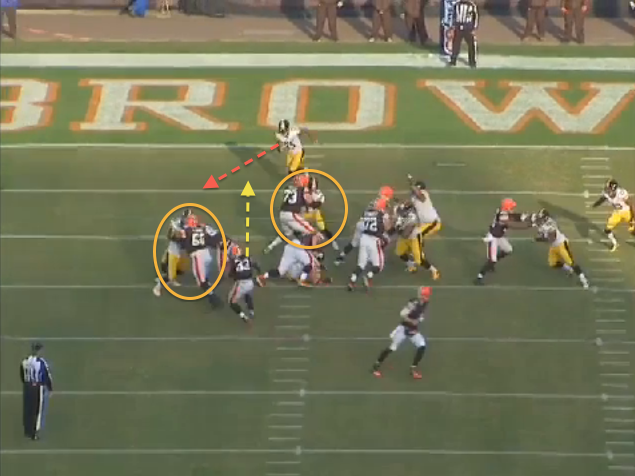 Because the Browns have a slot look to the open side of the formation, both CBs are removed from the run front. That leaves FS Ryan Clark as the "secondary" support player to fill in the box.
Richardson can now get his pads square to the line of scrimmage and work vertically up the field. And with the FS taking a poor angle to the ball, the Browns' RB uses a quick jump cut to make a move in the open field.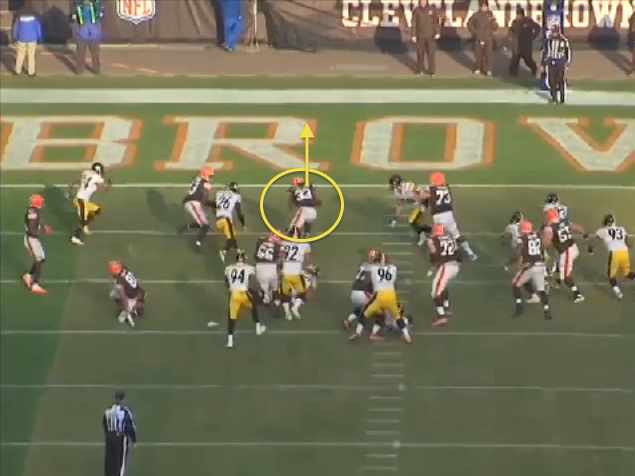 The finish with a clear path to the end zone for Richardson. However, go back to the blocking assignments. The Browns collapsed the interior of the D-Line with the down block from Thomas and created running room on the edge by fitting up on Harrison and Timmons. No window dressing here. That's base power football in the NFL.
Follow me on Twitter: @MattBowen41