February 27, 2013 -
Erik Oehler
14 Players Who Helped Their Draft Stock Most At Combine
1. Tavon Austin, WR/RET, West Virginia: Austin arrived in Indianapolis having to prove he had the elite athleticism to warrant a first round pick in spite of his lack of size. While he did not get any taller, his workout convinced everyone we spoke to that he is the real deal and will no doubt be a big play, game changer in the NFL. Not only impressive athletically, Austin caught the ball excellently and impressed in interviews. After coming to the Combine with questions, Austin heads home as a definite first rounder.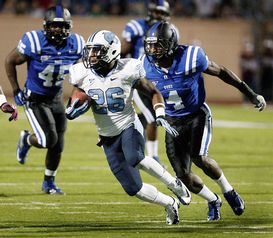 US PRESSWIRENorth Carolina running back Giovani Bernard changes directions running in the open field.
2. Giovani Bernard, RB, North Carolina: In a battle with Andre Ellington and Montee Ball to be the second running back drafted and trying to prove worthy of a first round pick, Bernard put his best foot forward in Indianapolis. Although comparing players to Pro Bowl players is risky, NFL personnel expressed to us how much Bernard reminded them of Ravens' running back Ray Rice during his positional workout. Not only did Bernard separate himself from Ellington and Ball, but he did so well that he may be able to challenge Lacy to be the first back drafted.
3. Sharrif Floyd, DT, Florida: Despite already viewed as a first round pick, Floyd's performance at the Combine was still so great that it caught people by surprise. His ability to COD and explode in the other direction while maintaining balance is that of a rare athlete. Combined with his size and the strength he showed on film, Floyd proved he is an elite talent worthy of being a top ten pick in the 2013 Draft.
4. Chris Gragg, TE, Arkansas: After a good 2011 season there were high expectations for Gragg entering the 2012 season, but he did not have a good year and scouts were down on his draft prospects. However, after an excellent display of athleticism during the positional workout in Indy, NFL personnel think Gragg may be able to return to his previous form. Showing quickness and precision running routes along with good hands and body control, Gragg showed the tools to potentially make an impact as a receiving tight end in the NFL.
5. Datone Jones, DE, UCLA: Following up an excellent week at the Senior Bowl, Jones proved that he is the most polished of the 275+ pound defensive ends in this year's Draft. Remarkably light on his feet, Jones was able to change directions quickly and displayed rare explosiveness for a man his size. After his performances in Mobile and Indy, there is no doubt that Jones will be a first round pick.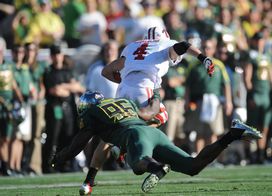 US PRESSWIREOregon's Dion Jordan lays out to make tackle against Wisconsin.
6. Dion Jordan, DE/OLB, Oregon: Tall and linear, Jordan came to Indianapolis viewed as somewhat of a "tweener," which had NFL personnel trying to figure out where he fit best and if he had the athleticism to overcome his thin frame. However, after an outstanding workout that had scouts calling him a superstar he is in position to be a top ten pick. Explosive going forward rushing the passer, Jordan ability to move and adjust so smooth and easily out in space during linebacker drills was exceptional and left everyone watching confident he can be an impact player in the NFL.
7. Dee Milliner, CB, Alabama: Although no one doubted that Milliner was a high end cornerback before the Combine, there were questions about his top end speed and explosiveness. After blazing an incredibly fast 40 time and then displaying elite explosiveness, body control and speed throughout the positional workout Milliner left no doubt that he is not only the best cornerback in the Draft, but will not get out of the top ten.
8. Barkevious Mingo, DE/OLB, LSU: While questions no doubt still persist about Mingo's lack of elite production at LSU, there are no questions about his having Pro Bowl caliber athleticism. When I spoke to NFL personnel after the DL/LB workouts, they could not stop raving about Mingo's workout. His ability to maintain knee bend and good balance while explosively changing directions impressed scouts. He proved he has the athleticism to excel as a rush linebacker in a 34 scheme and as an under-sized defensive end in a 43 defense.
9. Sheldon Richardson, DT, Missouri: An explosive and highly productive gap shooting defensive tackle at Missouri, NFL teams wanted to determine if he has the high end athleticism to be as productive in the NFL. After a workout where NFL personnel said he moved around like a running back, no doubts he has the talent to be an impact player in the NFL. Throughout the positional workout Richardson showed the flexibility to maintain bend while adjusting and changing directions with ease. Not only was his workout outstanding, but he impressed during interviews with his smarts, passion and intensity, which assures he will be a top 20 pick.
10. Denard Robinson, WR, Michigan: Robinson showed at the Senior Bowl that making the switch to slot receiver was not going to be an easy road as his routes were raw and he struggled catching the ball. However, in Indy he proved to everyone that he has been working extremely hard to improve as his routes were better and his hands were significantly improved. While he still has a way to go to become polished and consistent receiver, the improvement he showed since January puts him back in position to potentially be selected as high as the third round.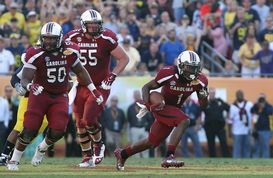 US PRESSWIRESouth Carolina's Ace Sanders explodes after changing directions.
11. Ace Sanders, WR/RET, South Carolina: Tavon Austin may well have laid claim to being the best slot receiver / returner in the Draft, but Ace Sanders had an outstanding workout himself. Viewed as not having the top end talent to make up for his lack of size, Sanders' showed explosive acceleration, sharp route running ability and soft, natural hands throughout positional drills. His performance will not move him into the first or second round, but it likely put him in position to be a third or fourth round selection.
12. Matt Scott, QB, Arizona: Many of the bigger names quarterbacks failed to impress at the Combine, but Scott definitely showed that he has to be considered one of the better developmental prospects. Regarded more as a run first quarterback whose strength was his athleticism, Scott's quick releas e, strong arm and accuracy were much better than expected. Scott still needs a big pro day, but if he throws as well as he did in Indy then I believe he will end up climbing to the top of day three on Draft day.
13. Darius Slay, CB, Mississippi State: Constantly referred to as "the other cornerback" at Mississippi State where he played opposite Johnathan Banks, Slay outperformed Banks in Indy to make NFL personnel stand up and take notice. A tall cornerback himself at 6'0, Slay's quick feet, loose hips, speed and ball skills really impressed throughout positional drills. While we still expect Banks to be selected higher in the Draft, Slay's performance in Indy likely will lead to him being selected one the second day of the Draft.
14. Manti Te'o, MLB, Notre Dame: While nearly everyone in the media is smashing Te'o saying he had a terrible combine because he ran in the low 4.8's, our sources tell us that those reports could not be farther from the truth. During the most of the remaining measured drills, Te'o was better than average and near the top in some. During the positional drills, Te'o proved that he is a good all-around athlete with smooth movement skills, not elite athleticism. But most importantly, Te'o stood out in team interviews displaying good leadership and football intelligence. Everyone we spoke to told us that they are confident after this week that he can be a solid starting linebacker in the NFL as either an MLB in a 43 defense or an ILB in a 34 scheme.
Email Russ at Russelllande@yahoo.com and Follow Russ on Twitter @RUSSLANDE