February 02, 2012 -
National Football Post
Emerging rugby star Hayden Smith hoping to make jump to NFL
A blossoming rugby star is hoping to trade his career in Europe for a shot a spot on an NFL roster.
<p> Hayden Smith, a front liner for the
Saracens
, is hitting the tryout circuit as a handful of NFL clubs line up to take a close look at the 6-6, 265-pounder. Smith, who had a workout for the New York Jets on Tuesday, will work out for the New Orleans Saints today.
Not everyone is sure what position matches Smith's ability best, but the Australian-born 26-year-old played college basketball in the U.S. He has 9.2 percent body fat and has been timed in the 40-yard dash at 4.75 to 4.82 seconds. He's got long arms and good lateral quickness, the kind of tools necessary to make the move from the pitch to the gridiron.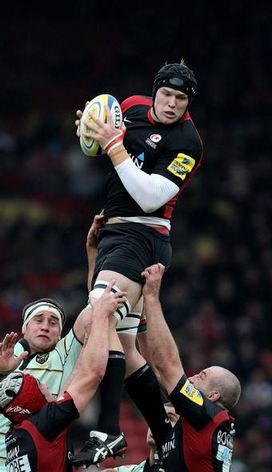 In just three short years, Smith has just scratched the surface of where his size and athletic ability can take him.
With similar physical traits and measurements to Rob Gronkowski of the New England Patriots, tight end may be the position that makes the most sense for Smith. Some have talked about looking at him as a pass rusher and perhaps as an outside linebacker in a 3-4 scheme. His large hands are soft and he is known for having good ball handling skills for rugby.
"To play in the NFL would undoubtedly be the pinnacle of my career," Smith said. "I will do whatever it takes to make my dream a reality."
Smith is originally from Sydney, Australia, where he played basketball through high school. He eventually earned a scholarship to Metropolitan State in Denver, where he was a starter for two years at power forward. After his college basketball career had ended, Smith took part in a club rugby match where he discovered that he was a natural for the game. Within a few weeks he caught the eye of Scott Johnson, the then coach for the USA Eagles, and was promptly selected to play for the USA. Smith was invited to England on a trial with Saracens. After playing rugby for only 18 weeks, Smith signed a contract with the Premiership team, where he continues to be a rising star. Smith has also showed himself to be a standout player for the USA in the recent Rugby World Cup tournament in New Zealand.
"We expect to have a very surgical tour of workouts in February and March of this this year," Bechta said. "We have targeted interested NFL clubs who will be committed to developing Hayden's physical skills. Hayden is pursuing his dream of playing in the NFL with the full support of the Saracen's management. Club CEO Edward Griffiths is a progressive leader who has been behind Hayden's NFL endeavors."Smith will finish the season with the club but is currently in the U.S for a few planned NFL workouts that have been arranged by his veteran NFL agent Jack Bechta. It is possible Smith will travel back to the U.S. for some additional planned workouts in the near future. Bechta also represents fellow Australian Pro Bowl punter, Mat McBriar of the Dallas Cowboys.
"Although Hayden most likely will be a candidate for the development roster in his first year, I sincerely believe he can contribute this season on special teams because of his athletic ability and polished tackling skills. With some good coaching, I believe he can be a starter caliber player during the 2013 season."
In full disclosure, Bechta is a founding partner of the National Football Post