May 24, 2012 -
National Football Post
Is Andre Ellington the draft's top 3rd down back?
RB Andre Ellington: Clemson (5-10, 190)

What I like…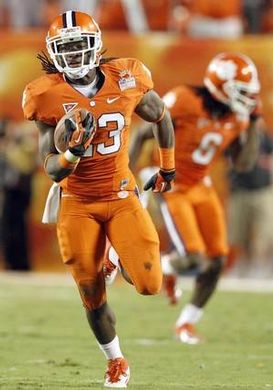 ICONEllington can run away from defenders in the open field.
- Possesses some natural girth on his frame for his size.
- Initially keeps his pad level down when pressing the line of scrimmage.
- Makes himself small between the tackles and is tough to find behind those bigger offensive linemen.
- Showcases good patience inside. Allows holes to set and picks his way through the line with solid vision.
- Showcases the ability to weave his way in and out of traffic and has a little suddenness to his game in tight quarters.
- Exhibits an explosive first step when asked to press the hole. Can get from 0-60 instantly. A two-stepper in every sense of the word.
- Is at his best running from the gun and pressing the edge. Has the straight-line speed to consistently outrun angles.
- Possesses natural balance when asked to turn the corner and accelerate.
- Is a big play waiting to happen with the football in his hands. Has the first step to separate from would be tackles and leaves them in the dust in the open field.
- Showcases the straight-line speed to weave around defenders in space and is tough to keep an angle on.
- Looks natural out of the backfield in the pass game. Adjust well to the football and can pluck off his frame.
- Averaged over 5.0 yards per carry as a junior and keeps his yards per attempt high because of his ability to create the big play.

What I didn't like…

- Lacks the ideal size needed to handle the pounding of being an every down type back.
- Doesn't exhibit much natural power in his game either.
- Can easily be wrapped up on in a phone booth and doesn't have the leg drive to consistently push the pile.
- When trying to change directions has a tendency to get upright and lose balance, allowing defenders to trip him up easily.
- Is faster than quick. Gets a bit narrow in the base and upright once he accelerates, causing him to struggle to make defenders miss at full speed.
- Can't be at top gear when picking his way through traffic at the line of scrimmage. If he presses the hole quickly, he becomes more of a linear runner.
- Could end up being a liability in press protection. Lacks ideal size and power to anchor on contact.
- Doesn't break/slip a ton of tackles in tight areas when a defender squares up on him. Tends to go down easier on contact.
- Has had his hair share of dings and injuries throughout his time at Clemson and staying healthy consistently may be a concern.

Overall…

Clemson running back Andre Ellington is a dynamic open field runner. He gets up to speed instantly, can routinely outpace angles and is a big play waiting to happen. Plus, he showcases the ability to press space when working the edge and will catch the football well out of the backfield.

I do have concerns about him as an "every down" type back as he lacks ideal power inside, isn't as shifty as you would expect and tends to get tripped up easily through contact.

However, in more of a third down role where you can routinely get him the football in space and ask him to be that big play threat. Ellington certainly has the skill set to be the home run type X-factor for an NFL offense.