January 26, 2012 -
National Football Post
Ranking the Senior Bowl's Top 10 prospects
After three days of practice in Mobile Alabama, the NFP ranks the Senior Bowl's top prospects for the upcoming NFL draft and breaks down which NFL teams are good fits for each.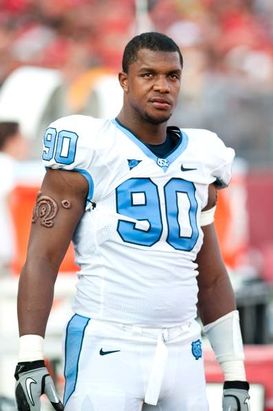 ICONCoples has been a standout all week.
1. DE Quinton Coples: North Carolina (6-6, 285)
Possesses the ideal build for a defensive lineman and the game really comes easy to him. He showcases the ability to overpower on contact, be sudden laterally and uses his length well to shed. If he can keep his motor running on high, looks like a top-five caliber talent.

NFL Fits…
Bears
Seahawks
Jaguars

2. OT Mike Adams: Ohio State (6-7, 320)
Looks the part of an NFL left tackle. He showcases good length, moves his feet well through contact and exhibits "plus' range toward the edge for his size. At times gets himself into trouble "catching" defenders at the point, but has the skill set to mature into a good starting NFL left tackle.

NFL Fits…
Chiefs
Bills
Lions

3. DE Courtney Upshaw: Alabama (6-2, 265)
A physical, compact pass rusher who turns speed into power well off the edge and can overwhelm on contact. Plus, has the versatility to play in both a 34 and 43 front at the next level.

NFL Fits…
Bears
Cowboys
Chiefs

4. CB Janoris Jenkins: North Alabama (5-10, 182)
He was simply the most impressive cover man down here this week. Jenkins displays natural fluidity when asked to turn and run, stays low out of his breaks and is a bear to separate from on all levels of the field. Looks like an NFL starter early on in the NFL.

NFL Fits…
Lions
Bengals
Patriots

5. OG Cordy Glenn: Georgia (6-5, 348)
Glenn had some struggles this week at OT. However, when lined-up inside at guard he was downright dominant. He showcased good natural quickness off the ball, was able to extend his arms and control blockers with ease through contact. Looks like a first round caliber guard prospect to me.

NFL Fits…
Steelers
Cowboys
Cardinals
Follow me on twitter: @WesBunting
For the rest of the list click to page two...