May 29, 2011 -
Dan Pompei
NFP Sunday Blitz
One number stands out about Jake Locker.
It's not 10, the number he wore at Washington. It's not 9,578, the number of yards in total offense he amassed. It's not 8, the spot where the Titans chose him in the first round. It's not 40, the number of college games he started. It's not 4.50, his 40-yard dash time at the combine. And it's not 20, his score on the Wonderlic.
It's 53.9, the percentage of passes he completed at Washington. Or, if you prefer, 55.4, the percentage of passes he completed as a senior.
If Locker is going to make it as an NFL quarterback, that number has to improve. The man charged with improving it, Titans offensive coordinator Chris Palmer, explained to me how he hopes to make Locker a more accurate passer.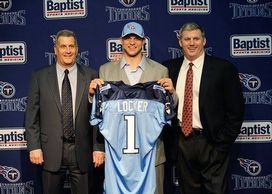 The Titans will only be proud of Jake Locker if he turns into an accurate passer.
"Right now, he is a 55 percent passer," Palmer said. "If he throws 20 passes, that's 11 of 20. Our job is to get him to complete 13 out of 20. In the California game he was (17of-27 for 63 percent). So you know he has it within him. We want him to complete two more balls out of 20. How hard is it going to be to complete two more of those balls? That's the goal. When we get to 13, now can we get to 14."
Some people don't think an inaccurate quarterback can change his spots. Palmer, however, firmly believes that Locker can, and says he will be an excellent pro. Locker might have been inaccurate at times in college because of things that were out of his control, like breakdowns of teammates, scheme weaknesses or conditions.
Palmer, it should be noted, has improved the accuracy of a highly regarded quarterback before. Prior to his hiring by the Giants, Eli Manning's completion percentage was .505. In the three years Manning was with Palmer, his completion percentage was .595.
"He worked on his accuracy almost every day," Palmer said. "It's a tribute to Eli that he improved it with hard work."
If hard work has anything to do with it, Locker is likely to improve as well. Palmer tells a story about Locker getting 80 jump rope rotations in 30 seconds at a private workout. Palmer asked him to work on it. A month later, Locker was getting 113 rotations. "That to me is an indication of his competitiveness and how hard he works to improve," Palmer said. "He did a great job with it. If we can do that with his completions, I'll be very, very happy."
Already, Palmer and Locker's private coach Ken O'Brien have asked Locker to try to shorten the length of his stride in attempt to get more accurate passes. And Palmer has more ideas to implement with Locker once the lockout ends.
He talks about creating better accuracy by getting Locker to be more consistent with his balance and rhythm, by keeping his shoulders at the right level, by pointing his belt buckle on his target, by turning his front foot a certain way.
"Jake is a tremendous passer on the move," Palmer said. "I don't know if in 20 years I've been in league seen a better one throwing on move. When he's in balance, in rhythm, he shows can make all of those throws. It's like a golf swing, the slightest error and you're over in the woods."
Palmer has some drills in mind that he's used before. In one, the Titans will set up four flags on the field, each a different color. The coach will yell, "Right, yellow," or, "Left, blue," and Locker will have to try to hit that specific flag. "With the flags, we can work on curls one day, rollouts or sprint outs one day – a variety of routes," Palmer said. In another drill, the team will hang a net from the goal posts with dots on it, and the quarterback will be asked to throw to specific dots.
It's pretty simple, really. If Locker can become a 60 percent passer, he probably will have been well worth the eighth pick in the draft. If he can't, his selection will be remembered as an inaccurate pick.
Things I Didn't Used To Know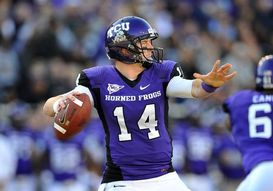 ICONAndy Dalton could be another Jim Harbaugh.
*Bengals scouting consultant Bill Tobin has evaluated a quarterback or two in his 40 years working in NFL front offices. He told me the player Andy Dalton reminds him of is another player he drafted 24 years ago – Jim Harbaugh. In fact, before the draft Tobin told Harbaugh, now the 49ers coach, that he found a young Jim Harbaugh. But he couldn't tell him who he was until after the draft. Tobin thinks Dalton is similar to Harbaugh in terms of toughness, durability, leadership and efficiency. He also said Dalton is a gym rat who gets the respect of teammates much like Harbaugh was. It should come as no surprise then, that Harbaugh's 49ers were trying to trade up to get ahead of the Bengals to take Dalton.
*The Broncos decided to take Von Miller ahead of Marcell Dareus with the second pick of the draft because they believe Miller can be more of a game changer. "Dareus is a very solid, tough defensive tackle who will have a long career in this league," Broncos honcho John Elway told me. "But the difference is Von's ability to be a game changer. That's what swung us to Von. Obviously we needed help inside, but we were looking for a game changer." The Broncos plan on using Miller as a pass rusher on passing downs.
*The Bills, meanwhile, were thrilled with Dareus because his versatility to play either defensive end in a three man front or defensive tackle in a four man front enables Buffalo to morph between defenses. Dareus played both the five technique and the three technique at Alabama, so the Bills coaches are confident he can play both in the pros. The plan is for the Bills to play a lot of both fronts, but if they find their personnel is better for one or the other, they can shift that way without having to concern themselves with Dareus.
*The Patriots got excellent return for passing up Mark Ingram. Their options with the 28th pick were to take Ingram, or to trade the selection for a 2012 first round pick and a second round pick, which they knew they could use on a solid running back. They chose the latter option and ended up using that second round pick on Shane Vereen, who some believe might be almost as gifted as Ingram. Then the Pats got some insurance for the position with their next pick when they chosen Stevan Ridley in the third round. Vereen and Ridley could be a one-two punch in New England for the foreseeable future. Initially, look for Ridley to be a first and second down back and Vereen to learn the nickel offense. Though they have different styles and strengths, both are capable of being every down backs eventually.
*It is possible the Panthers' last pick in the draft will be a better player than their first? Some front office men would not be surprised if seventh round offensive tackle Lee Ziemba has a better career than first overall pick Cam Newton. Ziemba was rated by most teams as a second to third rounder strictly from a talent perspective. He had excellent tape and prolonged production at Auburn. He performed very well in the Senior Bowl. His measurables are very good for the position. The only reason he dropped is teams had questions about his knee. "If he stays healthy, he's an NFL starter, and probably a good one," said one general manager.
My Sunday Best: Memorial Day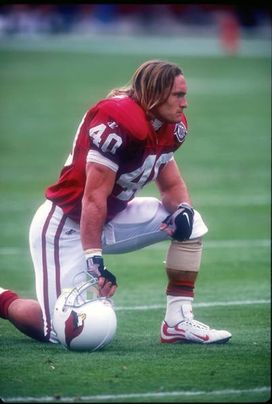 This weekend we remember Pat Tillman and thousands of other veterans.
This weekend is the time to remember those who have gone before us, especially those who died in service to our country. Here then, is a look back at NFL players who lost their lives in battle.
Al Blozis—He played offensive tackle for the Giants in 1942 and 1943 before joining the army. He also played three games in 1944 while on furlough. In 1945, he disappeared in France while searching for platoon mates on a mission to scout enemy lines in World War II. The Giants subsequently retired his number 32.
Jack Lummus—After playing end for the Giants in 1941, Lummus joined the Marines and found himself among the first wave of troops in Iowa Jima in February of 1945. Lummus stepped on a land mine and lost his legs. While being treated, he told doctors, "I guess the New York Giants have lost the services of a damn good end." Though 7,000 Americans lost their lives in the battle of Iwo Jima, Lummus was one of only 27 to be given the medal of honor from Harry Truman.
Bob Kalsu—He played one season as a guard for the Bills in 1968 (he was the team's rookie of the year) before being sent to Viet Nam by the army the next year. He was killed in 1970 when trying to get fellow soldiers to take cover because a chopper was making an emergency landing in the area and the enemy would be alerted as to the whereabouts of the platoon.
Don Steinbrunner—In 1966, Steinbrunner's plane was shot down in the jungles of Viet Nam, and all five crewmen aboard were killed. He was posthumously awarded a Purple Heart as well as the Distinguished Flying Cross. He had played eight games as an offensive tackle with the Browns in 1953 before a knee injury cut his career short.
Pat Tillman—After the 9/11 attacks, Tillman left the Cardinals to join the Army Rangers. He was sent to Afghanistan, where in 2004 he was killed by friendly fire, shot three times in the head. The army originally reported it was enemy fire that killed Tillman, and he subsequently was awarded the Purple Star.
One Man Yelp: Top Dylan Songs
To commemorate Bob Dylan's 70th birthday, Rolling Stone Magazine has devoted much of an issue to the pride of Duluth, Minnesota, including picking his best songs—not an easy task considering the size of his catalog. Here are my Dylan favorites.
1. Positively Fourth Street. Does anyone do disgust and bitterness better than Dylan?
2. All Along the Watchtower. Of course Jimi Hendrix gave this song wings, but it was Dylan who gave it life.
3. I Shall Be Released. A song about imprisonment, this has unintentionally become an anthem for some groups. This song is done best live, as in The Last Waltz by The Band and friends, or in Dylan's 30th Anniversary Concert Celebration by Chrissie Hynde.
4. Like a Rolling Stone. "How does it feel?" Dylan's angry song about payback is considered one of the most influential songs ever by rock historians.
5. Knockin' On Heaven's Door. Eric Clapton and Guns N' Roses got pretty good rides out of this song, which is about a dying deputy.
6. Absolutely Sweet Marie. This uptempo number has a different feel from most Dylan songs, but he's still not happy because of unfulfilled promises.
7. Going, Going, Gone. This lesser known Dylan song is about dying.
8. Foot of Pride. This bluesy song is pure Dylan, but it was not released until it came out on his The Bootleg Series album.
9. Desolation Row. In the course of this 11 minute, 30 second song, Dylan sings of Cinderella, Cain and Abel, The Hunchback of Notre Dame, Ophelia, Einstein, Robin Hood, The Phantom of the Opera, Casanova, T.S. Eliot and more.
10. Hurricane. Dylan stomping his feet about what he felt was the unjust imprisonment of boxer Rubin "Hurricane" Carter.
Your thoughts on Dylan favorites?
Hot Reads
*Mike Brown apparently thinks saying Carson Palmer can play for him or retire will entice his quarterback to play for him in 2011. But isn't that the kind of attitude that prompted Palmer to want out of Cincy in the first place?
*You are going to like reading stories written by this guy, who is a legend the business.