July 28, 2013 -
Dan Pompei
NFP Sunday Blitz
Not since then-Kansas City tailback Larry Johnson posted a league-record 416 carries in 2006 has an NFL player rushed 400 times in a year. Then again, since there have been only five backs in league history to register 400 rushing attempts in a campaign, the fact there weren't any 400-carry runners over the past six seasons might not exactly be an earth-shattering revelation.
But the newsier item could be that, given the current climate, it's very possible there might never be another player who lugs the ball 400 times in a season.
"The trend certainly is against (a 400-carry running back)," former Atlanta tailback Jamal Anderson, who carried 410 times (the second-most in league history) in 1998, acknowledged to NFP this spring. "Maybe it will happen, but that's a (lot) of rushes anymore." Noted former star back Eddie George, who carried 403 times for the Tennessee Titans during the 2000 season: "Unless the game changes dramatically, yeah, it might never happen again."
That's for sure.
It wasn't all that long ago that coaches and personnel people used to often talk about "workhorse" backs who could carry 25 times a game. But the statistics definitely suggest that, those overstated assessments aside, such a workload was just so much hyperbole. The last runner to average 25 rushes per game over the course of a season was, again, Johnson, in '06, with a 26.0-attempt average. In the six seasons since Johnson's heavy-workload year, there have been just 31 players who carried 300 times or more and only 23 who averaged even 20 attempts per game.
There have been only five backs who carried 350 or more times the last six years, and no one had more than Michael Turner's 376 rushes in 2008. As one-dimensional as the Minnesota offense was regarded to be in 2012, the great Adrian Peterson had "just" 348 carries, the second fewest by a 2,000-yard runner in a 16-game season. Houston's Arian Foster, seen as a bellcow-type back, led the league with 351 carries, but his yards per attempt (4.1) minus backup Ben Tate for five games was the lowest of his career.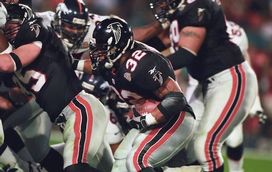 Anderson averaged 4.5 yards per carry in 1998, when the former Falcons running back amassed 410 carries during the regular season.
The previous six seasons, the number of 300-carry runners (61) was nearly double the total for 2007-2012, and there were 60 players who averaged at least 20 carries per game. From 2001-2006, there were at least nine players each season who had 300 or more carries, and 10 or more in four of those years. Over the same period, there was never fewer than seven backs with 20-carry averages per game, and in three of those seasons, there were 10 or more. In the past six seasons, though, there has never been a season with more than seven 300-attempt players, and just once has there been more than four rushers with averages of 20 or more carries.
The times, they are a-changin' when it comes to the heavy-duty running back model that was once so predominant around the league. That's not only evident from the raw rushing attempt numbers of the last half-dozen seasons, but also, in some ways, in the draft. There were zero backs selected in the first round this spring, and there haven't been more than three first-round runners since 2008.
Many teams once subscribed to what we'll call the "Prisco Theory," the belief espoused by good friend Pete Prisco of CBSSports. Simply stated: draft a back, run him into the ground for five years, then draft another one. The philosophy still holds true in some quarters, but largely, teams are trying to add some shelf-life to their runners, to rub tread off the tire less quickly, and avoid blowouts.
That's not to suggest that running backs still aren't important. The significance of the position, though, appears to have diminished. It's not quite "the amazing shrinking running back" position but with the game having skewed in such a lopsided manner toward the pass, teams prioritize differently now. Notable is that, of the past five Super Bowl champions, only one had a running game that rated statistically in the top 10. Three franchises won the Super Bowl in that stretch with running games that ranked 23rd or lower, including the bottom-rated New York Giants in 2011.
"It's just morphed into a different game now," Johnson said. "The feeling among teams seems to be that less can be more."
There are a lot of reasons for the decline, but in discussions the last few weeks with NFP, players, coaches and personnel executives focused on three elements, beyond the most obvious, the overall emphasis on the pass, and the fact the ball is in the air so much more now. First, teams have opted around the league for more time-sharing at a tailback position where it was also essential to have a "feature" back. There's still usually a clear-cut delineation between the backup and the starter, but for several teams, the line has blurred a little more. There were, for instance, 10 franchises in 2012 that had a pair of backs with 100 or more carries each (excluding rushes by their quarterbacks). It won't be surprising if that number expands in 2013. While no team is apt to split attempts evenly, there figures to be less disparity between the starter and the No. 2 runner for some teams.
"The key," said veteran tailback Steven Jackson, who has moved on to Atlanta after nine seasons in St. Louis, "is productivity. Whatever makes the offense the most effective. I'm a guy who likes getting the ball (Jackson averaged nearly 290 carries per year in the seven seasons with the Rams in which he started at least a dozen games), but you want to maximize your carries, too."
In 2009-2010, Jackson totaled 654 rushes. Over the next two seasons, his rushes dropped by basically 20 percent total, to 517.
Second, the colleges, where the "spread" offenses are so prevalent, have produced fewer top-tier backs. Couple that with the fact that teams increasingly have been able to find excellent runners, like Alfred Morris of Washington, a sixth-round pick in 2012, capable of stepping in and producing immediate results.
And, finally, the rushing quarterbacks, and the sudden popularity of the read-option or zone-option offenses, have taken carries away from backs. The position has evolved in some cases beyond scrambling or avoiding the pass rush, to more pre-designed runs, or options, for quarterbacks. There were three quarterbacks in 2012 who had 75 carries or more, four with 400-plus rushing yards. Until defenses catch up to the option-read style, it figures to flourish.
"It's a weapon," said Cam Newton of Carolina. "It might take some carries away from (the backs), but it also means those guys are hitting more air sometimes, too. It seems like the tradeoff is a pretty good one."
On the subject of using a 400-carry season as a kind of threshold for backs, an AFC offensive coordinator pointed out that an 18-game season, assuming commissioner Roger Goodell ever gets his way on the "enhanced schedule" (haven't heard that term in a while, right?) could produce a 400-carry campaign by a back. But even with 18 games, a player would have to average 22.2 carries a contest to reach the 400-attempt mark. And no back has averaged that number of carries since 2009, when Cedric Benson had 23.2 attempts per game and Chris Johnson had 22.4.
"The way the game is right now," Anderson said, "it's hard to s ee (400 carries) ever happening again."
So unless the pendulum swings back toward the run, the league's "400-carry club" – Johnson, Anderson, James Wilder (407 in 1984), Eric Dickerson (404 in '86), and George – figures to remain a pretty exclusive fraternity.
+AROUND THE LEAGUE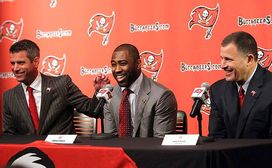 Revis has been playing the role of mentor since arriving in Tampa Bay this offseason.
*Tampa Bay coaches won't simply cede the starting right cornerback spot to second-round draft choice (and first pick for the club) Johnathan Banks, but the former Mississippi State standout has impressed the staff and is the front-runner to line up opposite Darrelle Revis in the Bucs' revamped secondary. For one thing, the Bucs feel Banks is quicker than the 4.61 40-yard-dash time that he clocked at the Combine five months ago. He also possesses the physical build coach Greg Schiano likes. And not to be overlooked is that Banks is a "long" player, an angular 6-feet-2, but also with long arms. In fact, at 33 7/8 inches, Banks' arms were tied for the longest of any of the defensive backs at the Combine in February, team officials pointed out to us.
With the veteran Eric Wright out of the picture, the competition for Banks isn't exactly stiff. It includes former waiver pickup Danny Gorrer, who has two career starts, and a pair of undrafted rookies, Branden Smith and Rashaan Melvin. The other element the Bucs like about Banks, who admittedly had a bit of an underwhelming season in 2012, after entering the year with rave reviews, is that he is a quick learner. And he's apparently got a great teacher, in Revis, whose tutelage acumen is better, it seems, than many believed. "He's just so professional in everything he does, the way he prepares," Banks allowed after a late-week practice. "You can learn a lot from him, not just on the field, but how he carries himself off it, too."
*It's never too early, it seems, to start glancing ahead at the next year's draft, and the very early read on the 2014 lottery is that it's a mixed bag as regards the zone-option style quarterbacks so popular in recent years. Despite the potential presence of Heisman Trophy winner Johnny Manziel of Texas A&M in the pool, scouts don't seem to yet see the standout zone-option operator in the bunch. Louisville's Teddy Bridgewater, for now the likely top quarterback prospect, isn't really a zone-option guy. He's rushed for only 90 yards in his two seasons as a starter. Tajh Boyd of Clemson has some zone-option skills, but is better regarded as a scrambler. Guys such as Derek Carr (Fresno State), Aaron Murray (Georgia), and David Fales (San Jose State) are more pocket passers.
"One of the things lacking," an NFC area scout told NFP last week, "is size. Yeah, you see a guy like (Russell) Wilson come out and be good at it, but he's thicker (physically) than people think. You run that offense, and you take the (punishment), so you better have some size. I don't know that we see that in (next spring's) bunch."
*Even with the recent emergence of the tight end position, Tyler Eifert, the consensus top prospect in this year's draft, somehow fell to No. 21 in April, where Cincinnati gladly ended his slide. The fall was somewhat puzzling, given that many teams after the draft suggested that Eifert was one of the best playmakers in the pool, and seemed to regret not getting him. Oakland, for instance, seriously debated taking Eifert with the No. 12 spot, before choosing cornerback D.J. Hayden instead. But the Bengals are thrilled to have Eifert around, and the former Notre Dame star has been outstanding during the offseason and very early in camp.
"He can line up just about anywhere," quarterback Andy Dalton said, "and gives us so much more flexibility." Agreed a Cincinnati assistant: "Along with (incumbent starter Jermaine) Gresham, he's going to create a lot of matchup problems for teams." Gresham has averaged 57.3 receptions and five touchdown catches in three seasons, but Eifert might be even more effective down the field. The Bengals haven't finished among the top 20 in total offense since 2007 and, even with the attention afforded coordinator Jay Gruden, they've been only 20th and 22nd in his two years with the franchise. Gruden's name keeps popping up on long lists of assistants who might some day be head coaching candidates. A more statistically productive offense, fueled in part by Eifert, would boost his stock even more.
*San Francisco cornerback Tarell Brown should now serve as a poster boy for all players who don't know precisely what's in their contracts, and instead rely on their agents to hold their hand. After failing to bank an easy $2 million by attending the prescribed number of 49ers' offseason workouts, Brown canned agent Brian Overstreet, noting that his representative should be "held accountable" for not telling him about the offseason responsibility. But Brown is 28-years-old, presumably doesn't live in a vacuum, and shouldn't have to rely on Twitter to find out about his $2 million oversight. The veteran corner noted that he "always wants to be a professional." That starts, it seems, with reading the contract you signed. Young players, take note, please.
*Eleven-year veteran Bryant McKinnie didn't lose $2 million, like San Francisco cornerback Tarell Brown (failure to reach offseason workout triggers) did, by reporting to camp overweight for the third year in a row in Baltimore, but Ravens' officials are clearly frustrated by the left tackle's annual battle of the bulge. They're in a tricky spot, though, and they know it. McKinnie, 33, started zero games for the Ravens in the regular season last year, but his insertion into the starting lineup for the playoffs was the key move and catalyst for the play of the team's line unit during the postseason.
Second-year veteran Kelechi Osemele, who bumped inside to left guard (from right tackle) when McKinnie joined the starting line quintet, and who is the presumptive heir to McKinnie's spot, simply isn't as good, especially versus speed-rushers. Former first-rounder Michael Oher simply is better on the right side. It probably won't take McKinnie all that long to lose the extra 10-15 pounds he's believed to be carrying – and, indeed, he was permitted to practice Friday -- but Ravens' officials hoped they'd addressed the problem with some weight-relevant incentive clauses in the two-year contract to which the player was re-signed in the spring. Apparently not. "He knows, especially after last year, we need him . . . and he takes all this stuff for granted," one club official told NFP last week. "At this point in his career, he's got to learn some discipline."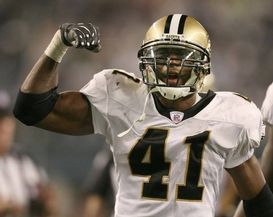 Harper's in camp and ready to compete with rookie Kenny Vaccaro.
*It's possible that no one in New Orleans missed former defensive coordinator Gregg Williams last season more than veteran strong safety Roman Harper. Long a liability in c overage, Harper (full disclosure: one of our favorite players in the NFL off the field) fit well into Williams' aggressive style, especially with his ability to play close to the line of scrimmage and his inside blitzes. But after leading the league in sacks by a defensive back in 2011 (with 7.5), Harper didn't register a single sack last season. He did have a career-best 115 tackles and his two interceptions were one more than Harper managed in the previous four seasons combined, but the seven-year pro didn't make as many game-altering plays. That's one reason the Saints chose safety Kenny Vaccaro, who is the favorite to oust Harper and start alongside free safety Malcolm Jenkins, in the first round, and readjusted Harper's contract. It's also why Harper, 30, is on the field for the start of camp, rather than on the PUP list with a sports hernia. With a salary cap hit of $3.67 million in 2013, Harper isn't quite so expensive that the Saints can't keep him around as a backup, but the former second-rounder knows the score and knows he needs to be on the field right from the outset of camp.
*Check the tape. In the July 7 edition of this column, the "Sunday Blitz" noted that there "could be some federal involvement" in the Aaron Hernandez case, and that officials told us that at least two agencies were closely monitoring events, because of potential "interstate implications" in the alleged murder(s). Given reports last week, that appears to be the case, indeed. What we didn't know at the time, admittedly, but which was laid out in the reports, was that there could be death penalty ramifications involved if the Feds get their noses into the case.
*Revis, mentioned above, has frequently been compared to Hall of Fame corner Deion Sanders, the original "shutdown" player at the position. The comparisons might be apt because, like Sanders, Revis finds a way to make plays, even though opposing quarterbacks avoid him.
"Deion cut the field in half and, even in practice, you didn't want to throw his way," former NFL quarterback Bobby Hebert, now a radio host in New Orleans and part of the Saints' radio broadcast team, said to NFP. "You see the same things (in Revis)." Sanders somehow managed to get the ball in his hands and it's notable, too, that Revis, despite people throwing the other way, has three or more interceptions in four of his six seasons. (He had none in 2010, and only one last season, when a knee injury limited him to two games). He's also averaged 19.0 passes defensed in the five seasons in which he was able to start in double-digit games.
*It's just coincidental that the Ryan Braun situation in baseball (and possible subsequent fallout from the Biogenesis investigation) and the decision by NFL players and the previously obstinate NFLPA occurred at about the same time. But one would have to be naive to suggest that NFL players are oblivious to what's going on in baseball, or that MLB may have actually surpassed the NFL in policing against banned substances and PEDs.
"The bottom line," said Carolina wide receiver Steve Smith, "is that we want a clean game. You want to know that, when you go out on the field, it's an even field." So kudos to the players and the NFLPA for acquiescing to the testing. At the same time, make no mistake, the union hasn't caved entirely, and still isn't fully in compliance with what it ostensibly agreed to a couple years ago. The testing is primarily for the purposes of establishing a testing "population," a baseline as to a player's HGH level, and there won't be any players suspended for 2013. It's a step in the right direction, but hardly the giant step the NFLPA, which continues to make limp excuses, needs to take.
+SHORT YARDAGE
*While the Seattle Seahawks await word on wide receiver Percy Harvin, whose problematic hip will be examined by a New York specialist on Tuesday, another of the team's early PUP standouts is getting almost as much scrutiny, although probably quieter. Defensive end Chris Clemons, one of just three players in the league with at least 11 sacks in each of the past three seasons, is making progress from the knee injury suffered in last year's playoffs. The question is whether Clemons will be ready for the start of the season. The team could keep him on PUP for at least the first six games, and may do so. While the Seahawks face three 2012 playoff teams in the first six weeks, including NFC West rival San Francisco in the second game, the additions of Cliff Avril and Michael Bennett in the offseason give the club a bit more latitude. . . . As regards the 2014 quarterback draft class mentioned above: One player who still intrigues scouts, despite a lackluster 2012, is Zach Mettenberger. Entering last season, the LSU starter was seen as a sleeper, a guy who quietly interested scouts, and was actually eligible for the 2013 draft. But Mettenberger wasn't very good and there were whispers he lacked leadership skills. That said, his arm strength still gets talked about, looking ahead to '14. . . . The offseason read on Tennessee third-year quarterback Jake Locker is that he has really improved his accuracy (just 56.4% in 2012, his first season as a starter), and that seems to have carried over into camp. . . . 'Tis the time of year for unemployed veterans who still have something left in the tank to realize that the big free agent deals are gone, and to suck it up, settle for what they can get, and get their butts into a camp. That said, there were a few deals done last week, including two in Arizona, that figure to be more than just throwaways. Veteran right tackle Eric Winston should help a Cardinals team thin at the position. He'll provide the team much-needed depth, and potential flexibility, should new coach Bruce Arians be forced to flip second-year pro Bobbie Massie to the left side, where incumbent Levi Brown remains suspect. The Cards' other addition, John Abraham, is no youngster, but still racked up 10 sacks in Atlanta last season. Finally, the third stint with the New York Jets for itinerant wide receiver Braylon Edwards could be more productive than many people think. Although he has lost none of his public swagger, Edwards has lost 10-15 pounds, seems a bit humbled by the past few seasons, and could help a Jets' receiving corps that will be without its best player, Santonio Holmes (on PUP), for at least a short time. Holmes, by the way, said Friday, that he's not sure he'll be sufficiently recovered from a foot injury to play at all in 2013. . . . Abraham often flipped from the right to the left side last season, in an effort to create some more advantageous matchups. But the man who ostensibly is replacing him, Osi Umenyiora, might move around even more in the Atlanta defense. If the first few days of camp were an indication, the former Giants' star could line up all over the place, and even play some in a two-point stance. . . . One guy whose phone isn't ringing very much, but who might be talked into playing, despite an underwhelming year in San Francisco in 2012, is Randy Moss. The future Hall of Fame wide receiver has stayed in decent shape, people close to him say, and hasn't entirely written off playing again. . . . Free agent wide receiver Steve Breaston, who drew interest from several teams early in the spring, but who continues his recovery from knee surgery that was performed in Europe, might still be able to help some team in ne ed of a slot receiver in the next month or two. Breaston auditioned in Detroit last week, but the Lions signed Chaz Schilens instead, determining that Breaston isn't quite ready yet. But there are teams still keeping tabs on Breaston's rehab. . . . Carolina linebacker Jon Beason, who has appeared in only five games the past two seasons because of injuries, has become at least the sixth Panthers' veteran to restructure his contract in the past three months to help the annually cap-strapped franchise. . . . In addition to Eifert, mentioned above, the Bengals have been excited by the performance of second-round tailback Giovanni Bernard. The first back taken in the draft this year, Bernard could take some carries away from BenJarvus Green-Ellis. But the Bengals love Bernard's hands as well, and he could provide them the best receiver out of the backfield the team has had in a while. Cincinnati hasn't had a back with 30 catches since 2009 (Brian Leonard), and was the only team in the league last season with no catches of 20 or more yards by a running back.
+BY THE NUMBERS
*In an effort to address a rushing offense that finished an uncharacteristically dismal No. 26 in the league a year ago, Pittsburgh selected tailback Le'Veon Bell in the second round this spring, with the 48th overall pick, and the Steelers' brass hopes the former Michigan State star can make an immediate impact. But the Steelers don't have a great track record for getting quick results from rookie running backs. The last Pittsburgh rookie to rush for 1,000 yards in his debut season was Hall of Fame fullback Franco Harris in 1972. Between taking Harris with the 13th slot in '72, and tabbing Bell three months ago, the Steelers had drafted exactly 50 running backs. From that group, only four rushed for more than 400 yards in their first season. The only two to run for more than 500 yards were Bam Morris (836 yards) in 1994 and Tim Worley (770 yards) in 1989.