April 14, 2011 -
Greg Gabriel
Breaking down Akeem Ayers and Rahim Moore
This year, UCLA had two juniors who decided to enter the draft early: linebacker Akeem Ayers and safety Rahim Moore. Going into the Combine both looked as if they were sure first-round picks. But after they worked out their stocked seemed to slip a bit. Let's take a close look at both.
Akeem Ayers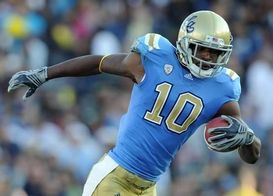 Akeem Ayers was a full-time starter the last two seasons at UCLA.
Ayers had a very productive three-year career at UCLA as a SAM linebacker. He redshirted as a freshman then saw action in all games as a redshirt freshman, including three starts. He has been a full-time starter the last two seasons. He was a 4-star recruit out of high school and was offered by most of the Pac-10 teams as well as Nebraska and Colorado.
He has great size at 6-2 and 254 pounds but he did not run well at the Combine (4.86) and also looked as if he lacked some explosiveness doing the agility drills. He came back with a strong pro day, running 4.74 and dramatically improving his time in the 3-cone drill (7.19), vertical jump (34.5) and bench press (22 reps). While he may not have looked explosive in Indy, when you watch tape you see the opposite.
He is very instinctive and consistently around the ball. He plays with leverage and shows strength and power at the point of attack. He has quick hands and good hand use and can get rid of blockers quickly. He has excellent lateral movement and easily moves through trash. He makes a lot of plays versus both the inside and outside run and is a very good pursuit player. He is an explosive sure tackler and you don't see him miss many.
Many times in passing situations he plays down and shows very good pass rush skills. He again shows quick hands and has the ability to use counter moves effectively. He shows good bend and is able to dip his shoulder and get under blockers when coming off the edge. He also shows a nice burst off of blocks to close.
When used in coverage he has a good drop, getting depth and has good awareness in zone. He reacts quickly to the ball in the air and has the plant and drive to close on the play. He is sure handed and has 6 career interceptions. While not a burner, he has the speed and quickness to stay with backs and tight ends in man coverage.
Overall, Ayers could be this year's version of Brandon Spikes. Last year Spikes looked like a first-round talent on tape but tested poorly and dropped to the second round. When he got to New England he played just like he did at Florida and had a very productive rookie year. Ayers still could go in the lower part of the first round and if he goes to a 3-4 team he may turn out to be a great player. Because of his pass rush skills and run stopping ability he is a perfect fit for many of the 3-4 teams. He also can be a SAM linebacker in many 4-3 schemes. Regardless of his average workout, this player is going to be a good pro!
Rahim Moore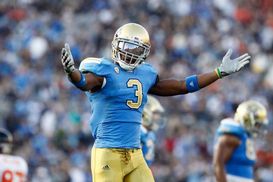 ICONRahim Moore had just one INT in 2010.
Moore is a third-year junior who decided to enter the draft. He was a 4-star recruit and was offered by some of the top programs in the country. He has started every game of his college career at free safety. His best year production-wise was 2009 when he led the country in interceptions with 10. In 2010 his interception production fell to just 1!
Moore has average size for a safety at 5-11 and 202 pounds. He showed only average speed at the Combine running in the 4.6 range. What is surprising is that at the UCLA pro day a few weeks ago he chose not to run again. What that tells me is that he feels he can't run any faster than that 4.6 time, and on tape that's what he plays like.
He reacts quickly and makes plays in the run game. He can be very aggressive defending the run and is a good tackler. He also does a good job getting rid of blocks and takes good angles to the play. He is inconsistent in coverage. He flashes good man to man cover skills when he is on a slot receiver but in four games viewed he did not make plays on the ball. He can have good position but once the ball is in the air he doesn't make the play. I really have to question his ball reactions.
In zone coverage he played underneath routes well, but I saw him on at least three occasions react late when he was supposed to help out deep. On each play the receiver was by him before he reacted. His range to the sideline was average which doesn't help when you react late. I wasn't able to view any 2009 tape but I have to wonder how a safety can have 10 interceptions one year and only 1 the next? It would be easy to understand if he was a corner because quarterbacks would just not throw his way, but at the safety position it's all about instincts and being in the right place to make a play,
Overall, off the tape I viewed, Moore is not close to being an elite prospect. He is not in the same league as many of the safeties drafted in the first three rounds last year. I see him as strictly a strong safety in the NFL because of his tackling and run support skills but he has trouble in coverage. I wish I had some '09 tape to look at for comparison but I can only grade what I see.
Final thought on Medicals being leaked
It seems as if this year more than any other year in recent memory there is negative publicity about certain players' medical conditions. What it tells me is that some clubs are leaking negative information hoping that these players will drop to them. There are other highly rated players that I know have serious medical concerns and nothing has been said about them. Clubs always have different opinions on prospects' medical conditions and we seldom if ever hear anything about it. Why are we hearing about it almost on a daily basis this year? It seems obvious to me, so don't be surprised if the players in question end up going as high as people thought they would originally. As I said in a post a few weeks ago, there is a lot of lying and gamesmanship going on this time of year. Don't believe everything you see on TV or read!