August 03, 2010 -
Greg Gabriel
Golden Dome report
Every Tuesday at the National Football Post, Greg Gabriel will deliver the Golden Dome report — a discussion of the latest news and happenings around Notre Dame football.
Notre Dame head coach Brian Kelly came up with a big win this past weekend — and he hasn't even played a game yet.
Over a 24-hour span this past Friday and Saturday, the Fighting Irish picked up four solid verbal commitments, bringing their 2011 recruiting class up to 16 commitments. What's most important about these prospects is that three of them were the type of players that Notre Dame has been unable to land in the last few years.
DE Aaron Lynch from Cape Coral, Fla., is one of the top defensive ends in the country. He had offers from such schools as Florida, Florida St., Miami and Alabama.
DE/OLB Anthony Rabasa from Miami accepted Notre Dame's offer over Florida, Florida St. and LSU.
DB Jalen Brown, a speedster from Irving, Texas, picked Notre Dame over the likes of Texas A&M, Texas Tech, Kansas St. and Arizona. The interesting thing about Brown's commitment was that he has yet to step foot on Notre Dame's campus. That's a testament to strong recruiting by the ND coaching staff.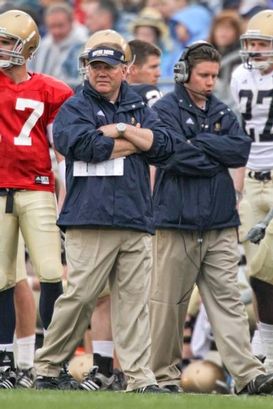 ICONBrian Kelly is wasting no time bringing in talented recruits to South Bend.
With the commitments of Lynch and Robasa, that brings to four the number of recruits from Florida that have accepted scholarship offers from Notre Dame. The others are OT Jordan Priestwood and DE/OLB Clay Burton. Notre Dame won out over Alabama, Florida, Florida St. and Tennessee for Priestwood. Burton had offers from Clemson, Georgia Tech, LSU and Florida St.
The Irish also have commitments from two North Carolina kids — athlete Matthias Farley from Charlotte and DE Ben Councell from Ashville. They chose Notre Dame over the likes of North Carolina, North Carolina St. and Georgia Tech.
In the last few years, Notre Dame has not been able to win the recruiting battles for these types of prospects — players from the heart of SEC and ACC country. For Notre Dame to get back into contention for BCS appearances and national championship discussion, the Irish have to beat Alabama, Florida, LSU and North Carolina for top recruits. At this point, they seem to be doing that.
The other thing that is interesting about ND's recent recruiting is the school is recruiting more "athletes." By this I mean players who are not only outstanding athletes but players who have the ability to play more than one position. They seem to be going after tall, long type athletes with growth potential. Of the 16 commitments so far, seven are listed as 6-5 or taller and have played more than one position.
The other common denominator I see in this class is speed. The last Notre Dame coach who was successful recruiting with a similar philosophy was Lou Holtz. Can the result be the same?
Ready for fantasy football? Click here to purchase the 2010 Total Access Pass/Draft Guide from the NFP.