January 07, 2011 -
Greg Gabriel
NFP Defensive All-Rookie team
Like the offense, there were a number of rookies on the defensive side of the ball that had outstanding seasons, so picking an All-Rookie team was not an easy task. On top of that, you have more players playing in a rotation on defense than you do on offense. So what I did was pick the players who made the most impact as rookies.
Defensive Line: Ndamukong Suh – Detroit, Lamarr Houston – Oakland, Tyson Alualu – Jacksonville, Carlos Dunlap – Cincinnati
The defensive line was probably the hardest position for me to pick. Often, rookies don't get much playing time early in the season but then the light comes on and they begin to flourish. There were some highly touted rookies that never really got a chance to show what they could do because of injury. Case in point – Derrick Morgan of Tennessee.
In the end it got down to five players but I only could select four. Because of that I give strong honorable mention to Jason Pierre–Paul of the Giants. Pierre-Paul didn't get much playing time early but had a strong second half of the season.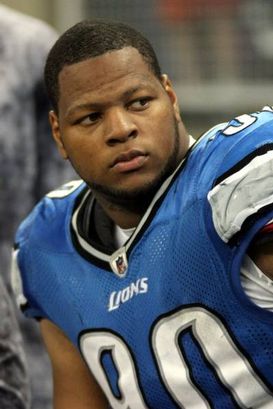 ICONDetroit Lions DT Ndamukong Suh
What can be said about Suh that hasn't already been written? He showed dominating skills from game one on. He finished the season with 66 total tackles and 10 sacks and was selected to the Pro Bowl.
Lamarr Houston started every game for the Raiders at left defensive end. He mainly played on run downs and is an excellent run defender but as the season went on he became a solid pass rusher, finishing with 5 sacks.
Jacksonville took some heat for selecting Tyson Alualu as high as it did but the Jags get the last laugh because he had a very consistent season. He is a very good run stopper and is developing into a strong pass rusher. He has power and athleticism and will keep improving. In another year he will be the anchor of the Jags defensive line.
Like Pierre-Paul, Dunlap started slowly but really came on the last half of the season for the Bengals. In the final 8 games he totaled 9.5 sacks and that's what defensive ends get paid to do.
Linebackers: Rolando McClain – Oakland, Daryl Washington – Arizona, Pat Angerer – Indianapolis, Brandon Spikes – New England
With half the league playing a 4-3 scheme and the other half playing a 3-4, I decided that I had to have 4 linebackers on the All-Rookie team.
Rolando McClain had a great season at Mike linebacker for the Raiders. He started off playing mostly on run downs but as the season progressed he played more in passing situations. He is an excellent run defender who is strong and physical and shows very good awareness in pass coverage.
Daryl Washington lined up at inside backer in the Cardinals 3-4 scheme. He missed some time in the middle of the season with injuries but still ended up with 78 total tackles and an interception. He has top instincts to go along with exceptional athletic ability.
Pat Angerer played Sam linebacker for the Colts. Angerer does not have great size at 6–0, 235 pounds, but in the scheme the Colts play size isn't as important as instincts and quickness. With 88 total tackles he showed he can find the ball.
Brandon Spikes missed the last 4 games of the regular season with a suspension so I had some concern whether or not to place him on the team. But the criteria is how they played the game and Spikes played very good football. Even with missing 4 games he finished the season with 61 tackles. He will be available to play in the playoffs.
Defensive Backs: Devin McCourty – New England, Earl Thomas – Seattle, Eric Berry – Kansas City, Joe Haden – Cleveland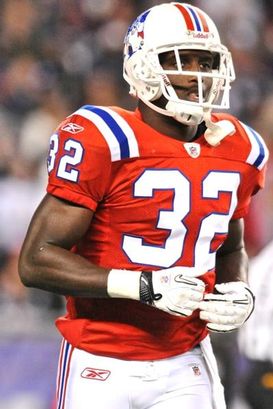 ICONNew England Patriots CB Devin McCourty
Devin McCourty was an easy choice. As a rookie he was New England's best corner. He finished the year with 7 interceptions and was voted to the Pro Bowl.
Earl Thomas had an outstanding year for Seattle. He has corner athletic ability and speed to go along with big-time hitting ability. He finished with 75 tackles and 5 interceptions.
Eric Berry is much like Thomas. He has corner speed, athleticism and cover ability and the instincts and hitting ability needed at safety. He had 92 tackles and 4 interceptions.
Picking Joe Haden for this team was a tough call. For the first half of the season he may not have been Cleveland's best rookie defensive back. Safety T. J. Ward had an outstanding year at strong safety for the Browns but as good as he was he wasn't as good as either Berry or Thomas. Both of those guys have better coverage skills than Ward.
Ward's forte is he is an excellent run support player and tackler. Haden was not a starter early in the year; he was the Browns nickel back but as he gained experience his play improved. By the end of the year he proved to be a top-notch corner. In my view, interceptions is the most important stat a defensive back can have because he takes the ball away from his opponent. Haden had 6 interceptions.
Defensive Rookie of the Year: Ndamukong Suh – Detroit
As dominant as Suh was this year, he was not a runaway choice for Rookie of the Year. Devin McCourty was just about as dominant at corner as Suh was at defensive tackle. Both got voted to the Pro Bowl. But in the end, a dominant pass rushing defensive lineman is worth his weight in gold and that's just what Suh is.