December 05, 2014 -
Greg Gabriel
NFP Prospect Focus: Eric Kendricks and Justin Shirk
Eric Kendricks – UCLA
Kendricks is a fifth year senior and a three-year starter at UCLA. He redshirted in 2010 and then played as a backup and started three games in 2011. He has been a starter at inside linebacker and the Bruins leading tackler every year since. To date, this season, he has 139 total tackles, 8.5 tackles for loss, 2.0 sacks and three interceptions.
Coming out of high school, he was not a highly recruited player. He was rated as a three-star prospect with offers from schools such as Fresno, Nevada and Washington State. He chose UCLA, where his father played in the early 70's as a running back.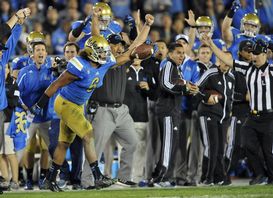 Will Kendricks' skill transfer to the NFL?
Kendricks does not have great size. He is listed as being 6000 – 230. He has a smaller frame and does not look to have growth potential beyond 235 – 238. He is athletic and has speed. I would estimate his play speed as being in the 4.68 area. He has very good balance and change of direction to go along with top quickness. His strength is average for his size, but he is explosive.
While not big, he is reacts quickly and is very instinctive. Plain and simple, he finds the ball and makes plays. With his lack of size, he is better at eluding or slipping blocks. He has the quickness to get around a block and still make the play. While that works at the college level, it won't in the NFL. He is not a strong point of attack player in that he can be engulfed by big linemen and can be slow to shed when taking on a blocker head on. With his speed and quickness, he makes a lot of pursuit plays and consistently takes good angles to the ball.
In pass coverage, he shows quickness with his drops and has very good receiver awareness. He has the speed and quickness to play backs man-to-man. He has good ball skills and does a good job coming out of his pedal and driving on the ball. His hands are very good. As a pass rusher, he is much like he is as a rundown player. He gets production with his speed and instincts and knows how to time blitzes well.
If you wanted to compare Kendricks to a current NFL player it would be his older brother Mychal who plays for the Eagles. The difference is Mychal is thicker, stronger and more stout at the point of attack. They have similar instincts and competitive nature.
While Mychal has success in a 3-4 scheme, I feel Eric is best suited to play Will in a 4-3 type scheme. While I don't see him as a premium round pick, I doubt he gets out of the third round and can eventually start in the right situation.
Justin Shirk – Bloomsburg University
To put it mildly, Shirk is an interesting prospect. He was a two sport star (track and football) in high school and ended up accepting a track scholarship to Oklahoma. He was, and is, a top javelin thrower. While at Oklahoma, as a freshman, he missed football and home and decided to transfer to Bloomsburg so that he could continue his football career. Until this year, he has competed in the two sports at Bloomsburg.
After transferring, Shirk has become a four-year starter at inside linebacker. He is a dominant player at the Division II level and a true NFL prospect. I scouted Jahri Evans when he was at Bloomsburg and Shirk is a better linebacker than Evans was an offensive lineman. Evans was very raw but had great natural size and strength.
Shirk has average NFL linebacker size at about 6004 – 235. He has some length to his frame and looks as if he can easily carry 240+. He is very athletic, has speed and is a natural bender. You never see him not in a good football position.
Being that he is a javelin thrower, he has natural explosion through his hips and that shows up on tape. He plays strong and is a very explosive player. He easily handles and sheds blockers at the D-II level.
His balance and change of direction are very good and he does a great job moving laterally and clearing piles. You seldom see him off his feet. He has speed and range with play speed in the 4.65 range. He is a playmaker and has been Bloomsburg leading tackler the last few seasons. While Bloomsburg is still playing in the D-II playoffs, Shirk has 109 total tackles in 11 games including 21 tackles for loss, 11 sacks and one interception.
He is instinctive and consistently around the ball. He makes plays at the point of attack and in pursuit. As a pass rusher, he is relentless, coming hard and getting rid of blockers easily. He has good hand use and keeps opponents off his body.
In coverage, he has a quick drop and gets and keeps good position. He has the speed and quickness to play in man coverage and does.
It can be difficult to project a Division II player, but Shirk does what he has to do and that is dominant the level of comp. I would love to see him in an All-Star game this January. I see him as being able to play inside in a 3-4 or 4-3 scheme. Off of a tape look, I would grade him as a B level player (3rd – 4th round) but if he plays well in an All Star game and works out well at the Combine, I can see him rising to being a high three or low second round type. An interesting guy to keep your eye on from now until the draft.
Follow Greg on twitter @greggabe