August 27, 2014 -
Greg Gabriel
NFP rookie report: St. Louis Rams
Since head coach Jeff Fisher and general manager Les Snead took over the Rams in 2012, the St. Louis duo has done an excellent job of drafting. Granted, they acquired a barrel of picks from the Redskins by trading down in the 2012 draft, but they have turned those selections into productive players. The last returns on that trade came in this past May's draft when the Rams had the second overall pick. With that selection, St. Louis landed Auburn offensive tackle Greg Robinson. With their own pick in the first round (No. 13 overall), the Rams grabbed Pittsburgh defensive tackle Aaron Donald. These two players will be the focus of this report, which also includes running back Tre Mason (third round) from Auburn.
Greg Robinson – Offensive Lineman
An early entry into the 2014 draft, Robinson was classified as a redshirt sophomore with two more years of eligibility remaining. He played left tackle at Auburn and was a dominant player. Robinson was especially strong as a run blocker where he consistently got movement and finished. While he was productive as a pass blocker, he was also raw, mainly because of the offensive scheme Auburn ran and the amount of time the Tigers spent on pass protection in practice. Still, when you looked at Robinson's traits, you saw a player with the potential to be an all-time great in the NFL.
Robinson has struggled since being drafted, but that was to be expected from a player who is so young. Robinson did not start in last week's game against Cleveland, but took the field during the second series when Rodger Saffold injured his ankle. Robinson started St. Louis' two other preseason games as Saffold was rehabbing an injury.
Like in college, Robinson showed very good run blocking ability. There were a few plays where I thought he was tentative with his reactions but otherwise he came off the ball quickly and with authority. He was consistently able to get movement with his blocks and did a good job getting to the second level. I did not see him pull enough to have an opinion.
In pass protection, Robinson set quickly and showed a strong punch. He got physical at times and also showed the lateral movement and recovery needed to mirror. He plays with bend and can anchor. On the negative side, Robinson picked up a hands-to-the-face penalty.
Overall, Robinson is ready to start and has the traits to be a very good pro. If Saffold is ready to return to the lineup, then Robinson may be the swing offensive lineman for at least the early part of the season. Granted, you don't want the second overall pick in the draft to be sitting on the bench, but the Rams have a strong line and if it's better for Robinson to sit and learn, he may become a better player because of it. If that is the case, I doubt he will be sitting long.
Aaron Donald – Defensive Tackle
Donald was the 13th overall pick and was regarded by many as the best inside defensive lineman in the draft. While he lacks elite size, he has elite strength, power and competitiveness.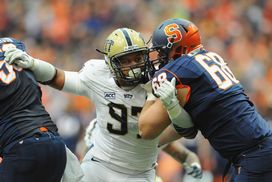 Donald notched 11 sacks in 13 games for the Panthers last season.
Donald did not start the game, but comes in when the Rams go to their sub package. He is used as one of their inside pass rushers and immediately flashed an ability to get after the quarterback with a sack and a pressure. The sack came on the first play of the second half when he overpowered his opponent and showed a top burst to the quarterback. He also forced a fumble on the play in which the Rams recovered.
Donald plays hard every down and displays great energy. While he demonstrated sound pass rushing skills, I thought he was just average against the run. There were a few plays in which Browns rookie lineman Joel Bitonio knocked Donald off the line of scrimmage and took him out of the play. Still, with his aggressive play, Donald flashed that he can play the run. However, his size (6006 – 285) could limit his production in the run game, as he is a lot smaller than most of his opponents. He will be best suited playing in a rotation where he won't get worn out by having to play every down.
The Rams have perhaps the strongest and deepest defensive line in the NFL and it will be to their advantage to use Donald to his strength, which is rushing the passer.
Tre Mason – Running Back
The Rams' third round pick had a productive career at Auburn and entered the draft as an underclassman after the Tigers reached the National Championship game. The book on Mason coming out was that he was an explosive back who is quicker than fast and plays with toughness. Like most college backs, he needed work on his pass protection.
In Saturday's game, Mason was the fourth back to enter the contest for St. Louis. He did not have a very productive game, running for just 29 yards on ten carries. However, Mason did have an 18-yard run where he showed elusiveness and quick cutting ability. But other than that play he did little. He also caught two passes for seven yards.
Mason is a small back but is a quick starter. His lack of size hurts him in that he doesn't get much on his own. He can't drive the pile and isn't a tackle breaker. He needs a seam and, once in the open field, he can be dangerous. Mason showed good hands as a receiver but did little after the catch. He did show a willingness to pass block but the results were inconsistent.
In all honesty, rookie free agent running back Trey Watts outplayed Mason. Watts ran nine times for 36 yards and was a much more physical runner. Watts also caught three passes for 31 yards.
While it would be tough to cut Mason being that he was a third round selection, right now he may be fourth on the Rams depth chart at the running back position. While Watts didn't play in the preseason opener, he has outplayed Mason over the last two games. It will be interesting to see how each plays this Thursday in the preseason finale.
Follow Greg on Twitter: @greggabe