August 10, 2010 -
Greg Gabriel
Revis and the Hall of Fame
Darrelle Revis
I can't blame the <a href="http://footballpost.wpengine.com/New-York-Jets-6295.html" target="_self">New York Jets for not giving in to Darrelle Revis' contract demands. Revis is in just the fourth year of his original six-year rookie contract. In the past, I have seen clubs redo a deal when there are two years left, but it's not that common for a club to restructure a contract with three years left.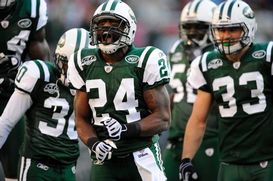 ICONWill Darrelle Revis get his contract restructured with three years left on his deal?
I will agree that Revis has outplayed his rookie contract; I will also agree that he is one of the better corners in the league right now. That does not mean that the Jets have an obligation to renegotiate the deal. Do you think that if Revis had played poorly he would be knocking on the Jets door trying to give money back? I don't think so. He would be saying this is the contract they gave me, so they have to live up to it. If the Jets restructure Revis' deal with three years left, it can have a dramatic effect on other players in the locker room.
Earlier this summer, the Jets restructured the contract of offensive tackle D'Brickashaw Ferguson. He also "outplayed" the original value of his contract. The difference is there were two years left on his contract — not three. Center Nick Mangold and linebacker David Harris have also played extremely well and are waiting for their contracts to be restructured. They are near the end of their original deals. While I am sure they have quietly asked for new contracts, they have not tried to back the team into a corner. They are in camp and practicing every day, not holding out.
Players always feel that they "outplayed" their contracts. If the Jet players see management give in to Revis, the line outside GM Mike Tannenbaum's office will get longer every day. All of them will be saying the same thing, "You did it for Revis, now do it for me."
You can't have that situation and expect team moral to be high.
I have no idea how this will play out, but I don't believe for a minute that Revis will miss the season. Careers are too short for a player to walk away for a year, especially with a threatened lockout coming next season. If for some reason Revis decides not to play, he still owes the Jets the three years remaining on his contract
Hall of Fame
While watching the Hall of Fame ceremonies, I couldn't help but think about a player who surely deserves to be in the Hall. That player is former Buffalo Bills wide receiver Andre Reed.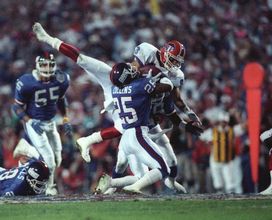 ICONFormer Bills great Andre Reed
Reed was a fourth-round pick in the 1985 draft from tiny Kutztown State in Pennsylvania. He went on to become one of the great receivers of all time. When he retired in 2000, he had 951 career catches for over 13,000 yards and 87 touchdowns. At the time of his retirement, he was the third all-time leading receiver in NFL history. He is still in the top ten. He played in seven Pro Bowls and was the No. 1 receiver on a Bills team that went to four straight Super Bowls.
Surely those are Hall of Fame numbers.
Looking back at that 1985 draft class, there were three very good receivers taken in the first round. The Jets selected Al Toon from Wisconsin with the 10th pick, the Bengals took Eddie Brown from Miami with the 13th pick and the 49ers took the greatest receiver of all time, Jerry Rice, with the 16th pick. Both Toon and Brown had outstanding starts but in both cases injuries cut short their careers. In the 80's, Toon was one of the most dangerous receivers in the game.
Speaking of great draft classes, the first round of the 1983 draft may have been the best ever. Six members of that first round have already been voted into the Hall of Fame. They are quarterbacks John Elway, Dan Marino and Jim Kelly, running back Eric Dickerson, defensive back Darrell Green and offensive tackle Bruce Matthews. Two others have a chance to get in. Offensive linemen Jimbo Covert with Chicago and Chris Hinton with Indianapolis both had outstanding careers. There were six quarterbacks taken in that first round and four of them (Kelly, Elway, Marino and Tony Eason) led their teams to Super Bowl appearances. Not a bad round!
Click here to purchase the Total Access Pass / Fantasy Draft Guide from the NFP and receive a free Deuce Brand watch while supplies last.