October 07, 2014 -
Greg Gabriel
Weekend flashback
We are only five weeks into the NFL season and there are no longer any undefeated teams. Cincinnati and Arizona went into the weekend coming off a bye at an unbeaten at 3-0, both teams played on the road and both teams lost.
In my Sunday preview I had picked Cincinnati to beat New England. I did that based on the way both Cincinnati and New England had been playing and reading all the articles about the demise of quarterback Tom Brady. I should have known better. Having worked with Bill Belichick for close to seven years, I should have known that this was a game the Patriots were going to win going away. Belichick is the best in the business and Brady is still one of the game's top signal-callers. When you back both of them up against a wall, you should know they will come out fighting, which is exactly what they did.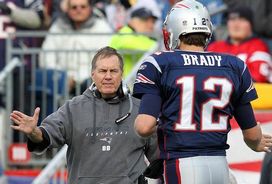 Push Belichick and Brady into a corner and they'll come out swinging.
Brady played perhaps his best game of the season, completing 23 of 35 passes for 292 yards and two touchdowns. What I felt was interesting was that New England has found a tight end to pair with Rob Gronkowski. Tim Wright had five catches for 85 yards and a touchdown. Going into the game, Wright had only caught four passes, so this was a breakout performance for him.
You have to remember that Wright was acquired by the Pats late in the preseason as part of the Logan Mankins trade. It is just now that Wright is feeling comfortable in the New England offense. What Wright does is give the Patriots a complement to Gronkowski that they haven't had since Aaron Hernandez was dropped. Going forward, the New England offense will be a force to be reckoned with.
No dominant team
Usually at this point in the season we still have some undefeated teams, but that's not the case in 2014. What we have seen is that there is no real dominant team in the NFL this year. To date, there are clubs that have played well for a few weeks, but they haven't been able to sustain the momentum.
At the same time, there are some clubs, like the New York Giants, who started out poorly but have come back from adversity to play excellent football. Two weeks into the season it looked like the Giants would be lucky to win five games. Now they have won three in a row and are playing as well as anyone in the league.
Seattle, who was the best team in football a year ago, is now 3-1 following Monday night's win at Washington. But the Seahawks have looked very average since Week 2 when they lost at San Diego.
I think this may tell us that the hot teams in December will be the ones to watch out for in January. The way things look after five weeks, 9-7, or maybe even 8-8, might be good enough to earn a wild card berth.
College football
Saturday morning I wrote on how unreliable early season polls are. That turned out to be very timely as 11 teams in the top-25, including five in the top-10, lost over the weekend.
New rankings surfaced Sunday afternoon and they are still out of whack. Early in the season, Oregon beat Michigan State by 19 points. Oregon lost their first game last Thursday to Arizona, yet dropped behind Michigan State in the polls. Both Michigan State and Oregon are one-loss teams. It's a no brainer that Oregon should be rated higher based on head-to-head competition. But no, the morons who vote in the polls have Michigan State ranked higher. Michigan State is eighth in both polls while Oregon is rated 11th and 12th in the two.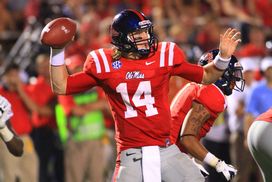 Wallace and the Rebels have another tough test this weekend against Texas A&M.
Going into the weekend, Alabama, who lost to Ole Miss, was rated third. Their loss dropped them four slots to seventh, while Oregon, who was rated above Alabama, dropped down 10 slots. That's absurd.
There are some great games this weekend and that will change the polls even more. No. 2 Auburn plays at No. 3 Mississippi State while No. 3 Ole Miss is at No. 14 Texas A&M and No. 9 TCU is at No. 5 Baylor.
The other matchups within the top-25 feature No. 12 Oregon at No. 18 UCLA and No. 13 Georgia at No. 23 Missouri. The results of those five games will make for another huge shakeup in the polls.
While I fully agree that the SEC is the most dominant conference in college football, there is no way seven SEC teams should rank among the top-25 teams in the nation. At the most there should be five SEC teams in the top-25. The good thing is that it will all sort out by the end of this month.
A game to look forward to next week is Notre Dame at Florida State. Assuming both teams win this week, both clubs will be undefeated going into that nationally televised game in Tallahassee. If, in fact, both teams do win, the game will most likely match No. 1 against No. 3 or 4. But then again, the polls next week will likely be as useless as they are now.
Follow Greg on Twitter: @greggabe