February 09, 2015 -
Dr. David Chao
Monday Morning MD
With the NFL season over and before we jump into Combines, free agency and the draft, I wanted to take a moment to give readers my thoughts on how injury video review has been validated as an effective tool in evaluating injuries.
An injury review field unit at Sports Authority field in Denver.
At the Super Bowl week Health and Safety Committee press conference, the president of the NFL Physicians Society cited the usefulness of video and showed an example of how he regularly uses it to help make the correct diagnosis. Each NFL sideline is equipped with a video review system separate from but similar to that of instant replay for officials. There is obviously no substitute for physical examination and a subsequent MRI can help to clarify many injuries, but he confirmed video is an important tool in making injury diagnosis.
In medical school we are taught that history (how a patient developed symptoms) is far an away the most important factor that will lead a clinician to narrow down a diagnosis. In traumatic injuries, the mechanism as depicted by video is the history. Often seconds after an injury, a player can't tell you what happened due to adrenaline, shock or pain of the moment. While a player can't always tell you what happened, the video is a real time history of what occurred. Often a player will come in Monday morning and say he now knows how he got hurt as he has seen the film. Prior to the availability of sideline injury video, I told my assistants to always watch the video board while I ran out to tend to a player. In my last several years in the NFL, sideline video was introduced for concussions but in my opinion has been more effective for orthopedic injuries.
For 17 years on Monday morning, after I re-examined an injured player the day after a game and reviewed his X-rays/MRI, I would then go to the video department to review the injury mechanisms to reverse engineer what happened. This process is the inspiration for my column title: Monday Morning MD.
Former NFL referees, like Mike Pereira, use their insider knowledge to predict and interpret officiating calls. An experienced secondary coach knows who is really responsible for giving up a touchdown or an offensive line coach can tell you how the protection broke down. I hope to use my medical experience to decipher and anticipate injury announcements.
Yes, most of the time I am relying on television replay. Yes, I often wish I had more angles to view. Yes, I wish the broadcast would not go to commercial but instead would show the on-field/sideline evaluation and treatment. Sometimes I feel like I don't see enough to make a call. However, when I have seen enough to make a call this season, my self-scoring has me correct 136 times and wrong on 11 occasions.
No question my self-evaluation may be biased. I can't get the exact complete diagnosis but I call it correct if I indicate ACL tear and the player turns out to have an ACL and a meniscus tear. I am trying to get fans to the correct "city and street" but obviously it hard to get to the exact "front door" without actually knowing the address.
I certainly know almost all medical personnel in the NFL but I never call them or work off of sources or rumors for my injury opinions. First, I usually give my opinion within minutes on twitter (@ProFootballDoc). Second, when I was a team physician, I would have been insulted to be asked by someone to betray my duty to a player. Thus, I would never put another medical professional in that position. They wouldn't tell me anyways. If I am treating a patient or a NFL colleague has consulted me on a player, I am bound by confidentiality laws and ethics to not comment. If I don't comment on a major injury, it is because I haven't seen enough to form an opinion or I am involved in the players care.
Overall, video is a valid tool to help interpret the type/severity of injuries and potential return to action. Obviously it can never be completely accurate. Since I am formulating my opinion solely on publically available information, it is fair game. As a former NFL team physician, I call my injury analysis "insider knowledge" but never "insider information".
MMMD 1: Parade of offseason surgeries
As indicated previously, the vast majority of surgeries are performed at the end of a season rather than during the season. Even Super Bowl teams are not immune to post-season surgeries as many athletes play thru injuries.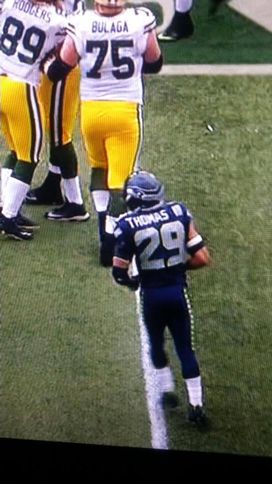 Thomas playing in a brace against the Packers.
Seahawk Earl Thomas dislocated his shoulder in the NFC Championship Game. He altered his game and played well in a harness for the Super Bowl before his expected shoulder surgery. Thomas will have his labrum repaired, and I expect him to be ready for the regular season 2015.
Patriot Dont'a Hightower played thru almost half the season in a brace and will have similar surgery. He should be fully recovered for next season as well.
These are just two examples of how tough NFL athletes are in playing through injuries. Expect more surgery announcements to come.
MMMD 2: Injury misinformation purposeful or not?
Sometimes injury misinformation is purposeful, sometimes it is not.
Undoubtedly the Seahawks knew Kam Chancellor's knee injury two days before the Super Bowl was more than a bruise as announced. For the big game, he warmed up and played in a knee brace that is typically used for ligament injuries. After the game, it was announced as a MCL sprain. There is no doubt that Seattle knew the extent of the injury, but what they did was gamesmanship and not against the rules. All that is required on injuries is a body part and practice/game status and the Seahawks did that.
Other times injury misinformation is not on purpose. Misunderstandings and misinterpretations of injury information can happen especially when medical information is passed along by coaches to reporters who are all well-intentioned but typically don't have medical backgrounds. I believe the announcement of Richard Sherman's likely Tommy John surgery was and example of this.
I never believed Sherman needed the surgery even after the announcement. Ulnar collateral ligament (UCL) reconstruction (formal Tommy John) surgery is not needed on a non-throwing athlete. I have treated a dozen NFL players with torn UCL that have not needed Tommy John surgery. In addition, Sherman's teammate, safety Jeron Johnson, dislocated his elbow and undoubtedly has complete ligament tear and has not required surgery. I don't doubt Sherman's elbow is injured and he may need surgery, but I don't believe it to be true Tommy John surgery. I could be a variation where the ulnar nerve is irritated and needs to be moved, like DeMarcus Ware had last year . In any case, I expect a full recovery for next s eason.
Sometimes injury misinformation is gamesmanship and other times it is just a simple misunderstanding.
MMMD 3: Julian Edelman returned to catch game-winning touchdown while Cliff Avril was removed from game.
Some Seahawk fans continue to complain how their star player was removed due to concussion and while a Patriot player was allowed to stay in the game. Last week, I discussed how I believe the concussion protocol was followed by both sidelines, but to different results.
Avril was appropriately taken off the field for formal concussion evaluation because Seattle team doctors directly observed findings. Edelman was checked on the sideline after the "eye in the sky" alerted the Patriots medical staff. As long as Edelman didn't have any symptoms and passed the concussion screen, did not need to be taken inside.
The concussion protocol may not be perfect but is a good stride toward safety. One potential inconsistency in the system is there is a different Unafilliated Neuro Consultant (UNC) for each team. I am not suggesting that there were irregularities but two referees can see the same play and make different calls. After all, there is a human component to all of this.
MMMD 4: Textgate scandal embroils Browns
The Cleveland offseason was already full of negative news with Johnny Manziel entering drug rehab and Josh Gordon being suspended for at least one year for repeated violations of the substance abuse policy. Now their GM could be suspended for four games and the club fined and/or penalized draft picks for texting coaches during the game. Browns quarterback Brian Hoyer says textgate will impact his decision on whether to return.
The only people on the sideline allowed to have cellphones are medical personnel. The use is restricted for medical purposes only. As a team physician, I used it to communicate with local hospitals, other medical professionals or to update family members to a player's condition. At no time did someone from team management text me during a game.
There is a legal way to communicate with the sideline thru radio and direct telephone to the coaching box upstairs. I have never known any coaches to even carry their cell phone during a game. The fact that a Browns coach had his cell phone might indicate this was more than a spur of the moment text.
MMMD 5: Combines galore
There was never any doubt that the NFL had become a year round sport with the Combines, draft and free agency. Last year the Combine process was already expanded with Regional and Super Regional Combines. Now there will be a separate Veteran Combine.
With the new CBA and salary cap, there seems to be a move towards a few high priced players and the rest of the squad filled out by rookie and first contract players. The hope is that providing veteran "middle class" players some exposure will result in more opportunities for vested players.
MMMD 6: Pop Warner lawsuit
A Wisconsin woman is suing Pop Warner football for $5 million after her 25 year-old son hung himself as the result of depression and dementia. The claim is he suffered dementia pugilistica or chronic traumatic encephalopathy (CTE) as a result of football as a child. He also played high school football but the school is not being sued.
Of course there is no happy ending for this case. No amount of money will bring her son back to life. This likely will be the harbinger of many Pop Warner, high school and collegiate legal cases. The NFL class action lawsuit has settled, but players can and have chosen to opt out.
MMMD 7: Special moments
Although the goal of everyone in the NFL is to win the Super Bowl, typically it is the people and locker room that is missed when their time in the league is over. That is definitely true for me as well.
A special moment happened at Chargers Park on Tuesday when longtime center Nick Hardwick retired in an emotional ceremony. Many past and present players attended. Philip Rivers fought back tears at the thought of not having his center around anymore.
These moments make a unique game special. Hardwick was a superb player but even a better person. Everyone has their own story about him and I have many as well. One recollection that stands out for me as special was the pregame locker room ritual of silence and Lord's Prayer. I would always take a moment to look around the room at the guys and Nick was always doing the same.
Good luck to Nick and his family as he enters his next chapter of life.
Follow David on Twitter: @profootballdoc
Dr. David Chao is a former NFL head team physician with 17 years of sideline, locker and training room experience. He currently has a successful orthopedic/sports medicine practice in San Diego.