January 26, 2015 -
Dr. David Chao
Monday Morning MD
No doubt that Seahawks' safety Earl Thomas will play in Super Bowl 49, but there is also no doubt that Seattle's defensive lynch pin will need a shoulder harness and alter his game to do so. Also look for an announcement of surgery sometime after the big game.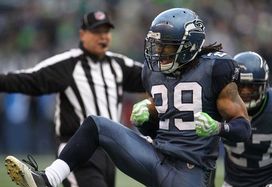 Thomas will be limited in the big game
Thomas returned to limited practice on Friday after missing several days and is listed officially as questionable. He initially injured his left shoulder on a tackle as he fell on his outstretched arm. By video, it appeared that his shoulder transiently came out of the socket.
Initial injury reports were non-specific and only indicated shoulder. In Thomas' post game interview, he seemed to imply the shoulder came out. Later, Adam Schefter confirmed it to be a dislocated shoulder.
The boney anatomy of the shoulder joint is not a ball and socket joint like the hip. Rather, it is more like a golf ball on a tee. This allows for free motion but stability depends on the labrum (edge of tee), which deepens the socket. In the vast majority of dislocated shoulders, the labrum is torn and stability is compromised much like how the golf ball needs to be delicately balanced on a chipped golf tee.
Because of the likely labral tear, expect Thomas to have surgery announced after the Super Bowl. In the short term, he can continue to play with a harness, but he will have to learn to play differently.
The brace functions to limit shoulder motion. Typically, the shoulder becomes unstable as the arm moves away from the body and the harness prevents this motion.
Although the brace allows Thomas to play, it will limit his mobility and change his play. He will not be able to reach up and out with his left arm to battle a receiver, bat down a ball or reach an interception. When he tackles, he will not be able to wrap up with his left shoulder. Instead, look for him to lower his shoulder to deliver a blow with his left arm at his side.
Thomas has already adjusted his play in the NFC Championship Game, he made a big second half tackle on Eddie Lacy by not wrapping up and lowering his left shoulder for a big hit. Contrary to the untrained eye, this is actually a safer technique that protects a previously dislocated shoulder. Thomas will play and be effective in Super Bowl 49, but as I said immediately after the injury, I am more worried about his shoulder than Richard Sherman's elbow. He will get through the game with a brace and altered style of play and then return to full form after off-season surgery.
MMMD 1: Seahawks injury report
Other than Thomas, the news is all good.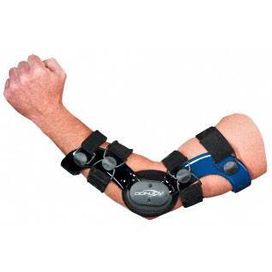 A DonJoy elbow brace
Richard Sherman practiced fully all week. He suffered a hyperextended elbow where he undoubtedly has sprained ligaments. Early concerns of ulnar nerve issues have gone away. He was seen in practice with a DonJoy elbow brace. Even if he wears it for the big game, it should not affect his play.
J.R. Sweazy was held out of practice but expect him to be a full go. His ankle injury was not a high sprain, and he finished the NFC Championship game after missing only one series.
Justin Britt returned to limited practice with an undisclosed knee injury. He missed the Conference final but with a two-week interval, expect him to be in the starting line-up in Arizona.
MMMD 2: Patriots injury report
Bryan Stork remains the only concern. In the Divisional Round, he suffered what appeared to be a high grade MCL sprain. As expected, he missed the Conference Championship but is likely to return with a brace for the Super Bowl. The only question will be how effective his knee will be with lateral movement.
Brandon Browner, Brandon LaFell, Donta Hightower and all other Patriots were full practice already and should be healthy.
MMMD 3: Tricky game for head injury specialists
When a concussed player has external or visible symptoms, the decision to pull a player is easy. Subtle concussions require honest reporting of symptoms from the injured player. The Super Bowl should be no exception and a clearly concussed player should be removed from the game. However, the harder decision may come in the subtle cases.
The guiding principal is "when in doubt, pull them out". It will be interesting to see how this dynamic plays out with the Unaffilliated Neuro Consultants (UNC), eye in the sky spotter and the team physician. There is no question that players will lobby to stay in the game and it is likely many would underreport their symptoms to not miss what is perceived as potentially a once in a lifetime chance for a Super Bowl victory.
MMMD 4: Oakland vindicated
The Raiders were met with ridicule last off-season when they agreed to a deal with free agent offensive lineman Rodger Saffold and then reneged after his failing him on his physical for his shoulder. Oakland was placed in a bad light as the Rams were willing to re-sign Saffold. I wrote at the time why Oakland's position was not unreasonable and explained how something like that could happen.
Saffold missed some time with shoulder issues and last week, surgery was announced. Oakland can feel vindicated now. It was simply a situation of the Raiders saying "glass half empty" (we won't spend big money on damaged goods) and the Rams saying "glass half full" (we feel he can play through despite injury).
MMMD 5: Different takes on injuries and the Pro Bowl
Many athletes use injury as an excuse to tap out of the all-star game. Some players have begun to take a different approach. Jimmy Graham will play in the Pro Bowl and use it as a test for his shoulder. He has rested for three weeks from a nagging injury, which now feels good. If the shoulder flares up again from this week of light work, he will go ahead with surgery.
Pro Bowl medical staffs will remain very conservative as no one wants to cause permanent damage to a star player. In Graham's case, the star player is using the Pro Bowl as a test for his shoulder. A test that his shoulder has appeared to pass as Graham caught two TD passes.
MMMD 6: Senior Bowl kicks off evaluation season.
The NFL Combines is the biggest single off-season event. The Senior Bowl is second largest and is the formal beginning of the off-season talent evaluation process leading up to the draft.
Like the Combines, the Senior Bowl is a big networking event for coaches, scouts and media. The big difference is there is no formal medical evaluation process in Mobile, while the physicals may be the most important part of the process in Indianapolis.
MMMD 7: Headed to the Super Bowl
Although I have had the pleasure of participating in Super Bowl XXXII and XX XVII as official game physician, I have never covered one from the media perspective. This will be my first game with a media credential as I head to Phoenix on Tuesday.
I will be at media day, radio row and the game. Hopefully I can bring some different insight. I will be able to see everything that is going on but of course won't have the luxury of on-demand replay. I will keep to my formula of one column per week but follow me on twitter (@ProFootballDoc) for insights during the week.
Dr. David Chao is a former NFL head team physician with 17 years of sideline, locker and training room experience. He currently has a successful orthopedic/sports medicine practice in San Diego.