Cal is off to a 1-4 start this season, the worst beginning of Jeff Tedford's 11-year tenure at the school.
And his coaching seat is getting hotter by the week.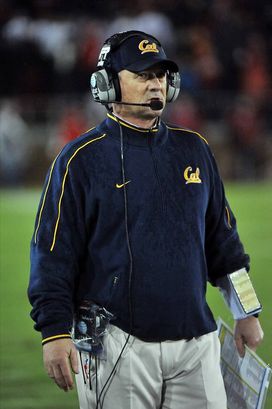 Jeff Tedford and the Golden Bears fell to 1-4 after the loss this weekend to ASU.
Despite athletic director Sandy Barbour saying before the season that Tedford's job was not in jeopardy, it appears that a strong turnaround could be needed for Tedford to return to Berkley in 2013.
According to the San Francisco Chronicle, wealthy and influential school alumni are not happy with the direction of the program and its inability to be a consistent winner in the Pac-12. So raising funds to fire Tedford is not out of the question.
"I'm the last one off the bus when it comes to [firing] Tedford," a wealthy alum told the newspaper. "But we have to move on. His game management has been awful…If this doesn't turn around, I really think they'll buy him out. I'm predicting that if we finish under .500, he's gone."
The veteran coach is overseeing a program coming off of a 27-17 loss to Arizona State this past weekend, and it has already lost to Nevada, a good non-BCS team but certainly one that has inferior talent compared to the Golden Bears. This is the worst start in the Tedford era, and some alums may be very willing to help pay Tedford's salary for him to be dismissed. His contract runs through 2015 and there is no buyout. Thus, Cal would have to pay him a little less than $7 million for the remainder of his deal if he was let go at the end of the season.
The Golden Bears still have to play Top 25 teams Oregon, Oregon State, Stanford, Washington and UCLA this fall, so it's an uphill battle. The situation certainly is getting more bleak for Tedford as each and every disappointing week comes off of the schedule. And it's certainly not the type of start to the year the Cal athletic department envisioned with a renovated stadium and high expectations for 2012.
Tedford's career overall mark is 80-52 at the school, and he is 48–40 in conference play.
Email dave.miller@nationalfootballpost.com or follow me on Twitter at Miller_Dave