Jeresy City, N.J. – Among the several accepted definitions for the term pedestrian are these: Lacking in distinction. . . .Commonplace. . . . Dull.
Seattle three-year veteran Doug Baldwin figures to encounter Denver Broncos "sub" cornerback Kayvon Webster in Super Bowl XLVIII on Sunday evening. But for now, in the run-up/talk-up to the title game, the Seahawks wide receiver is challenging a Webster of a completely different ilk.
As in the Webster dictionary.</p>
"I know what the dictionary says about pedestrian and what it means," Baldwin said here Monday. "I know it's right in a sense, but I (respectfully) disagree . . . at least as far as we're concerned."
According to the Doug Baldwin Thesaurus, the term pedestrian, as used to describe he and the other Seattle wide receivers, means more about underappreciated. Or maybe even unappreciated. Because Baldwin made it clear, even before arriving here for the championship game, that he is more than a bit chafed at a perceived lack of respect afforded the Seahawks receiving corps. And his colleagues among the receivers seem to share that sentiment.
Dull? Commonplace? Lacking in distinction?
Baldwin doesn't think so. Neither does teammate Golden Tate, the four-year veteran who registered career bests in receptions (64) and yards (896) in 2013. Throw in No. 3 receiver Jermaine Kearse as well.
Said Tate: "Definitely, we're a great running team. It's what we want to do. But I don't think you can win as many games as we did without throwing it. Or without good receivers. People say we don't get enough respect or we get a bad rap, or whatever. But we do the job. Ask the people who play us. We make plays when we have to make plays."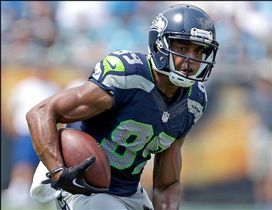 Baldwin caught a career high five touchdown passes in 2013.
Indeed, the Seattle wide receivers have made more than their share of big plays this season, as evidenced by the NFC championship game victory over San Francisco, in which Baldwin had a 51-yard catch at a point in the game where the Seattle offense desperately needed a jump-start (and also a 69-yard kickoff return). Kearse had a 35-yard touchdown reception in the 23-17 win. The Seahawks statistically ranked No. 26 in passing offense during the season and only two teams completed fewer passes. "(But) when they need us," Kearse said, "we seem to be there."
Maybe part of the problem is that the Seattle wide receivers weren't supposed to be there, or certainly here, at this point. In the offseason, the club made a blockbuster deal to acquire dynamic playmaker Percy Harvin from Minnesota, sending the Vikes a package that included a first-round pick, and signing the five-year veteran to a fat contract extension. In 2011, the Seahawks lured then-unrestricted free agent Sidney Rice to the Pacific Northwest, also from Minnesota.
But Rice has missed 15 games in three seasons in Seattle, including half a campaign in 2013, and has enjoyed just one healthy year (2012). He's never caught more than 50 passes for the Seahawks. Harvin played in one regular-season game in 2013 and made a cameo appearance in the team's first playoff contest. Coach Pete Carroll has said, and emphasized again Monday, that he expects Harvin to be able to play on Sunday. Unfortunately, the Seahawks have heard such assessments before.
It's as if both Harvin and Rice – huge disappointments in their tenure with the club – have ceded the term oft-injured as a prefix to their names.
Carroll has been adept at deflecting "what if" hypothetical situations and praising the efforts of the wide receivers he's had available to him. But make no mistake: The master plan in Seattle was to have Rice and Harvin aligned on opposite sides of the field and causing matchup nightmares for opponents. But what's that they say about the best-made plans?
"I definitely don't feel," said Baldwin, who at best would have been the team's No. 3 wide receiver had Harvin and Rice remained ambulatory, "like (the club) had to just 'settle' or whatever. We can all play ball. You don't hear anyone in our locker room saying, like, 'Well, what if we had (Rice and Harvin)?' You might hear stuff like that from outside, but not around here. People here respect us as players. From the people who count the most, we get our due."
Notable is that Tate and Baldwin both had more than 50 catches in 2013, and each averaged 14.0 yards or more per reception. Only the Cincinnati Bengals had a pair of wide receivers (A.J. Green and Marvin Jones) who could say the same thing.
Of course, the Seahawks' wide receivers may take a bit of a back seat this week with the prolific Denver pass-catchers on hand. No one from the Seattle contingent has said that is an added motivation, the opportunity to demonstrate the worthiness of the receivers against the highly-touted Broncos' brigade. But there are hints that the Seattle wide receivers harbor a grudge.
Not against the Broncos, but rather the naysayers.
"I'd say it's more like a boulder, not a chip, on my shoulder," Baldwin said. "It's been there for a while."
There was unmistakable animation when Baldwin said it.
Because dull and commonplace he is not.